WESTBROOK, Conn. — Last spring it was so quiet, Richard Willard of Vintage Motorcars in Westbrook thought the phone to his business had been disconnected. This year, with a new spring on the horizon, it's a different story.
Willard has been in the business of restoring old cars for three decades. After an initial pandemic-induced decline, his business is picking up as classic car owners seek to get their vehicles in shape for the road. And he's not alone, others in the field and related businesses are seeing a trend upwards.
"I don't know if it's the vaccine or what, they seem to be more confident in getting out are getting their cars out, and being active with their cars again. The servicing is pretty strong right now," Willard said. "People were holding off, especially last year. The service aspect has been very active."
Vintage Motorcars will restore, service, and sell vintage cars from the early 1900s into the mid-1980s. Beyond that, onboard computers and other electronics make it more challenging. The facility is spread out over two floors, comprising 30,000 square feet.
Willard said people can still enjoy a drive to no particular destination in their classic and stay safe.
Cars restored at Vintage Motorcars in Westbrook
Classic car shows like Cruisin' on Main Street in Manchester or the Greenwich Concours, spring and summertime staples, were canceled last year.
The Hagerty Group, which specializes in insurance for the classic car market, recently acquired the Greenwich Concours d'Elegance and for 2021 is planning to move the event from its traditional early June date to October 22 to 24. The Greenwich event is one of the top classic car events in the country.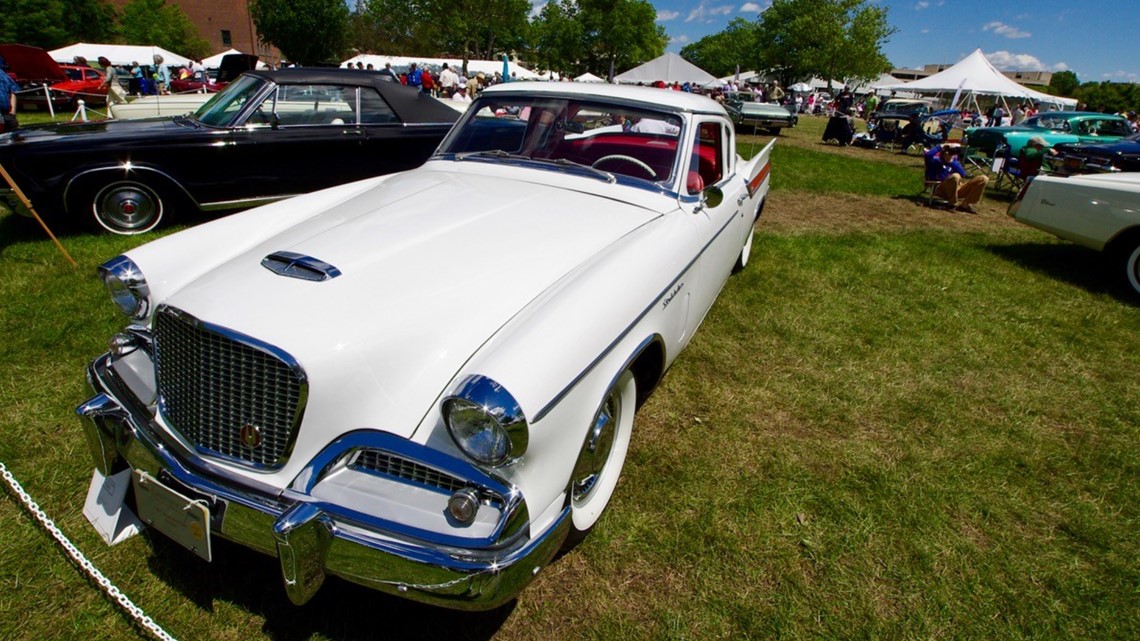 Hagerty tracks trends in the market.
"Despite the obvious and serious challenges, 2020 was a solid year for car culture. Our data shows that while auction sales were down 12.5%, private sales were up 17% -- meaning that 13% more classics sold during 2020 than in 2019," Jonathan Klinger, VP of Car Culture at Hagerty, said. "From our POV, Hagerty membership grew by almost 10% and we can't wait to see those new enthusiasts in virtual events, out on the road, on the show field as 2021 progresses."
Wayne Carini, the host of Chasing Classic Cars on Motor Trend TV and owner of F40 Motor Sports in Portland, Connecticut, said, "It was pretty much doom and gloom for the first month because, at that time, people didn't know how to handle it."
Carini, who owns several businesses, is a well-known figure in the classic car world. At car shows, he's greeted by scores of people as he walks through events. He feels lucky that he was able to attend the last big auction held before the shutdown without coming down with COVID-19.
"We wanted to make sure that our hobby stayed alive and vibrant, but we didn't know how the general public and collectors would react to that," he said. And I've got to tell you, just upfront, we've had our best year ever in the business."
Live auctions, like Barrett-Jackson, changed from in-person events to virtual. Online car auctions are nothing new. Sites like Bringatrailer.com, which started in 2007, sell older cars to both casual and top-end collectors.
Every year, The Hagerty Group compiles a list of the hottest cars. The list for 2020 has a wide range.
1990-1998 Mazda MX-5 Miata
1997-2004 Porsche Boxster
1970-1974 MG MGB
1948-1952 Ford F-Series
1984-1991 Jeep Grand Wagoneer
2005-2013 Chevrolet Corvette C6
1963-1967 Mercedes-Benz 230SL
1984-1991 Ferrari Testarossa
1993-2002 Pontiac Firebird
1970-1973 Datsun 240Z
2000-2006 BMW M3 (E46)
The Hagerty Group compiled a list of the hottest cars of the pandemic
"I think what really expanded the market was the lack of things for people to do. People weren't going on holiday, they weren't going on cruises. So, I think with that pent-up emotion of stopping your lifestyle," Carini said. "Having an automobile being the one thing to do. You could get in your car and go for a ride. Where people figured that was a way to get together with friends… you went and met in a parking lot."
Dennis David, of Thomaston, provides research and appraisals for the collector car industry. He said, "Last summer I brokered three or four cars a week in the under $50,000 market. Everyone wanted to buy a collectible or sell the one they had."
The uptick in business also impacted the used car parts market.
Steve Ouellette, the owner of Old Car Clearance in Thompson, said things picked up as the year went by.
However, with the combination of holiday shipping and the election, his biggest challenge was the delays in shipping with the United States Post Office, and other shippers, Fed Ex and UPS.
"With limited staff due to COVID and overall overwhelming delays. We were seeing that through the fall and the holidays. It's starting to get a little better now but it was scary for a while," he said.
Meanwhile, the customer base is growing, Carini said.
"The auctions saw so many new faces. A lot of these people are first-time collector car buyers," he added.
Carini does take a wider view, however.
"It's a terrible thing people losing their jobs… but the classic car hobby seems to have been able to keep its head above water and really done well," said Carini. "We always tell people tip well when you're out."
HERE ARE MORE WAYS TO GET FOX61 NEWS
Download the FOX61 News APP
iTunes: Click here to download
Google Play: Click here to download
Add the channel from the ROKU store or by searching FOX61.