MERIDEN, Conn. — The Meriden Police Department has partnered with several Connecticut police agencies to identify the people participating in a growing trend: violent street takeovers.
There have been many of those events in the past few months. One resulted in a Meriden officer's cruiser being attacked and his life being put in danger.
Meriden police said these street takeovers have been happening in Connecticut for months, but each one is becoming increasingly more violent.
Meriden, Tolland, Waterbury, and Southington are just some of the cities seeing violent street takeovers in the past weeks according to Meriden Police Information Officer Darrin McKay.
"It's not easy to be in law enforcement, and then when you see these lawless acts of violence, they should not be tolerated and will not be tolerated," McKay said.
Meriden Deputy Police Chief Jeremiah Scully explaining these takeovers consist of hundreds of people gathering to do burnouts, swarm parking lots and streets, and even directly engage with police. That is what happened in Meriden earlier this month.
"They were racing cars, squealing tires, loud music, loudspeakers, and setting off fireworks," Scully said.
When the officer arrived the group swarmed his car. That the violence escalated when they jumped on top of the car and started hitting it with various objects. All of this happened while his backup was stuck outside of the large crowd of cars, unable to break through to assist.
Tatiana Ortiz has been arrested for her role in that attack. She is currently out of jail on a $100,000 bond on charges of criminal mischief, breach of peace, interfering with police, unlawful assembly, riot, and criminal trespass.
Shawn Mills has also been arrested with a $100,000 bond and is scheduled to appear in court. He is facing the same charges as Ortiz.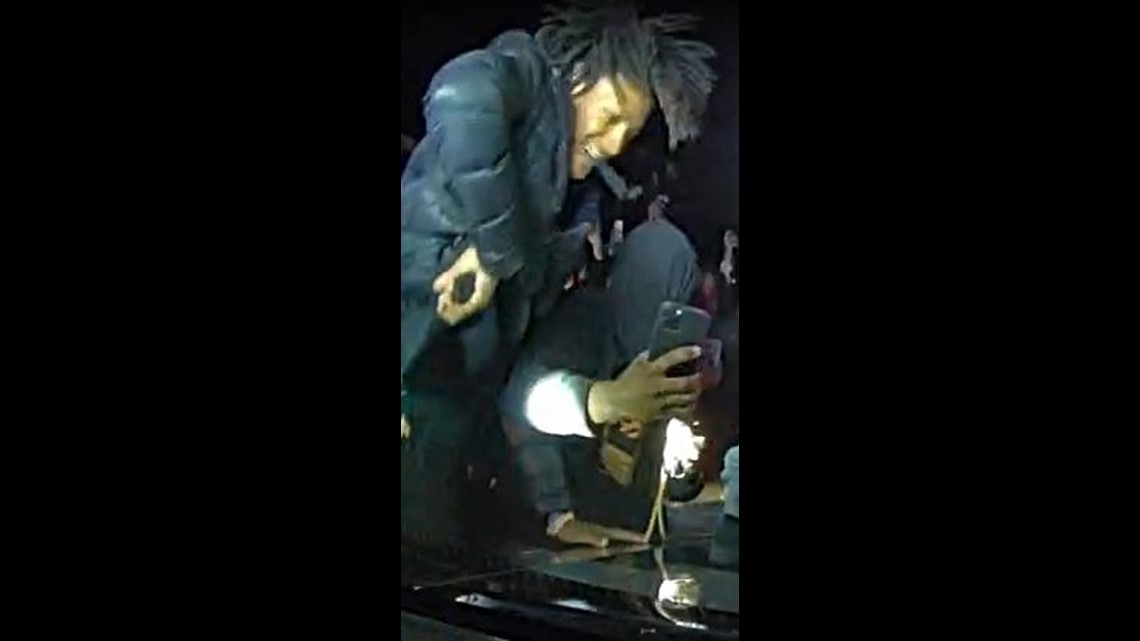 Officers said they are looking for the man in the blue puffer jacket on the left of the screen who appeared to try pulling a gun out if his pocket while standing on top of the cruiser.
"If they are willing to pull a firearm on a cruiser we are concerned what this individual may have done or will do with this firearm," Scully said.
On the same night, the group moved to Waterbury and started a fire in the street. When the firetrucks and cruisers arrived to stop the group, they took items off the firetruck and three rocks and bottles at the engine and cruiser. Police said Mills, one of the two people arrested, was involved in this scene as well.
Officers from CSP, Meriden Police, Naugatuck Police, Waterbury Police, and more are saying these violent rioters will not get away with this.
"Hopefully this will send a strong message to those participating," Scully said. "If you choose to do it, we will hunt you down, and we will incarcerate you.:
Investigators said many of the members seem to be from other surrounding states. They tell us the groups plan their meetups on social media. The riots are not only happening in Connecticut, but officers said people are traveling to other states to conduct the same acts.
Arrests have also been made for similar riots in Tolland and Naugatuck in the past week. These officers said there will certainly be more to come in the coming weeks.
Naugatuck Police said they arrested Solia Bommarito from New Jersey for using her car to do stunts and block police from entering the area. She has been charged with reckless endangerment.
Connecticut State Police said many of the people involved in these takeovers or at least watching from the sidelines tend to be minors. They are asking parents to know where their children are and what they are doing in order to keep them safe from these situations that have proven to be violent and continue to escalate.
These agencies tell us they are putting measures in place to try to prevent these takeovers from happening in their cities but they also want you to help, if you ever see these groups do not engage, but immediately call 911 and then get out of the area.
Anyone who may recognize these individuals or has any information is encouraged to call the Meriden Police Department at 203-630-4178 or place an anonymous call to Crimestoppers at 203-630-6273.
Have a story idea or something on your mind you want to share? We want to hear from you! Email us at newstips@fox61.com
HERE ARE MORE WAYS TO GET FOX61 NEWS
Download the FOX61 News APP
iTunes: Click here to download
Google Play: Click here to download
Stream Live on ROKU: Add the channel from the ROKU store or by searching FOX61.
Steam Live on FIRE TV: Search 'FOX61' and click 'Get' to download.