MILFORD, Conn. — A 42-year-old man has been arrested and charged with the murder of a 40-year-old woman amid a homicide investigation in Milford on Tuesday night, police said.
Police have been investigating an apparent homicide at 76 Salem Walk - the address of Longmeadow Condominiums near the Woodmont section of town.
Police were called to the condo complex around 9 p.m.; the victim's 17-year-old child made the 911 call, saying their mother was being assaulted by a man inside the home, police said.
The suspect had run from the scene but was found in West Haven and placed in police custody without incident later that night, police said.
On Wednesday morning, police identified the victim as 40-year-old Julie Minogue. She was found dead inside the home, according to police.
The suspect, identified as Ewen Dewitt, 42, with last known address in Roxbury, was charged with murder, criminal violation of a protective order, criminal violation of a restraining order, risk of injury and reckless endangerment.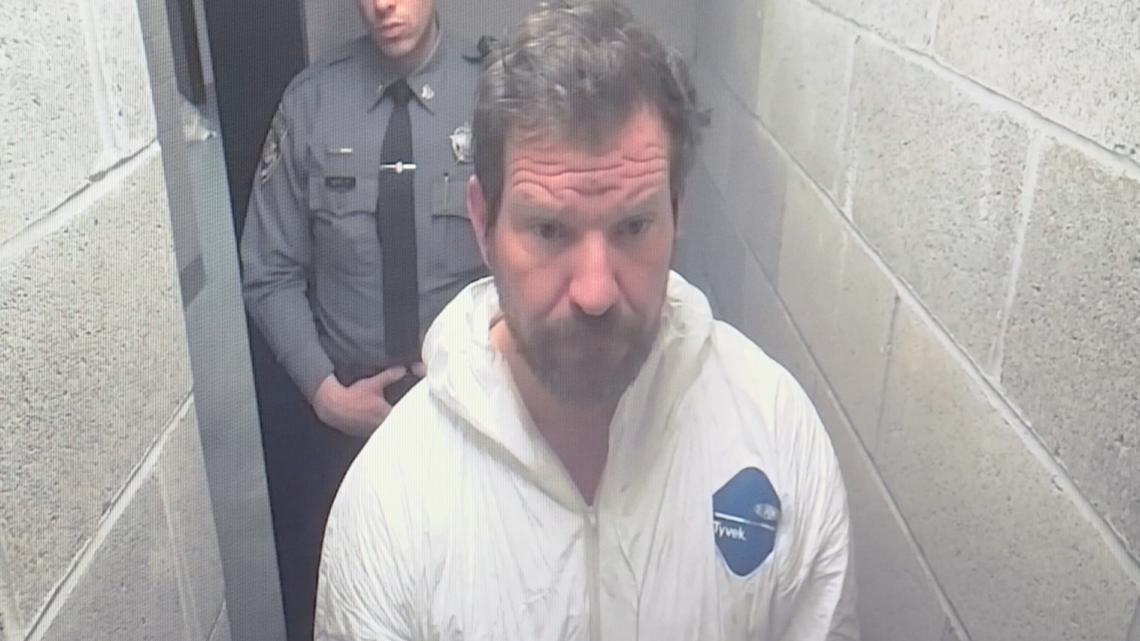 Dewitt faced a judge Wednesday afternoon at Milford Superior for his serious charges.
"There appears to be some mental health concerns. He also is a United States Marine Corps veteran," said Kevin Semataska, attorney of Dewitt.
Dewitt is no stranger to police. He holds a long list of previous charges. Police said on December 1, Minogue filed a restraining order against Dewitt for sending her over 200 harassing text messages.
According to the arrest warrant, when officers went inside the home, Minogue had multiple lacerations to her face and skull and was laying in a large pool of blood.
Dewitt's mother called Milford Police shortly after this happened and said, "he is walking around. He wants to kill himself. He wants to hang himself. He is looking for a rope."
"I would argue that the case against the defendant is very strong. There is surveillance footage, there is a 17-year-old who witnessed this incident," said the state prosecutor.
Neighbors who live in Longmeadow Condominium believed it was the ring video that helped police track Dewitt down.
It was a resident's ring camera that captured who may have appeared to be Dewitt carrying an ax shortly before the homicide took place.
"You need more street light, you need security, encourage people, put your lights on at night in front of your unit, the back of your unit," said Bob Fiore of Milford.
Police stated Dewitt and Minogue previously dated, but Minogue filed a restraining order against him in November 2022 for a second time.
Police believe Dewitt used an axe during the incident.
The 17-year-old, as well as a 3-year-old, are now under the care of family members.
Dewitt is being held on a $5 million bond and was arraigned in court Wednesday.
Dewitt and Minogue were in a prior dating relationship, according to police. Dewitt was previously arrested in November 2019 for assaulting Minogue and a protective order was issued at that time in court, according to police.
And on Thursday, Dec. 1, Minogue was granted a full no-contact restraining order against Dewitt after a complaint that he was sending her harassing text messages, police said.
Police said they are "still in the early stages of the investigation."
Domestic violence expert Paola Serrechia told FOX61 when it comes to helping victims, it can be offered but there comes a point when the system needs to be strengthened.
"What do you do when somebody violates a protective order repeatedly? How can we as a community respond?" said Serrechia.
Jareliz Diaz is a digital content producer at FOX61 News. She can be reached at jdiaz@fox61.com
Have a story idea or something on your mind you want to share? We want to hear from you! Email us at newstips@fox61.com
HERE ARE MORE WAYS TO GET FOX61 NEWS
Download the FOX61 News APP
iTunes: Click here to download
Google Play: Click here to download
Stream Live on ROKU: Add the channel from the ROKU store or by searching FOX61.
Steam Live on FIRE TV: Search 'FOX61' and click 'Get' to download.