ELON, N.C. — The world marks International Holocaust Remembrance Day today - the anniversary of Russia's Red Army liberation of Auschwitz-Birkenau, the former death camp and extermination camp located in southern Poland, which was under the occupation of German forces during World War II.
In all, some 1.1 million people were killed at the vast complex before it was liberated by Soviet troops on Jan. 27, 1945.
Every year, the site, with its barracks, barbed wire and famous entrance, stands as one of the world's most recognized symbols of evil and is a site of pilgrimage for millions of people.
Among those, this year was a group of students from Elon University in North Carolina, who spent three weeks this January on a three-week Holocaust Journey "J Term" course that takes them across Europe to give concentration and death camps.
"We do it because it's important. We do it because today is 78 years since the liberation of Auschwitz by the Russians. And in 78 years, that memory is starting to fade and we want to make sure that memory stays alive," said Richard Landesberg, the Elon professor of journalism who has taken the students for years. "And when you take 20-year-olds to these camps, that memory stays alive, not just for those 20-year-olds but with their children, their grandchildren, people that they will be talking to into the 22nd century."
The course began about 20 years ago when Elon professors thought it was essential to give students an in-person experience of the history they discuss in the classroom. It begins with a fall preparatory course before they embark on their trip.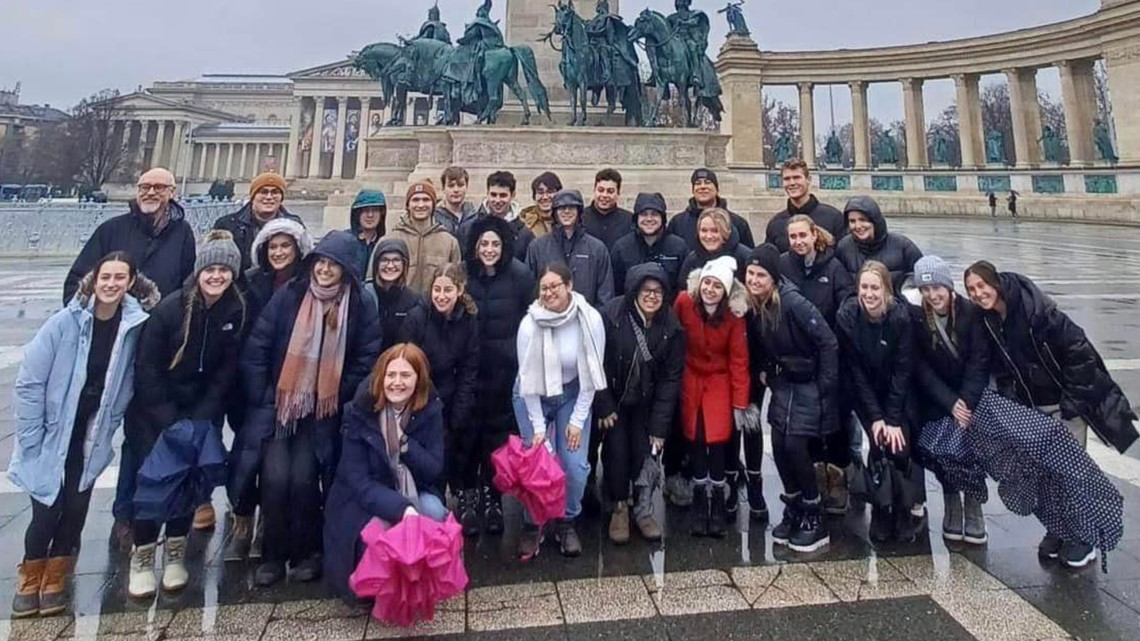 Auschwitz is the one camp that Landesberg makes sure is on the list of locations the course visits each year.
"That the sad, sad reality is that there is a lot to choose from when it comes to concentration and death camps throughout Germany, occupied Poland, and other areas," he said. "We go to Auschwitz because that's the one everyone's heard of. But we also go to camps that maybe people haven't heard of, and we change the camps from year to year."
He continued: "But we go to places that are particularly moving, and that people haven't heard of, and that people don't necessarily go to places like Majdanek, which every time you go to it, it gets in your skin, places like Treblinka where you just can walk around, and you can feel the soles of the 10s of 1000s, hundreds of 1000s, who died there, we go to places where students might not have heard of but are important and that mean a lot and that get into your skin."
The journalism professor said when the students get off the bus at the camp – "the silence is palpable" – as the reality of what they are seeing first-hand hits them.
"And that's that lightbulb moment," he said. "That's the moment where all of our teaching of the fall course becomes the reality of being on the ground and that reality is a hard reality."
"Going in January is special because you don't have warm weather, you don't have birds singing. It's January. And we go to these camps. And we go to the rooms where hundreds of people spent the night in rooms built for 10s of people. And the wind whips through those rooms and it's cold. But we have coats on, we have boots on. And unlike the people there, we get to go home, we get to leave, we get to get on a warm bus, and go back to our nice hotel room and have hot chocolate. And that lesson is not lost on any of us. We all get it. And that is the moment when classroom teaching becomes a reality."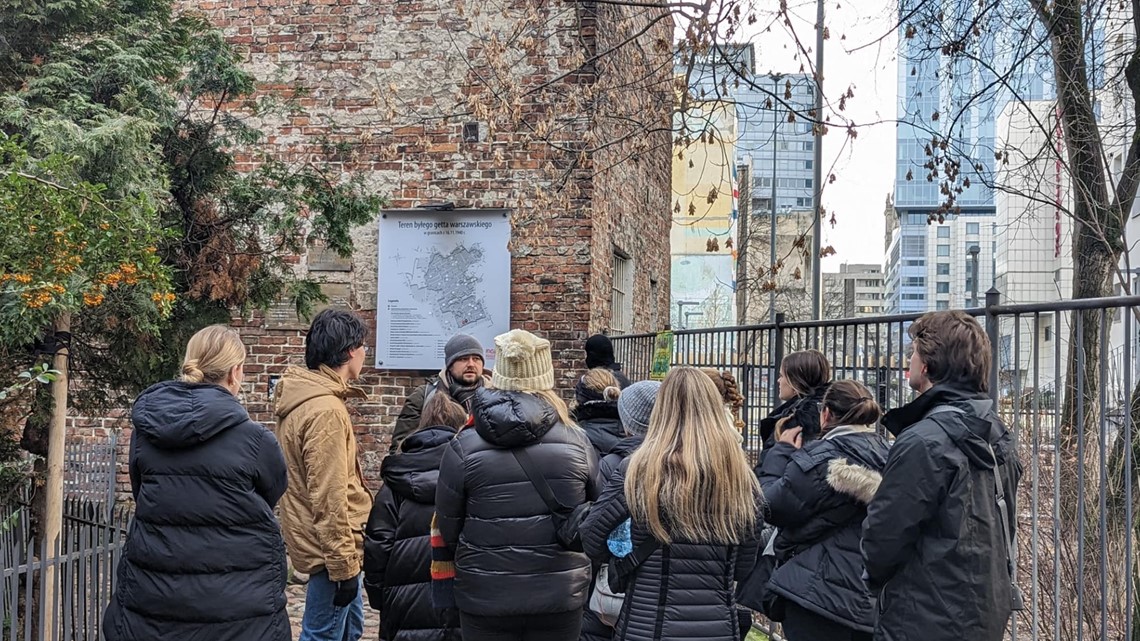 In addition to Auschwitz, this year's group of 28 students visited Mauthausen, Majdanek, Treblinka and Buchenwald. They also visited memorials and locations of historical importance to the Holocaust in Nuremberg, Vienna, Budapest, Krakow, Warsaw, and Berlin.
"I could sit in the classroom and tell you all about this stuff. But until you see it and feel it and let it get into your soul. It doesn't have the same resonance. Once that happens, you won't ever be able to forget it," Landesberg said. "The students who go on this on this course are special. They had a lot of choices for courses this winter. They could have gone someplace sunny and warm, and where they get nice umbrella drinks after class. They chose someplace that was cold, snowy, rainy, and where millions of people are sent to their death. That's a special student who chooses that. That's a student who is committed whether they know it or not to making the world a better place. And that's the bottom line with this course. This was an ugly, ugly horrific time in world history. Never again."
Have a story idea or something on your mind you want to share? We want to hear from you! Email us at newstips@fox61.com
HERE ARE MORE WAYS TO GET FOX61 NEWS
Download the FOX61 News APP
iTunes: Click here to download
Google Play: Click here to download
Stream Live on ROKU: Add the channel from the ROKU store or by searching FOX61.
Steam Live on FIRE TV: Search 'FOX61' and click 'Get' to download.