West Hartford prepares to return to school: Everything you need to know
FOX61 School Squad gives an in-depth look into how schools are preparing to welcome students back into the classroom.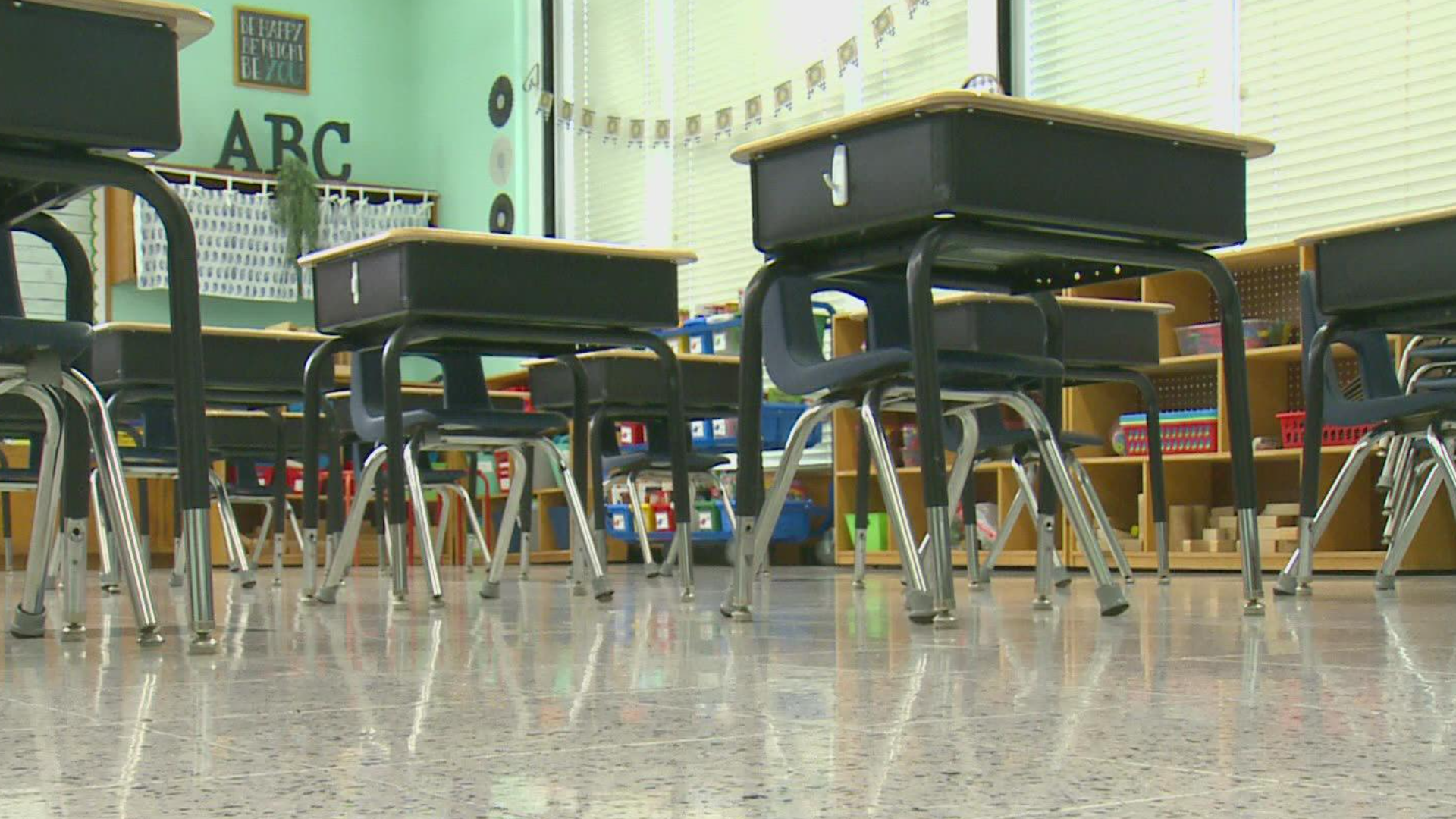 Nearly 9,500 students at West Hartford Public Schools are getting ready to return to the classroom. For some of them, it will mark their return to in-person learning for the first time in nearly two years.
The FOX61 School Squad is giving an in-depth look into how schools are getting ready to welcome students and what parents need to know.
RETURNING TO THE CLASSROOM
:
As the countdown for the first day of school is well underway, Bugbee Elementary School Principal Kelly Brouse gave the FOX61 School Squad a tour of the school to show how things will look a little different in the classroom this year.
"This year, the desks are three feet apart instead of six feet which is terrific," Brouse said.
The three feet of distance is the main difference this year for Bugbee Bees. It will allow them to be closer together, as long as they're wearing a mask at all times.
"We're going to see how the year goes, you know. Ideally, of course, we want to be without masks, when this is behind us. But, we have people in our community that we need to protect," Brouse said.
Like the elementary students at Bugbee. None of the kids there are old enough to get vaccinated against COVID-19. Plus, it's not required for West Hartford teachers. So, small group sessions with three students or more will go on, but with safety precautions in place.
"And if they have to bring on more than three kids to that table, we track the groups. So we know who's with that group if we ever had to contact trace," Brouse said. "We're going to say, this week you four are you know, the red lady bugs' and then, yeah, in 15-minute intervals, the class will move around to the different centers."
That's the timeframe the school is sticking to for person-to-person contact. That'll help with contact tracing purposes, should someone test positive for the virus.
"So we have those rotations And that's just good instructional practice, it was there all along, but we're being a little more thoughtful about it so we just know where everyone is if they ever get a little closer than three feet," Brouse said.
The school is bringing its kindergarten centers back, along with its reading carpets.
"If I was the teacher and I was doing an activity at the whiteboard or the smartboard, I might ask the three rows in the back to come find their spots, which are already assigned on the rug. And then, the two rows in the front can stay at their seats," Brouse said.
The school is also utilizing outdoor spaces as much as possible. Students may spend time outdoors for physical education classes, recess and lunch. They will be mingling with their whole grade during those social hours, instead of just seeing their own cohorts, like last year.
"We know that if a kid is feeling nervous or unsafe, they're just not going to be their best and they're not always equipped to tell us how they're feeling. So we have to focus on making them feel safe and connected and then those friendships are vital to making sure they are their best in the classroom," Brouse said.
Bugbee also updated its visitor policy. Parents can visit as long as they are wearing a mask and show proof of their vaccination status. A good reason for a parent to visit might be if a parent is volunteering or helping out in a classroom. Once that is on record, they won't have to bring the vaccination card at their next visit.
WHAT PARENTS NEED TO KNOW
:
All Connecticut schools now need to enforce mask-wearing in class, regardless of vaccination status. That final call was made by Gov. Ned Lamont on Tuesday. Prior to that, though, West Hartford Schools implemented its own mask mandate.
"The vast majority of parents are really happy with the mask mandate," said Tom Moore, Superintendent of West Hartford Schools.
The FOX 61 School Squad caught up with a pair of teachers, doubling as parents in the district, to see what they're feeling about the guidance for the new school year.
"You just trust them. And you have to have to trust each other and take care of each other. And I think everyone is really trying to do that," said Kelly Habif, a kindergarten teacher at Charter Oak and a West Hartford Schools parent.
Overall, Moore said the reaction is mixed on heading back to school with the Delta variant on the rise.
"There are people that are more concerned, there are people that are, 'We've got to move on.' So you try to hear what people are saying and hear where they are and meet them where they are, but at the end of the day there's certain things we have to do," Moore said.
That includes things like keeping desks three feet apart. That will eventually make contact tracing easier, should someone test positive.
"This year, with everybody masked and the regulations and vaccinations, you're more than three feet, if everybody's been masked during that time, only this (the) child that's tested positive is now in quarantine," Moore said.
Moore said higher vaccination rates in their older students is a big help. Nearly 80 percent of them have at least their first dose of the vaccine. To boost that number, the district is hosting a vaccination clinic before the start of school. As for remote learning, there isn't any.
"Remote learning and even hybrid learning where that interpersonal relationship between kids, it just became too easy for kids to be isolated," Moore said.
Moore said the state board of education isn't allowing an all-remote option. The decision causing some trouble for some families, but others would rather have their kids in class.
"I think it's just the age too, middle school can be tough. And just a lot more anxiety and knowing kind of what's going on a little bit more. And elementary, they really were in their cohort and with their group of kids. But if they're at school, they're just happy," said Jill Devor, a 1st-grade teacher at Charter Oak and a West Hartford Schools parent.
Moore said teachers did everything they could to offer remote options for students last year, but the results show it isn't nearly as effective as teaching in a classroom.
INVESTING INTO MENTAL HEALTH
:
What was initially meant to keep students safe by keeping them apart has now caused anxiety and mental health concerns for many students.
West Hartford Schools is beefing up its programs to make sure no child gets left behind.
For decades, the district has been working with The Bridge Family Center. Social workers have been coming into their schools and offering individual and group therapy. Last year, that option was off-limits, so they used telehealth visits to connect with students.
Now, some kids are returning to the classroom after being out for a year and a half. In anticipation of meeting a higher demand, the center is doubling its school social worker staff.
"Remote learning and even hybrid learning where that interpersonal relationship between kids, it just became too easy for kids to be isolated. The emotional and mental health issues of our kids were real," said Tom Moore, Superintendent of West Hartford Schools.
Last March, Connecticut schools had to pivot Families went through dozens of changes and parents didn't have all the answers.
"That difficulty of like, not knowing where to turn for help has made all the normal things that are hard about growing up, that much harder," said Christopher Dutton, LCSW, Clinical Director of Community and School Services at The Bridge Family Center.
That's where Dutton and his team of social workers at the center come in. Here's what he heard from one remote learner about coming back to school in two weeks.
"He's really nervous to go back to school because he's like, 'what if nobody remembers me?' And I'm like 'I think they will, you're a memorable person.' But he's not convinced of that because he's been alone," Dutton said.
Dutton said students who have never struggled with school or socialization are now. For some, that may go away once they get back into the swing of things. But for others, Dutton said things may get worse for them.
"And that's where the school personnel will be the first line of defense and say are you okay what do you need and they'll tap into us to help," Dutton said.
They'll target specific problems, focusing on anxiety and transitioning back into the classroom. Plus, there will be help for parents, too.
"Some people are really anxious to have their kids back in school and they can't wait, no matter what. And others are really nervous about it. And so we're going to try to help parents a little bit as well," Dutton said.
The center might end up hosting certain seminars or reaching out to families to help them with the transition back into the classroom. The district will continue the push to make this all a priority.
"We have to start operating hopefully, optimistically. Not just about what's going on in the schools, but what's happening in the future for us and for our kids," Moore said.
The Bridge Family Center was able to double its school social workers because of help from the federal government. Moore said the district still needs to get approval from the feds to go through with this plan. However, he doesn't foresee any roadblocks, given the fact that they surveyed families who asked the district to invest in more mental health help.
HERE ARE MORE WAYS TO GET FOX61 NEWS
Download the FOX61 News APP
iTunes: Click here to download
Google Play: Click here to download
Stream Live on ROKU: Add the channel from the ROKU store or by searching FOX61.