HARTFORD, Conn — Updates from the fight against COVID-19 here in Connecticut
Lake Compounce Holiday Lights to return in 2021
Fines increase to $10,000 for CT business who violate COVID-19 rules
Stratford Schools extend remote learning through Dec. 4
Nov. 27
From Wednesday, November 25th to Thursday, November 26th, Connecticut administered 71,327 tests and 3,429 came back positive, yielding a positivity rate of 4.81 percent.
Currently, hospitalizations increased by 49 people since Wednesday bringing the total number of COVID-19 patients to 1,017. There were 35 additional COVID-19 related deaths reported making a total of 4,961 in the state.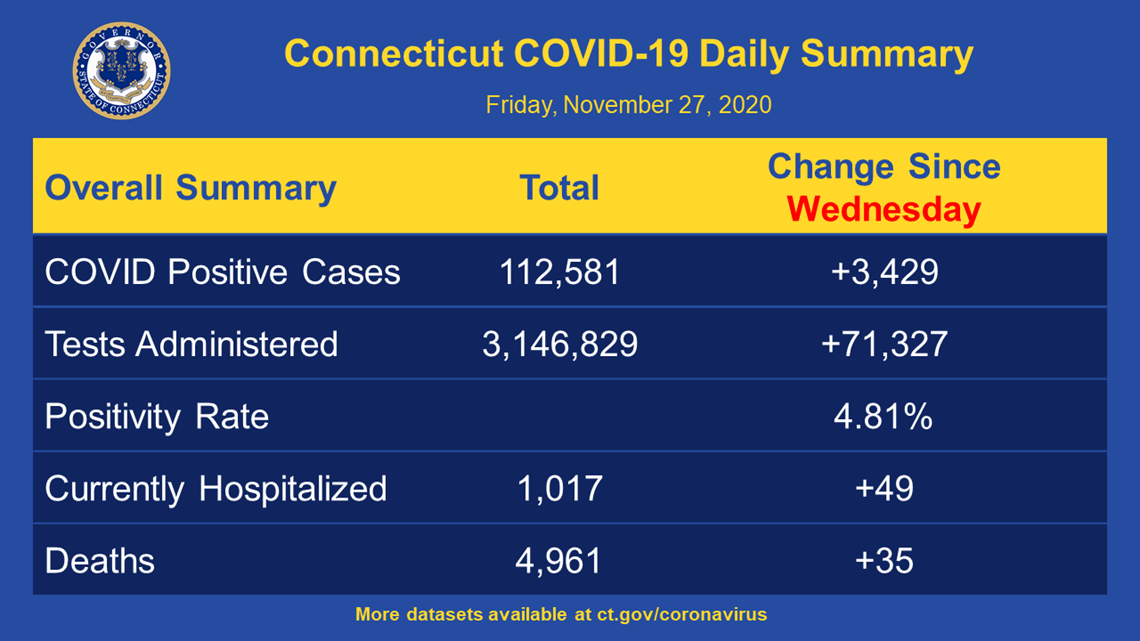 Nov. 25
150 towns now issued COVID-19 red alert status
The state of Connecticut announced Wednesday afternoon, there are now 150 towns with a COVID-19 red alert status. To be issued a red alert status a town must have 15 or more positive COVID-19 cases per 100K. With the increase, most of Connecticut residents are living in a "red alert" town.
To see what status your town has been issued, click here.
Governor Lamont provides COVID-19 update
The governor held a press conference Wednesday afternoon to provide an update on Connecticut's coronavirus efforts as we head into Thanksgiving.
Connecticut administered 31,232 tests and 1,872 came back positive, yielding a positivity rate of 5.99 percent.
Currently, hospitalizations increased by 77 people since the weekend, bringing the total number of COVID-19 patients to 968 people. There were 45 more COVID-19 related deaths reported and as of Wednesday, there are 4,926 COVID-19 related deaths in the state.

Lake Compounce Holiday Lights to return in 2021
Nov. 24
Fines increase to $10,000 for CT business who violate COVID-19 rules
Governor Lamont signed an executive order Tuesday increasing the amount CT business can be fined for violating the COVID-19 sector rules and capacity limited. Businesses can now be fined $10,000 per violation.

Stratford Schools extend remote learning through Dec. 4
Superintendent Dr. Janet Robinson sent a letter out saying all schools will remain remote learning until December 7. Originally, it was the administration's intention to switch back to a hybrid learning model on November 30.
The extension will be through December 4, extending the return to school to Monday, December 7.
COVID-19 positivity rate declines slightly, deaths and hospitalizations increase
Governor Ned Lamont's office released the latest COVID-19 statistics showing a slight drop off in Monday's positivity rate. Connecticut administered 13,208 tests and 540 came back positive, yielding a positivity rate of 4.09 percent.
Currently, hospitalizations increased by 16 people since the weekend, bringing the total number of COVID-19 patients to 891 people. There were 10 more COVID-19 related deaths reported and as of Tuesday, there are 4,881 COVID-19 related deaths in the state.
U.S. Virgin Islands added to Connecticut Travel Advisory
Connecticut has added the U.S. Virgin Islands to its Travel Advisory list, which has now grown to 48 states and territories. People traveling from these areas into Connecticut must quarantine for 14-days. There were no states or territories removed from the list.
To see the full list, click here.
Step Up CT to help battle COVID-19
State leaders are looking for people to lend a helping hand during the pandemic.
Step Up Connecticut is the effort to enlist everyone who is healthy, and able to help to combat the COVID-19 pandemic.

You can view the list of opportunities and ways to get involved by visiting:
Nov. 23
Positivity rate declines over the weekend, hospitalizations continue to increase
Governor Ned Lamont's Office released the latest COVID-19 statistics showing a slight drop in COVID-19 cases.
Connecticut administered 109,045 tests and 5,271 came back positive, yielding a positivity rate of about 4.8 percent. There were 27 new COVID-19 hospitalizations since Friday. Currently, there are 875 patients being treated in the hospital for COVID-19. New Haven County has the most hospitalizations in the state with 321 people, followed by Fairfield County with 241 people.
There were 43 COVID-19 related deaths over the weekend. Connecticut has now lost 4,874 people due to the virus.
The state has now surpassed three million tests done. To be placed in perspective, it took about five months to reach one million tests completed and almost a month to reach two million people tested.
Lamont spoke about a new volunteer program called Step Up CT. Volunteers would be helping at testing centers, hospitals, or with other non-medical roles. To learn more about the program, click here.
Residents have been repeatedly encouraged to have 10 or fewer people over for Thanksgiving. A chart during the press conference showed every CT county and the risk of getting COVID-19 among 10 random people. For Hartford County, if one were to have 10 random people over to their house, then according to the state's data, there is a 20 percent chance someone has COVID-19. New London County has a 14 percent chance, New Haven has a 23 percent, and Fairfield County has the highest percentage with 24 percent.
Hartford's Winterfest canceled for 2020-21 season
The iQuilt Partnership announced Monday that the Winterfest Skating Rink in Bushnell Park will not open for the 2020-2021 season. Citing the rise in the positive cases in Connecticut, organizers have decided to cancel this year and focus on bringing Winterfest Hartford back next year with expanded programming and an extended skating season.
Winterfest Hartford has brought free ice skating, free skate rentals, and free learn-to skate lessons to Bushnell Park for the past ten years.
"Unfortunately, we will not be able to bring this amazing family activity back to the capital city given the rising number of COVID cases," said iQuilt Partnership Executive Director Jackie Mandyck. "Winterfest Hartford is a wonderful Hartford tradition, and it will be back next year, bigger and better."
Department of Correction completes third round of mass testing – positive rate drops
The Department of Correction has recently completed the third round of mass testing of the inmates they supervise. The percentage of inmates who tested asymptomatic positive for the Covid-19 virus has dropped to 0.9%, a significant decrease when compared to the 9% rate following the first round of testing. The second round of offender testing resulted in a 3% positivity rate.
New Haven Museum closes as COVID-19 cases rise
From The New Haven Museum:
"The New Haven Museum (NHM) has made the difficult decision to close its doors again to the public, given the alarming spike in coronavirus cases in our region. NHM staff will continue working behind the scenes to collect, preserve and present Elm City history to the public, so please stay connected via phone, email, social media, and at www.newhavenmuseum.org. We look forward to welcoming you back in early 2021."
Governor Ned Lamont will hold a news briefing Monday at 4 p.m. to provide updates on the State of Connecticut's coronavirus response efforts.
His briefing comes after Connecticut surpassed 100,000 cases of COVID-19 just before the weekend.
On Friday, Lamont reported the following statistics:
31,493 tests completed and 2,088 came back positive for rate of 6.63%.
848 people hospitalized
23 new reported COVID-19 related deaths, death toll to 4,828 people
Nov. 22
VT Snowmobile COVID rules announced
Snowmobilers can still enjoy the sport in Vermont this winter amid the coronavirus pandemic as long as they abide by the governor's emergency orders. The Vermont Association of Snow Travelers announced this week that out-of-staters can come to Vermont and snowmobile if they quarantine for 14 days in their second home or rented home in Vermont. In New Hampshire, the Manchester School District, the state's largest school system, is switching from a hybrid system to full remote learning on Monday. And in Maine, state health officials reported two new deaths and more than 200 cases of coronavirus on Sunday.
Jury duty? No thanks say many, forcing trials to be delayed
Court officials across the country say a low turnout of people summoned to jury duty is derailing plans to restart trials for the first time since the coronavirus pandemic began. Within the past month, courts in Hartford, Connecticut, San Diego and Norfolk, Virginia, have had to delay jury selection for trials because too few people responded to jury duty summonses. Officials believe people are wary of serving on juries because COVID-19 is spiking nationwide. Jury trials were recently suspended by state court systems in Connecticut, New York and New Jersey and in courts in Denver because of rising virus rates.
US Rep. Joe Courtney tests positive for COVID-19
"Last week, I learned that I was inadvertently exposed to someone who would later test positive for COVID-19, although they weren't aware of their positive status at the time," said Courtney. "Upon learning of that initial exposure, I immediately began following the strict isolation guidelines laid out by the CDC and by my doctor while I waited to get a coronavirus test. After my first test came back negative, I continued to isolate but began to experience mild symptoms. I got another test and, this evening I was notified that the second test came back positive. I've got a lot of confidence in my treating doctor and in my team—our work for eastern Connecticut will continue as always, and I'll keep performing my duties in a safe, remote fashion while isolated at my home.