April 30
Positivity rate creeps just above 2%, hospitalizations down
Connecticut reported on Friday it administered 38,830 tests and 786 came back positive. The positivity rate was 2.02%.
Hospitalizations continued to drop in the state, by 20 people since Thursday. There are now 383 patients being treated for COVID-19 in the state.
There were 13 more COVID-19 related deaths since Thursday, bringing Connecticut's death toll has reached 8,097 people.

April 29
Manchester Memorial Day parade and Center Park program canceled for May 31
Due to COVID-19 the Manchester Memorial Day parade and Center Park program will be canceled for May 31 this year.
The town of Manchester released a statement that read in part:
"We will never forget the men and women in uniform, who have faced the ultimate sacrifice for their country, and we encourage all residents to spend time this Memorial Day 2021 to remember our fallen men and women in your own personal way."
The Memorial Day Church Service and Massing of the Colors will be held at the South Methodist Church at 1226 Main Street. It will begin at 9:30 a.m. and Earl Bidwell will be officiating the service.
The public is invited to attend and masks will be required.
Positivity rate drops under 2%; hospitalizations continue to drop
Connecticut administered 36,200 tests and 486 came back positive, yielding a positivity rate of about 1.34%. This is one of the lowest positivity rates in weeks. Gov. Ned Lamont also said the infection rate is the lowest it has been in six months.
Hospitalizations decline again by four people since Wednesday. There are now 403 patients being treated for the virus in the hospital.
There were four more COVID-19 related deaths bringing the state death toll to 8,084 people.
As of April 29, there have been 1,320,485 residents reported to be fully vaccinated in the state. Connecticut has administered 3,081,427 total doses.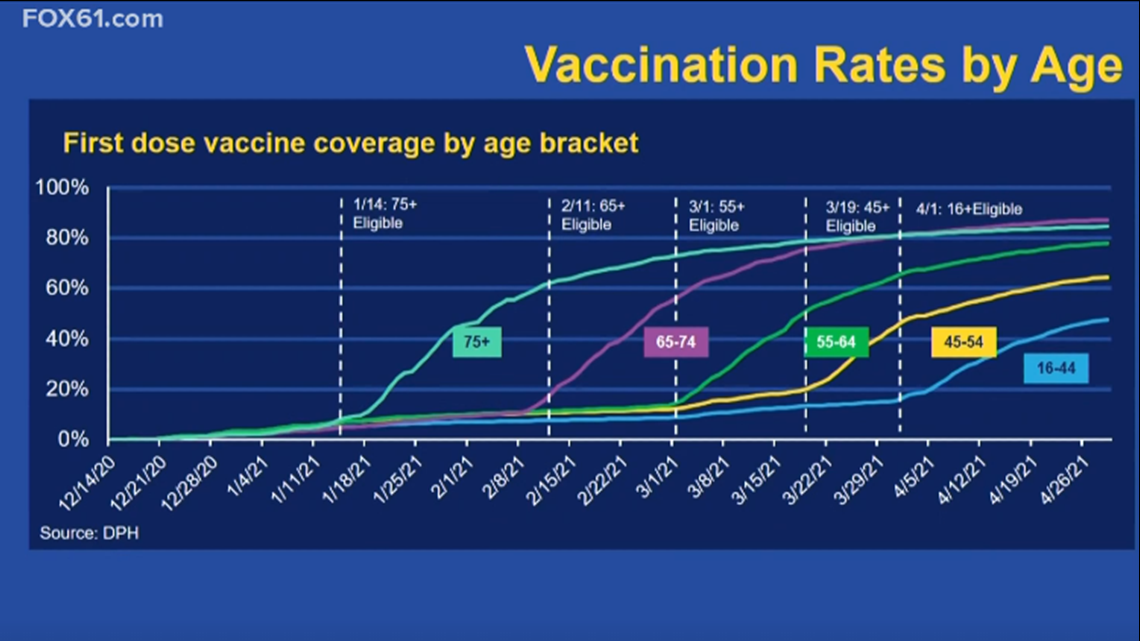 Governor visits East Windsor COVID-19 vaccination clinic and food giveaway
Today at 10:30 a.m., Governor Ned Lamont will visit a COVID-19 vaccination clinic and food giveaway event in East Windsor hosted by Priority Urgent Care and Foodshare.
Appointments are not needed to receive the vaccine.
Walk-ins are able to drive up, get a shot, and receive a free box of fresh food.
April 28
Positivity rate at 2.29%, hospitalizations dip to 407
The state released its COVID-19 numbers Wednesday showing that the positivity rate has lowered slightly to 2.29%.
The state reported it administered 27,106 tests and 621 tests came back positive.
Hospitalizations decreased by 37 to 407 while 13 more deaths related to COVID-19 were reported. The death toll is now 8,080.
Hartford HealthCare: Walk-ins welcome
Starting Friday, all Hartford HealthCare vaccination sites will be open to walk-ins for vaccination.
Hartford HealthCare had been offering a pilot program at a few sites this week.
Due to the success of the pilot program, Hartford HealthCare will now offer walk-in availability across the state, as well.
You can find Hartford HealthCare's vaccine clinic locations here:
April 27
Positivity rate increases slightly to over 3%
Connecticut reported it administered 12,551 tests as of Tuesday and 407 came back positive. The positivity rate was about 3.24%.
Hospitalizations increase by eight people since Monday, bringing the total number of patients being treated for COVID-19 to 444.
There was one additional COVID-19 related death reported on Tuesday. The state death toll has reached 8,067 people.
Stafford Big Y offering COVID-19 vaccines for walk-ups
The Big Y in Stafford announced they have hundreds of extra COVID-19 vaccines for a clinic tomorrow at 87 West Stafford Road.
No appointment is necessary and the clinic will allow the recipient to choose either Moderna or Pfizer.
For more information, click here.
UConn Vaccine Van to visit Norwich
The Pfizer vaccine will be given to anyone age 16 or older who has not yet been vaccinated. Please note, anyone under the age of 18 must be accompanied by a parent or legal guardian. An appointment for the second dose will be confirmed on the day of your appointment.
10 a.m. - 7 p.m. St. Mary Church 70 Central Ave. Norwich, CT
9 am- 6 p.m. St. Mary Church 70 Central Ave.
All eligible individuals are welcome. No person will be turned away based ontheir inability to show ID or proof of insurance. Pre-registration of appointmentsis highly encouraged, walk-ups permitted, though based on availability.
To schedule your vaccine call 860-679-6547 Mon. - Fri., 8 a.m. - 4:30 p.m.
FEMA Mobile Vaccination Unit in East Hartford Wednesday, April 28
On Wednesday, April 28th and Thursday, April 29th from 10:00 a.m. to 7:00 p.m., UConn Health will deploy the FEMA Mobile Vaccination Unit in East Hartford.
The Pfizer vaccine will be given to all those age 16 and up who have not been vaccinated yet. Those who are 16 and 17 years of age must be accompanied by a parent or legal guardian. An appointment for the second dose will be made on the day of the first vaccination. Eligible individuals are strongly encouraged to make an advance appointment by calling UConn Health's dedicated Mobile Vaccination Unit Scheduling Line at 860-679-6547, however, those without an appointment will also be accepted.
UConn Health is engaging its students and other trainees to help with this mobile vaccination initiative. Students and faculty members from the UConn Schools of Medicine, Dental Medicine, Pharmacy, Nursing, and in our Public Health Sciences department, as well as our medical and dental residents, are volunteering to support the FEMA Mobile Vaccine Unit.
The mobile unit is prepared to vaccinate 400 per day. Walk ups are welcome.
WHAT: FREE COVID-19 Mobile Vaccination Clinic
WHEN: April 28 and 29th at 10:00 a.m.- 7:00 p.m.
WHO: Town leaders and representatives from East Hartford, UConn Health Leadership, students and learners from UConn Health
WHERE: 936 Silver Lane, East Hartford (the former Showcase Cinemas). The public should enter from Silver Lane to Applegate Lane.
Enfield COVID-19 vaccine clinic to accept limited walk-in appointments
The COVID-19 Vaccine Clinic located at the Enfield Annex (former Enrico Fermi High School), 124 North Maple St., Enfield, will be open for limited walk-in availability, as supply allows, starting today, April 27, through Friday, May 28.
The clinic is open from 9:00 a.m. to 4:30 p.m. daily (closed for lunch from 11:45 to 12:45 p.m.)
It is recommended that patients bring their photo ID and insurance card, however no one will be turned away without either.
Across the region, Trinity Health Of New England has administered over 148,000 doses of the COVID-19 vaccine, including over 13,500 at the Enfield clinic
April 26
Positivity rate stays under 3%, hospitalizations decline
Connecticut administered 76,873 people over the weekend and 2,167 came back positive, yielding a positivity rate of 2.82%.
During his press conference Monday, Gov. Ned Lamont said hospitalizations are the lowest they have been in months. There are now 436 patients being treated for the virus in the state.
There were 19 COVID-19 related deaths reported from over the weekend. The state death toll has now reached 8,066 people.
As of April 26, the state has fully vaccinated 1,256,915 residents, and about 66% of adults 18 years have received their first dose of the vaccine.
No Appointments needed for vaccines at CHC Sites Statewide

Vaccines are available every day from 8:30 a.m. to 4:00 p.m. at all Community Health Center, Inc. vaccine locations, including:
Danbury
East Hartford
Middletown
Stamford and pop-up community clinics
"This is an important moment for Connecticut," CHC Founder/CEO Mark Masselli said,
"We want to make it as easy as possible for anyone needing the vaccine to get it without any barriers. Just walk-in or drive-in to any CHC site and we will vaccinate you without delay."
Vernon vaccination clinic
A walk-up COVID-19 vaccination clinic is scheduled for 1 to 3 p.m. Tuesday (4/27/21) in Central Park in front of Vernon Town Hall, 14 Park Place, Vernon.
People DO NOT need appointments to receive the one-dose Johnson & Johnson vaccine.
Vaccinations are free and available to all people who live or work in Connecticut. The J&J vaccine is available only to people 18 or older.
The Town of Vernon continues to offer vaccination clinics at the Vernon Senior Center. For a schedule and to signup, please visit:
April 25
Report: State warned CVS was vaccinating out-of-staters
HARTFORD, Conn. (AP) — More New York residents than Connecticut residents had been vaccinated at a CVS by the time state officials visited the location in February. An investigation by the New Haven Register finds state health officials were warned days earlier that New York residents were lining up at the CVS in Waterford. Many took advantage of a computer glitch to get appointments, and some who received the vaccine weren't eligible under state guidelines at the time. A CVS spokesperson tells the newspaper the company has since changed its website to make sure vaccine recipients meet eligibility requirements.