HARTFORD, Conn — Certain businesses are set to reopen in one week in Connecticut, but Governor Ned Lamont said it "won't be a light switch that turns on" May 20th. Instead, he expects things to "phase-in" over time.
He spoke during Wednesday's press briefing about being one of the earlier states in New England to open up parts of the economy.
"I've always maintained that we're never going to get reopened and give the consumer the confidence to go back to that store, to that salon, to that restaurant, unless they feel we're putting public health front and center," Governor Lamont said. "That's why we've tried to strike the right balance in terms of how we start reopening next week - one week from today."
Two legislators with a unique perspective spoke during the briefing about what the restaurant industry looks like now and what it will likely look like in the future. State Senator Christine Cohen (D - Guilford) and State Senator Paul Formica (R - East Lyme) both own small businesses in Connecticut.
According to Sen. Formica, he had to reinvent his business to accommodate the health and safety of his customers and employees at Flanders Fish Market in East Lyme back on March 17th. He said they had to close off rooms and turn off refrigerators and freezers in order to reduce costs and "survive during this time."
"Our revenues are down significantly, but we are holding our own due to the fact that we have the greatest staff in the business and our support from our great customers," Sen. Formica said.
He said to adjust, they started to offer curbside and delivery service to patrons. He said the move to outside dining on May 20th will be good for them and their customers, but said it will be weather dependent.
"I have a deck and other outside space on our property to put tables out there. The forecast for the next 7 days, however, includes 4 days of rain. So while this may be a prudent and measured start, there are many restaurants - both large and small - that solely outdoor dining is not going to work for."
In terms of going forward, he said, "opening a restaurant or any business now is not going to be the same as it used to be. We need to recreate and develop new processes to manage people's movement and product distribution. We need to make sure everyone has adequate access to levels of masks, gloves and cleaners to sustain a 7-day operation."
Sen. Formica added they're "ready for the challenge."
"We've been in this state a long time, and we want to be in this state a lot longer," he said.
Sen. Cohen said revenues at her bagel business in Madison are also down, but she was fortunate to keep her doors open and her staff employed.
"It's far from easy but we're making it work," Sen. Cohen said. "Our company and partners have been able to adapt to a new way of conducting business."
She said some of those changes include starting an online operation for ordering, bringing orders to customer's cars or leaving them on a table, and having staff wear masks and gloves, which are frequently changed. She said as restaurants slowly begin to reopen, there will be a focus on customer's comfort levels, which will be dependent on how other patron's behavior.
"Not only do restaurateurs and retail establishments need to be concerned with having superior customer service, cleanliness and great products - now we also have to be extremely concerned with how other customers are behaving in terms of their own safety protocols. We've just never experienced anything like this before," Sen. Cohen said.
She also put out a plea to people to continue to social distance, wear a mask in establishments, and support small business.
"They are truly the backbone of our economy," Sen. Cohen said. "While much of Connecticut's economy hasn't shut down, the smaller percentage of the GDP greatly needs your help for their future survival.
Governor Lamont also addressed concerns about out of state residents coming to Connecticut to dine on May 20th.
When asked by FOX61's Zinnia Maldonado, Governor Lamont replied, "I'm going to watch that like a hawk…We closed our restaurants and bars in conjunction with our neighboring states - in particular New York. We're doing just outside dining, and we're talking to New York and Rhode Island, which is doing their outside dining at the same time to see what else we can do on a regional basis because - you're right we don't want a lot of traffic going back and forth."
According to Governor Lamont, if phase one of reopening is successful, phase two could begin around June 20th.
"It seems to me that we're going to do this phase one on May 20th. We're going to have two or three weeks to get an idea of what the effects have been, are there been any flare-ups, are people following the protocols… that will give us some good insights as we focus on June 20th," Governor Lamont said.
Governor Lamont also provided an update on the state's plastic bag tax, which was suspended during the pandemic.
"My understanding is the answer to that is yes. During the height of things we didn't want all that touch going on, but I think it's as of May 15th…the tax goes back," Governor Lamont said.
His chief of staff, Paul Mounds, followed up and explained the tax would return overtime.
"We are working with the industry and environmentalists on it, so we should have some details about the development for that most likely tomorrow," Mounds said.
According to the latest numbers, there have been 34,855 cases of COVID-19 in Connecticut, an increase of 522. Deaths rose by 84 from Monday, bringing the total to 3,125.
Hospitalizations dropped by 31 to a total of 1,156. According to Governor Lamont, that's almost three weeks of decline.
Testing increased by more than 4,500, bringing the total number of COVID-19 tests done to 142,943.
See below for a list of the businesses permitted to reopen next week.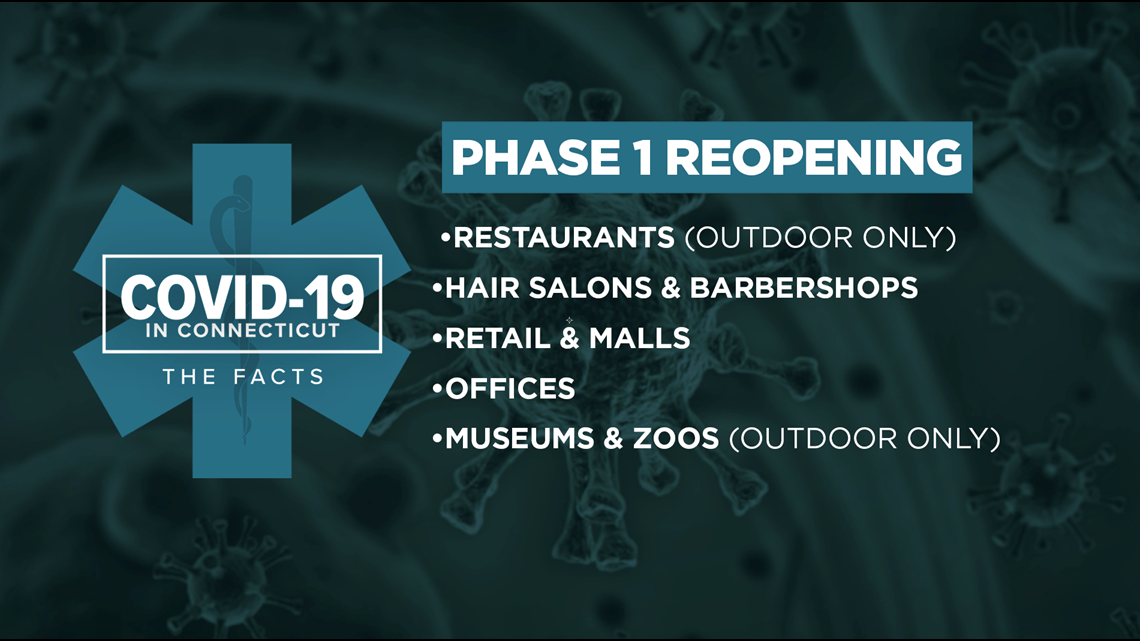 Gov. Lamont signed Tuesday an Executive Order today that will help expedite the various approval processes so that restaurants can expand outdoor dining areas.
On Tuesday, the governor also provided updates on coronavirus numbers in the state.
According to Lamont, 568 new cases were reported Tuesday bringing the state's total to 34,333 people testing positive 3,041 people have died in CT, which was an increase of 33 since the day before.
Hospitalizations continue to decline in the state, however. 23 less people are in state hospitals, which leaves 1,189 total patients being treated.
A total of 138,424 tests have been administered in Connecticut to date.