HARTFORD, Conn — A 13-year-old is in "grave condition" after three students came into contact with a substance suspected to be fentanyl at the Sports and Medical Science Academy in Hartford on Thursday morning. Two other students were also taken to the hospital.
School officials said Thursday evening the school will be closed Friday and classes won't be held that day. There will be options for crisis help for anyone who needs it. Students can seek support in-person at Kinsella Magnet School from 9 a.m. to 2 p.m. There will be virtual options available too. Students can also dial 211 for Mobile Psychiatric Crisis Services.
Emergency personal responded to the school Thursday morning after one student collapsed at about 10:30 a.m. A school nurse began CPR before emergency officials arrived and took over the student's care, restoring a heart rhythm.
Hartford police said officers responded at around 10:45 a.m. on a report of an unconscious male juvenile. The 13-year-old was taken to Connecticut Children's Medical Center where police said he remains in "grave" condition.
Officials said the two male victims never lost consciousness and were elsewhere in the building. Police said the two students complained of dizziness. The two students were taken to Connecticut Children's Medical Center for evaluation.
The incident then turned into a hazmat situation after a number of bags of what officials believe to be fentanyl was found in the school inside multiple classrooms and the gym. Police believe a student brought the drugs into the school. Police believe the three students came in contact with it at the same time.
A crisis team had been deployed to the school, according to Superintendent Dr. Leslie Torres-Rodriguez.
Officials urged students and staff to bring any unknown substances to the attention of authorities.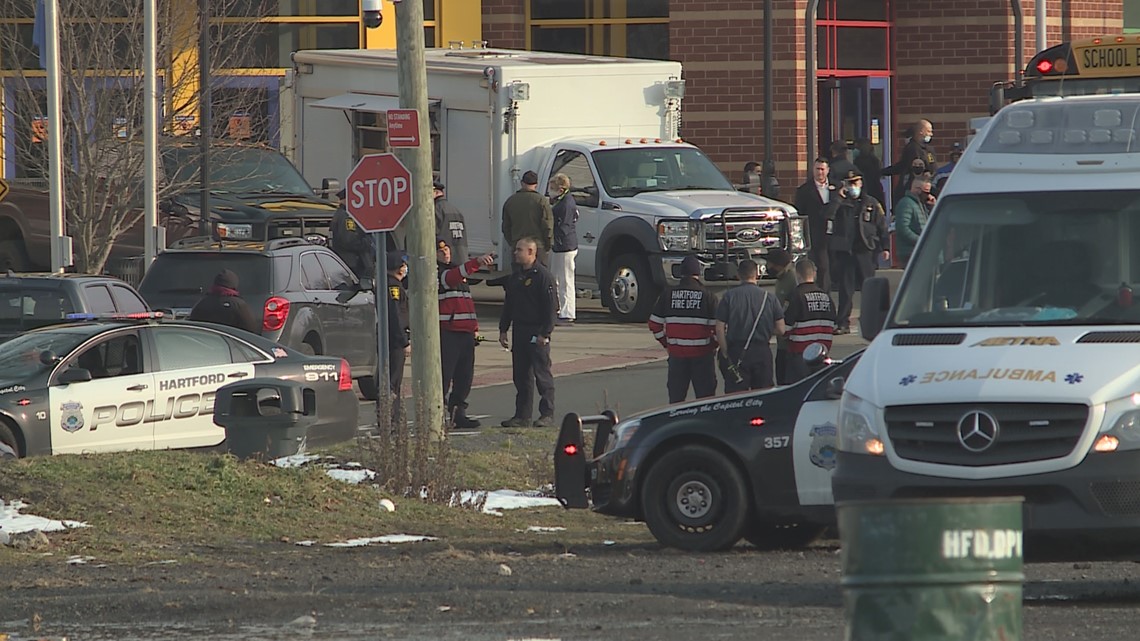 The school went into a shelter in place order in response to the incident. Multiple drug-detecting K-9s went into the building to check for more narcotics before school dismissal. Students were dismissed at 3 p.m. with no further issues, police said.
Following school dismissal, crews started the process to test and fully clean the campus before the building can be reoccupied.
Mario Oquendo, Jr., District Chief with the Hartford Fire Department, told reporters that three students had suffered suspected overdoses at the school.
In an email, he said, "Initial reports indicate that CPR was initiated by the school nurse on one student and HFD personnel took over performing CPR until relieved by responding medics. Rhythm returned for that student and CPR was stopped. All three student/patients were transported to CCMC. HPD is on scene investigating. Our companies have cleared the scene, any further details will need to come from HPD."
All three students are teenagers in the seventh grade.
Multiple agencies are working on the investigation, including Hartford Police Special Investigation Unit, Major Crimes Division, Vice and Narcotics Division, Crime Scene, Patrol and Intelligence Divisions, with the assistance of the DEA, Department of Energy and Environmental Protection and Connecticut State
Police.
Sports and Medical Science Academy is located on Huyshope Avenue near Dillon Stadium.
This is a developing story. Check back for more details.
Doug Stewart is a digital content producer at FOX61 News. He can be reached at dstewart@fox61.com.
Have a story idea or something on your mind you want to share? We want to hear from you! Email us at newsteam@fox61.com
HERE ARE MORE WAYS TO GET FOX61 NEWS
Download the FOX61 News APP
iTunes: Click here to download
Google Play: Click here to download
Stream Live on ROKU: Add the channel from the ROKU store or by searching FOX61.
Steam Live on FIRE TV: Search 'FOX61' and click 'Get' to download.