HARTFORD, Conn. — Many Connecticut businesses that closed during the coronavirus outbreak are preparing plans to reopen under the state's guidelines.
Gov. Lamont and state's Reopen Task Force said the decline in hospitalizations and an increase in testing and contact tracing, puts Connecticut in a position to reopen while maintaining social distancing measures.
We will include a running list of businesses reopening as they come in to our form.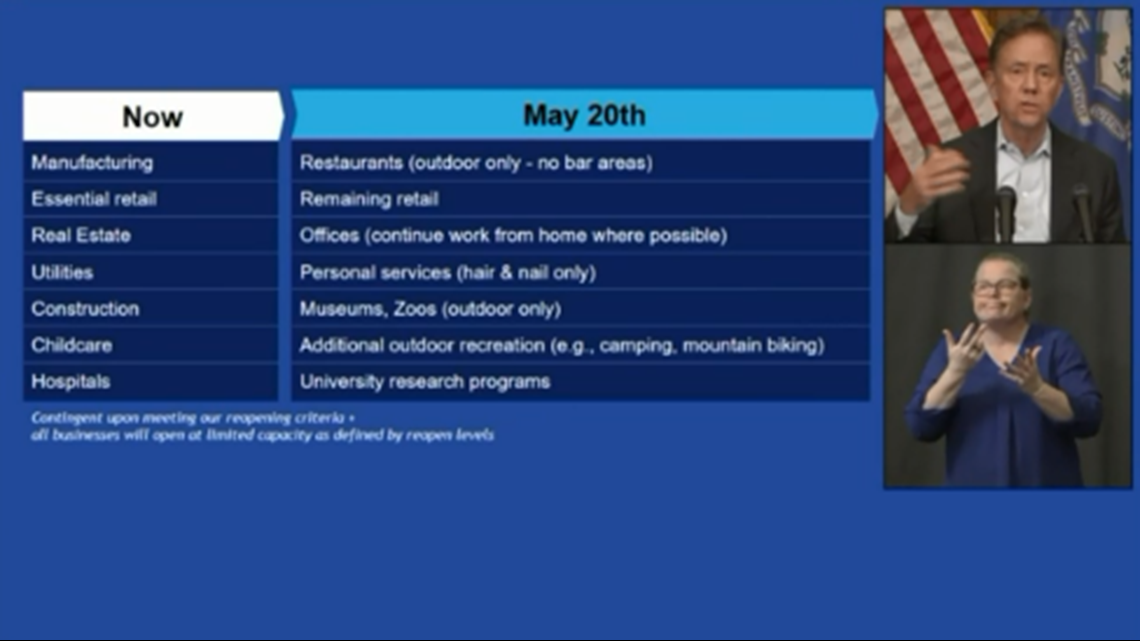 A spokesman for Gov. Ned Lamont's Office tells FOX61 that blow dryers will indeed be allowed when salons reopen starting May 20 at the earliest. Salons are not required to reopen on the 20th, but they are permitted to.
Here are the businesses that have announced plans for reopening
This list is not comprehensive. It will be updated.
Hair salons/Barber shops

UPDATE as of Monday, May 18: Gov. Lamont said Monday that hair salons and barbershops were initially included in Phase 1 of Connecticut's reopen plan, which begins May 20, however after having extensive discussions with owners and employees of these businesses he feels that it is in everyone's best interests to provide for some additional preparation time and also align the state with its regional partners. The reopen date has been pushed to June.

The following salons and barbershops notified us before Gov. Lamont's announcement Monday that they would not be opening May 20:
Cheveux a Salon -Prospect
The Barber Chair Barbershop -Newington
Northeast Barbershop -- Bridgeport
Kevin Edward Gentlemen's Barbershop -Old Saybrook
Headliners Barbershop - Guilford
Salon Halo LLC - Burlington
Hair Gallery at the Mill - Tariffville/Simsbury
Studio b - Wilton, Fairfield, Westport, Norwalk
Artistex Salon and Spa - Westport
Salon Eleganza - Plainville
Hair Rage Unisex Salon - Enfield
Rikeesa Salon & Spa - Cheshire
Trendsetters Salon - Stamford
Chair29 Salon & Barber Shop - Southington
Master Barber CT - Waterbury
Bill's Barbershop -Uncasville
JD's Barber Shop - Granby
Sola Salon studios / stylist from Shampoo One have moved into studios to keep everyone safe! - Glastonbury
Anthony Nicole Salon - West Hartford
Balance Hair Studio - Taftville
The Loft Hair Design - Somers
Inspiredstyle Salon - Ansonia
The Male Shoppe --Ansonia
Options Hair Salon -Shelton
Salon d' Amore - East Hampton
Other
American Republican Inc. - Waterbury
The Eye Care Group - Waterbury, Orange
Advocates for Insurance Benefits, LLC --Hamden
Ideal Healthy Weight Loss LLC --Avon, Granby, Glastonbury
Aubra's Alterations - Scotland
Pins to Needles Fabric Store -Scotland
Palmero Healthcare LLC -Stratford
Prignano Eyecare -East Hartford
Tremblay's Ceramic Creations -Gales Ferry
Ninel's Dress Design and alteration shop - Newington
Equitable Advisors Bristol, Milford, Shelton, Westport, West Hartford, Stamford
Hawk Ridge Winery - Watertown
Tender Care Learning Center - Middletown
Center for Dental Excellence - Simsbury, Litchfield, West Hartford
Shapiro Family Dental - Wethersfield
Lucky Chance Farm - Naugatuck
Essentials for the Special Woman - Vernon
Cinepolis Luxury Theater in West Hartford, at Blue Back Square will be reopening with a Brand New Menu, New Signature cocktails and a variety of movies for the whole family.
Restaurants
The Goose & the Gardener -Thomaston
Baltic Restaurant -Berlin
Brass City Bistro -Waterbury
The Flying Monkey Grill & Bar - Newington
J's Restaurant/Bar - Hartford
The Flying Monkey Grill & Bar - Newington
The Country Diner - Enfield
Mirsina's Restaurant - Old Saybrook
Vero Cucina Rustico - Middletown
Rise & Grind Cafe - Fairfield
Lyme Tavern Sports Bar - East Lyme
Senor Pancho's - Middlebury
Tipping Chair Tavern - Southington
Thomas Hooker Brewery - Bloomfield
Stony Creek Brewery - Branford
THC The Hops Company - Derby
Subway - New Haven, Stamford , Orange , Hamden
Retail
Hat City Pawn --all locations
Going to the Chapel Dress shop --Enfield
M & J Video Games & Collectibles --Southington
Granite Swam Memorials -North Haven
Westfarms Shopping Center
P.J. Jewelers Main Street Market - Middletown,
Clinton Crossing - Clinton
The Shoppes at Buckland Hills
Westfield Shopping Center - Meriden, Trumbull
Foot Prints Shoes & Accessories - Newington
Salvation Army - Hamden, Newington and Dayville
Modern Formals, LLC - Southington - Middletown, North Haven, Meriden, Mobile
Oscars Tux - Bristol, West Hartford
Modern Formals - Middletown, Southington, North Haven and Meriden, Middletown
Joseph A.Conte Jewelers - Hamden
Becker's Diamonds and Fine Jewelry - West Hartford, Old Saybrook
Atianas Boutique - Milford
Pins to Needles - Scotland
That Book Store - Wethersfield
Johnny's Records - Darien
Burlington Coat Factory - East Hartford