WEST HARTFORD, Conn — Gov. Lamont announced Thursday afternoon that he has activated the Connecticut National Guard and approved the deployment of teams to assist utility companies in the ongoing statewide power restoration efforts.
"The Connecticut National Guard has been a major component in our efforts to minimize the impact of COVID-19 in our state, and now we're also calling on their service to help our residents out following another major weather event," Governor Lamont said. "We continue to work with our municipal counterparts to help ensure they have what they need to restore power and clear our roadways."
The initial phase of the deployment will involve four route clearance teams that will support state and local authorities in the removal of large debris blocking roadways, Lamont's office said in a release
Each team consists of three vehicles, including an excavator, and seven personnel. In the initial stages, two teams will support United Illuminating and two teams will support Eversource.
Additional teams may be added in the coming days. Connecticut Army and Air National Guard assets are being utilized to support these route clearance efforts.
Lamont said the Guard provided similar support during recent major weather events, including the May 2018 microbursts that severely affected towns in the southwestern portion of the state.
Earlier Thursday, in a press conference in West Hartford Thursday, Governor Ned Lamont said there was plenty of time for "Monday morning quarterbacking" later when it came to investigating Eversource and United Illuminating's response efforts following Tropical Storm Isaias.
He said the goal right now is to work with the power companies, asking them what they need, in order to get Connecticut residents back in working order.
West Hartford's Town Manager Matt Hart said that the city only saw one Eversource crew out and about Wednesday. The city, at the time of the press conference, was still at over 50 percent without power. Hart said that the town was in communication with nursing homes and other assisted living facilities, making sure residents and staff are taken care of.
Hart asked West Hartford residents to be careful driving around the city since lines and trees are still obstructing roads. He also advised residents to avoid driving at night if they could.
Gov. Lamont said that he was reminded how interconnected everything is in terms of power sources. He went on to say that the Department of Labor had called, saying their Wethersfield office is on a generator that would only last three or four days. If the power went out fully, Gov. Lamont said unemployment would be in trouble.
Gov. Lamont visits West Hartford post-Isaias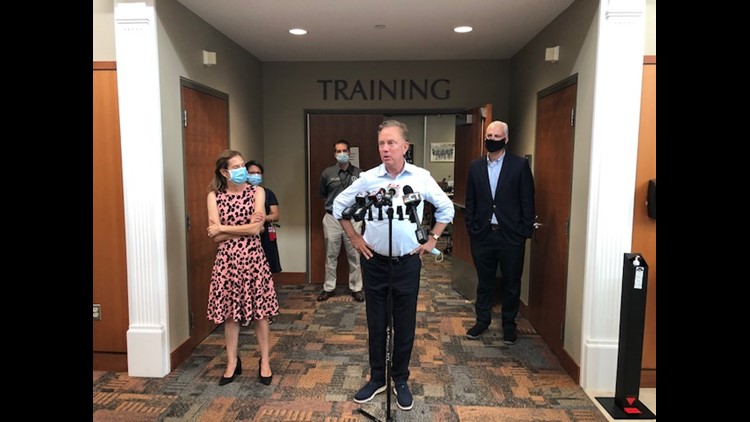 He went on to say how one-third of all nursing homes in the state are on generators and not the power grid. One nursing home's generator was no longer in operation, Gov. Lamont said, creating a temporary emergency situation.
Also in dire need of stable electricity is Waste Water System who also is running on back up generators that are only slated to last several days.
Gov. Lamont said that Verizon had called him, saying that they had to get to their cell towers which were running off of battery packs, but couldn't due to tress obstructing their path.
In terms of the electric company's response efforts, Gov. Lamont stated that they have been having "frank and honest" discussions over the last couple of days. He also said that he and his administration will "hold their feet to the fire until we have everyone back up and operating."
The comments come as Connecticut's Public Utilities Regulatory Authority (PURA) officially announced Thursday that they will be investigating Eversource and United Illuminating's response efforts. The announcement came after Gov. Lamont called for an investigation into the companies on Wednesday.
Gov. Lamont has been critical of Eversource for spending hundreds of thousands of dollars into modernizing its grid but seeing no results after Isaias.
On Wednesday morning, over 700,000 people were without power between the two electric companies.
"To be blunt, I don't see much progress made from all the investments we've made in terms of hardening, strengthening and modernizing our grid," said Gov. Lamont.
Gov. Lamont had asked PURA a list of requests:
Consider whether the utilities were adequately prepared and have the resources they need to handle large weather events
Evaluate their response and whether it met regulatory and statutory requirements
Determine whether their investments went towards their outage response system
Determine whether civil penalties should be applied
PURA said they will examine, in detail, measures each company took in preparation for this storm, which caused widespread power outages and lengthy service restoration timelines, as well as reasons behind the clear misstep in response.
State Senator Derek Slap, who represents West Hartford, Bloomfield, Burlington, and Farington, said he had been hearing from frustrated residents who are still in the dark. Sen. Slap said it was "unacceptable" that West Hartford remains the third-highest number of outages in the state.
The town has added charging stations at select public school lots and most of them will be available from 7 a.m. to 8 p.m.
The charging station list is as follows:
Conard - Berkshire Road - outside of grounds garage across from cafeteria
King Philip - 100 King Philip Drive - to the far right of main entrance
Bristow - 34 Highland Street - main entrance at north end of building
Charter Oak - 425 Oakwood Avenue - outside cafeteria/gym entrance off of playground
Morley - 77 Bretton Road - kindergarten playground at front of building
Norfeldt - 35 Barksdale Road - front entrance
Whiting Lane - 47 Whiting Lane - north parking lot, loading dock
On Wednesday, the governor requested that PURA investigate Eversource and United Illuminating in response to the power outages.
In a news conference Wednesday afternoon, Governor Ned Lamont demanded more urgency from Eversource to get everyone back up and running.
"This is electricity, this is life-giving to people," said Lamont.