NEW HAVEN, Conn. — Thursday marked the one-year anniversary of a deadly house fire that killed New Haven Firefighter Ricardo Torres, Jr. and severely injured Lt. Samod Rankins. State investigators also revealed the point of origin of the fire, but say they were unable the determine the cause because of various factors.
And, on a day full of sadness, the New Haven Fire Department held a memorial for a firefighter described by many as a hero.
"We don't forget and we will always carry Ricardo Torres Jr. in our hearts," said Assistant Fire Chief Justin McCarthy.
Torres, 30, was known as Rico, Rick and Tornado, but he was only able to live his life's dream of being a New Haven firefighter for 22 months.
His energy, his passion, his emotion, his drive, his will. That's what we remember about Rico," said Capt. Kendall Richardson.
Torres, a husband and father, was killed in a Valley Street house fire after becoming disoriented and losing consciousness. Torres had radioed a mayday alert to the crew outside.
When their fellow firefighters got to Torres, they found him and Lt. Rankins unconscious with their air supply tanks empty – something that can happen in roughly 15 minutes.
Fallen New Haven firefighter Ricardo Torres, Jr. laid to rest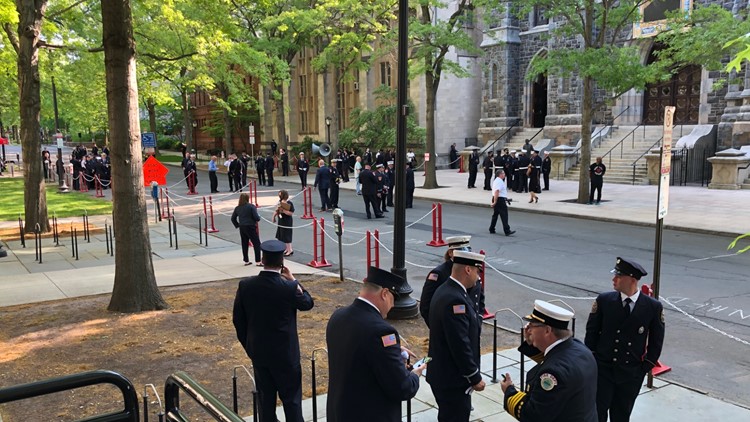 "This solidified the dangers of this profession and reminded us all what the members of this department do every day they come to work," McCarthy said.
The State Police Fire and Explosion Investigation Unit said Thursday that the fire started in the basement, but no cause could be determined because of the extent of the damage and lack of physical evidence.
"Erica lost her husband, Oliver and Kruh lost a father, Cathy lost a son, others lost a beloved family member and friend and the New Haven Firefighter is lost a brother," said New Haven Mayor Justin Elicker.
And to the recruits on hand for this remembrance, a stern message from the chief.
"This is a serious business very serious business and I want you to be able to step up and answer the call," said Alston.
The chief added that next week, during Emergency Medical Services Week, Yale New Haven Hospital will commission an award in honor of Ricardo Torres, Jr.
Have a story idea or something on your mind you want to share? We want to hear from you! Email us at newstips@fox61.com
HERE ARE MORE WAYS TO GET FOX61 NEWS
Download the FOX61 News APP
iTunes: Click here to download
Google Play: Click here to download
Stream Live on ROKU: Add the channel from the ROKU store or by searching FOX61.
Steam Live on FIRE TV: Search 'FOX61' and click 'Get' to download.