NEWTOWN, Conn. — People across Connecticut have been stepping up, doing whatever they can to send love and essentials to Ukraine. In Newtown, a 7-year-old girl has also been bitten by 'the giving bug'.
"It's really soothing for me so I hope that will be the same way for them," 7-year-old Maya Ganesan told FOX61 on Friday.
For days, Ganesan has been collecting her favorite toys and gadgets ranging from stress balls to coloring books. But, they're not for her, they're for kids like her in Ukraine.
"I'm hoping this will give them a smile on their face," she said.
Using her own money, Maya has put together nearly 100 care bags. In each bag, she leaves a personal note.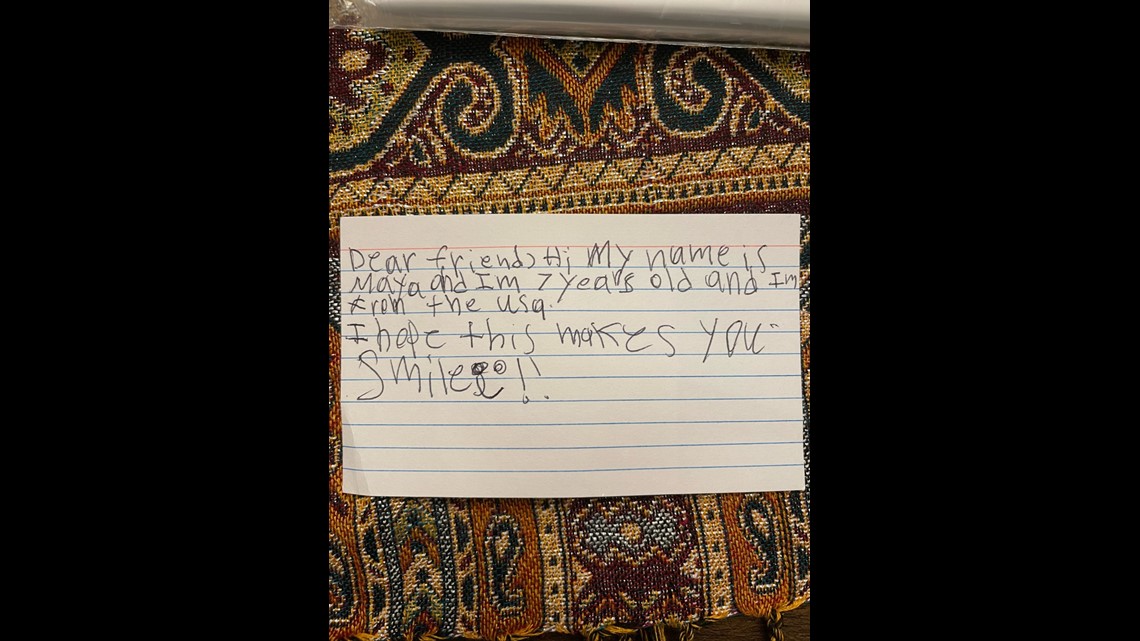 Maya and her mom, Olivia Ganesan have been keeping track of what has been happening in Ukraine. They said the images have weighed on their hearts, especially the videos of families being separated by the war.
"The moment I saw the kids they were crying, they were scared, and they were hiding in basements, so I really want to help them in some way," Maya said.
"I come from that part of the world. And it's just made me, my heart really filled up so I said let's do it," said Olivia Ganesan.
Olivia was born and raised in Azerbaijan, a former Soviet republic. She has family and friends still living in Ukraine.
"My heart goes out to everyone in Ukraine and I hope this ends soon," Olivia Ganesan said.
The 7-year-old feels the same way. She wishes she could do more than make care packages.
"Really I want to go to Ukraine and tell the president, please stop this war, but I can't, it's not in my hands," Maya said.
But she knows, this act of kindness will help.
"I want them to feel happy and excited and know that everything will be okay soon," Maya said.
If you're looking for ways to make a monetary donation to the people of Ukraine, click here.
If you want to help Maya out, who is looking to make more care packages for Ukrainian children, email her mother at olivia.ganesan@gmail.com.
Julia LeBlanc is a reporter at FOX61 News. She can be reached at jleblanc@fox61.com Follow her on Facebook, Twitter and Instagram.
Have a story idea or something on your mind you want to share? We want to hear from you! Email us at newstips@fox61.com
HERE ARE MORE WAYS TO GET FOX61 NEWS
Download the FOX61 News APP
iTunes: Click here to download
Google Play: Click here to download
Stream Live on ROKU: Add the channel from the ROKU store or by searching FOX61.
Steam Live on FIRE TV: Search 'FOX61' and click 'Get' to download.