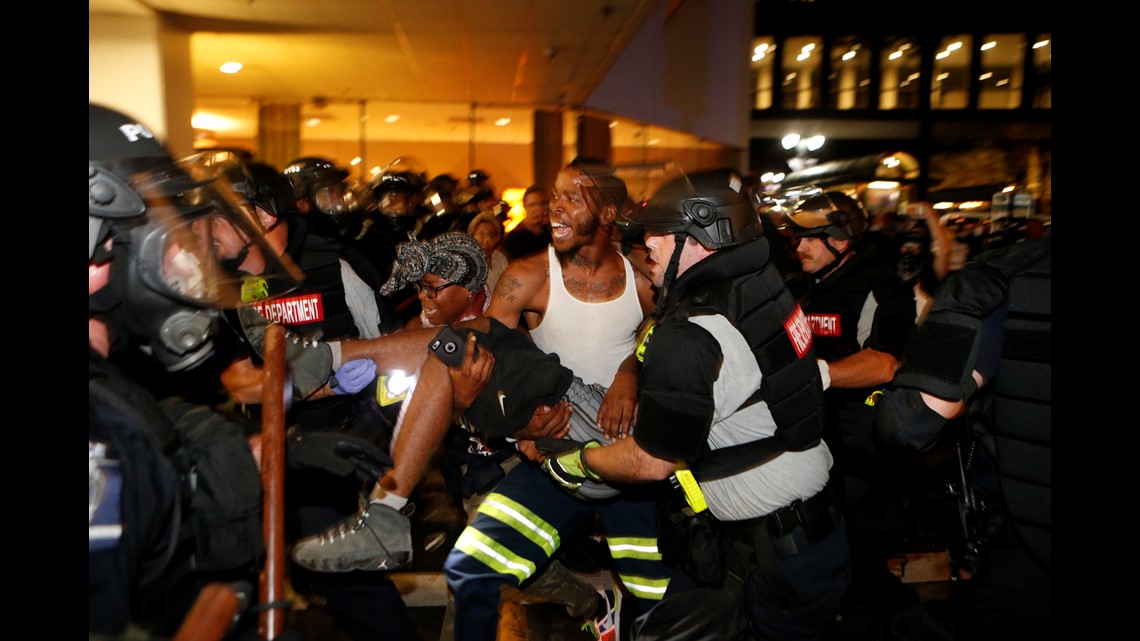 For a second night, protests over a deadly officer-involved shooting in Charlotte, North Carolina, turned violent, with police firing tear gas and demonstrators throwing objects and trying to damage vehicles.
The protests were about the death of Keith Lamont Scott, a father of seven, who was killed by police in an apartment complex parking lot Tuesday as officers looked for another man named in a warrant they were trying to serve.
At least one person was shot during the protests, and initially it was reported that person had died, but the city later retracted that and said the victim is in critical condition and on life support. Both Charlotte Police Chief Kerr Putney and an official city Twitter account confirmed the death initially, but the city later tweeted the update.
The shooter was also a civilian; no officers were involved.
FOX News reports that seven officers and one civilian were being treated at local hospitals, but the extent of their injuries is unknown. The city of Charlotte would only confirm that one officer was being treated at the hospital for injuries.
The shooting set off a long night of violent protests on Tuesday, and Wednesday the demonstrations continued for a second night, starting off as a peaceful march through downtown Charlotte.
But when the demonstrators neared an Omni Hotel, some people climbed the roof of an outdoor mall and started throwing objects at the crowd. Other people were banging on the doors of the hotel, and police in riot gear emerged in the entrance.
Chief Putney said after 9 p.m., "We're trying to disperse the crowd. We've been very patient but now they've become very violent."
Differing stories on shooting
His family said Scott, an African-American, was unarmed and sitting in his car reading a book, waiting for his son to come home from school.
But Chief Kerr said Scott exited his car with a gun, not a book. He said officers couldn't find a book at the scene.
"It's time for the voiceless majority to stand up and be heard," said the police chief, who is black.
"It's time to change the narrative because I can tell you from the facts that the story's a little bit different as to how it's been portrayed so far, especially through social media."
Putney said evidence and witnesses support the officers' claim that Scott was armed.
"The version that you hear from me is based on evidence, it's based on testimony," he said Wednesday night on FOX News.
Officers apparently repeatedly told Scott to drop his handgun, the chief said, but he didn't. Officer Brentley Vinson, who is black, then shot him.
The chief said he was not certain whether Scott pointed his gun at officers. Vinson, who was in plain clothes and wearing a CMPD vest, did not have a body camera. Three uniformed officers were wearing cameras and investigators are reviewing the footage. That was one of the protesters' demands Wednesday: that the video be released.
The family maintains its story though. Moments after her father was shot, Lyric Scott started recording on Facebook Live, livid and screaming at officers on the scene.
"They shot my daddy 'cause he's black," she said. "He was sitting in his car reading a mother******* book. So they shot him. That's what happened."
Lyric, who keeps the camera on officers through most of the 31-minute video, said her father often goes outside to read a book.
About halfway through the video, Lyric apparently learns from a news report that her father has died. She starts screaming and crying hysterically.
"My daddy's dead! My daddy's dead!" she screams. "Where's the cop that shot my daddy?"