BRISTOL – The creepy clown threats made their way to Bristol Central High School and police believe the the threats were from out-of-state.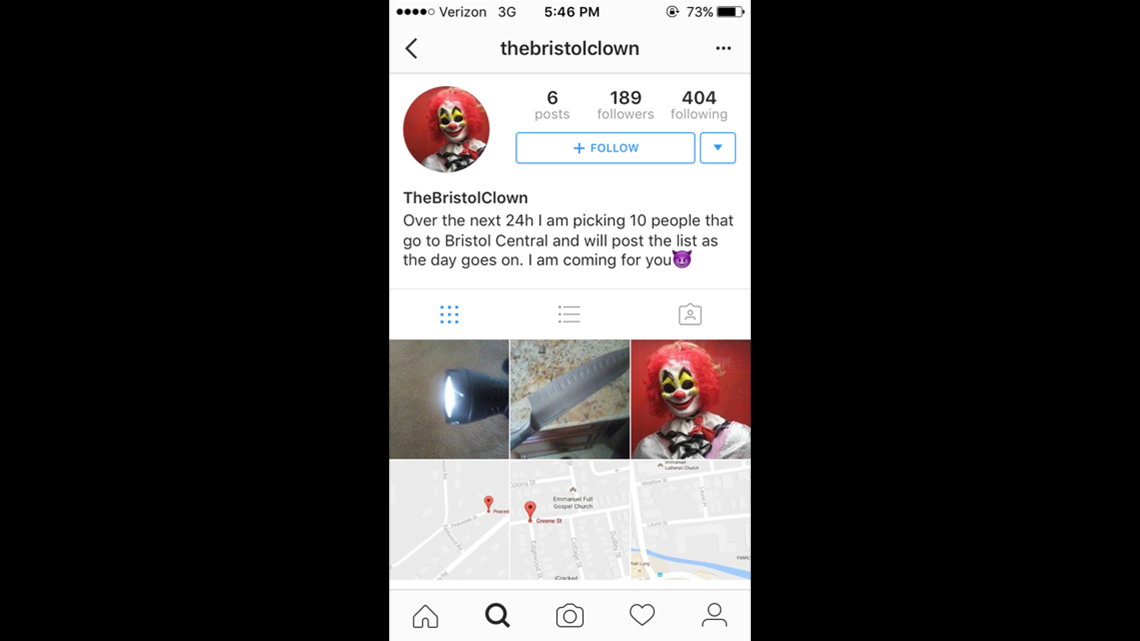 "I think it's crazy," parent Cathy Archambault said. "There's jokes that go around with creepy clown faces. There's movies with creepy clowns but that people are threatening kids with creepy clowns is just out of control and crazy."
Bristol Police immediately investigated the clown-related threat which according to police mentioned Bristol Central High School but made no specific threat of violence toward any specific student.
Cyber Crimes Detectives were able to determine that the threat originated from Florida but there will be an increased police presence at the school Thursday.
Bristol Public Schools Superintendent Dr. Ellen Solek released a statement, Wednesday:
"We have received official notice today of internet Twitter and Instagram activity that has occurred in Bristol that is related to the recent clown pictures and messaging occurring in many school districts across Connecticut and nationally.
As a precautionary measure, we are working closely with the Bristol Police Department and district safety personnel to significantly increase the surveillance at all schools district-wide, effective immediately.
All Bristol Public Schools will remain open as usual. School administrators and professional staff will also be providing additional monitoring at each school site, inclusive of monitoring on-line school computer activity.
The Bristol Police Department, working with law enforcement across the state, is continuing an intensive investigation as these events occur statewide.
As always, safety and security remains our top priority in the Bristol Public Schools. We will be sure to provide you with any additional information should it become available."
Parents across the state find these threats concerning but say they're glad police are not taking the clowning around lightly. At least six clown threat arrests have been made statewide.
"We have to make sure we're parenting and watching what our children are doing, whether it's on social media or just outside in the neighborhood," parent Kelly Mazza said. "They need to understand that this is not a game, that we're taking this seriously that people will get hurt if they think there's a cause for danger or concern."