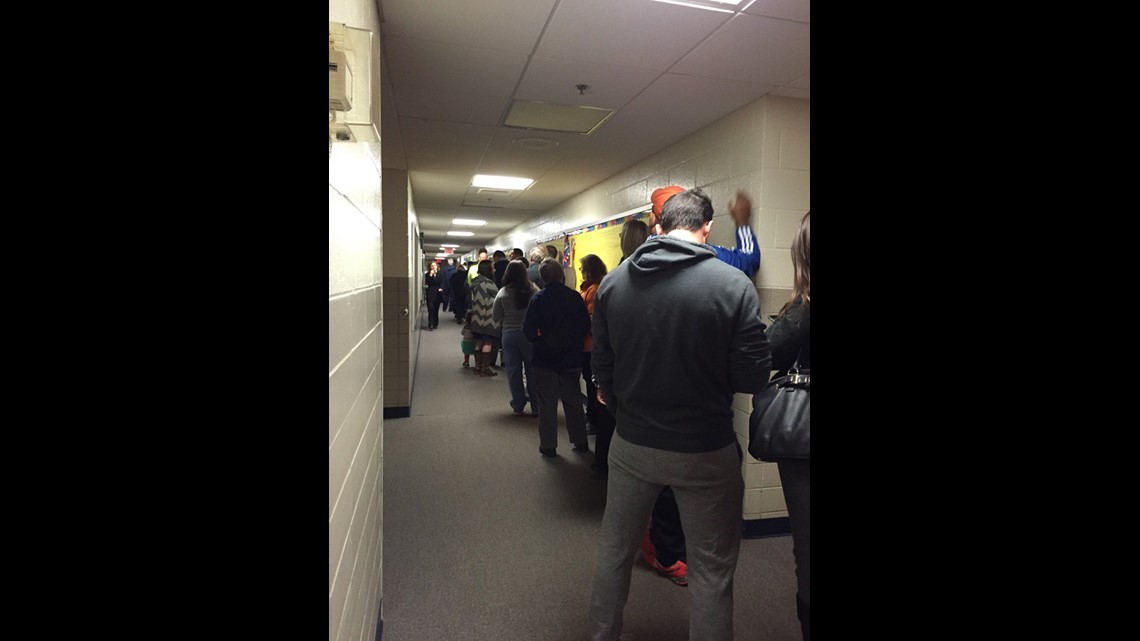 HARTFORD – The number of registered voters in the state exceeded a record 2.1 million as Connecticut voters prepare to cast ballots in the 2016 presidential election.
Polls opened across the state today at 6 a.m. and will remain open until 8 p.m. Lines were reported at a number of polling places throughout the state and expectations are that will be the case all day long.
Secretary of the State Denise Merrill expected voter turnout of about 75 percent Tuesday, about the same as it was in 2012. But officials say observations at polling places indicate the turnout number could end up being higher.
As of late afternoon, with 118 towns reporting, the statewide average for turnout was 50 percent. But those numbers are very preliminary and there are more than 50 towns, including some of Connecticut's largest cities, which have not reported turnout figures yet.
Long lines were reported in New Haven, and Merrill advised city officials to get extra staff.
Officials also reported a few voting machines broke down in some towns.
One machine was broken at the Wesleyan Hills polling location. A new backup machine was about ten minutes away, according to an official, so no ballots were hand counted. They were instead put into an auxiliary bin for two officials to feed them into the new machine when it arrived.
The Berlin Registrar said they had some earlier problems with ballots not scanning correctly, but those issues have been fixed, and the New Britain Registrar's  office said they had a problem with one machine but it was replaced and everything is back to normal there.
In Meriden, police said there was some pushing and shoving at Hanover Elementary when the polls first opened. People were lined up at the wrong door to get in and when they discovered they needed to move there were some heated exchanges. But, police said, no one was arrested and everyone was able to vote.
Secretary of the State Denise Merrill released the following statement Tuesday morning:
"In many ways, this is a year of firsts. It is the first presidential election in which we've had Election Day registration, online voter registration and the introduction of the online results reporting system. We hope that all these services will benefit the voters of Connecticut. However, we urge anyone intending to register today, please get to your Election Day registration site early. You must be registered by 8 p.m. in order to cast a ballot. There is lots of information online at myvote.ct.gov. Find your polling place, look up your registration to make sure it is up-to-date and ensure you have proper identification. All that information and more is available at myvote.ct.gov. Lastly, get out and vote. It is your voice. Use it."
Here are some tools to help you navigate your way on Election Day:
Hotline:
Secretary Merrill has released the voter hotline with the State Elections Enforcement Commission. Members of the public should use the state's 866-SEEC-INFO (1-866-733-2463) hotline or email elections@ct.gov if they encounter any irregularities at the polls. The hotline and email address will be monitored throughout the day by the State Elections Enforcement Commission and the Secretary of the State's office.
Voter ID:
Secretary Merrill is also reminding voters to bring with them some form of identification when they cast a ballot. A driver's license will suffice in all cases but if a voter does not have a government issued photo ID then a bank statement, utility bill, pay stub or other forms of identification are also acceptable. Voters should go online to see a complete list of acceptable forms of voter identification.
Secretary's Legal Assistance Project:
Volunteer attorneys from the Connecticut Bar Association will be on call throughout the state to respond if asked by Merrill's office. The designees will only be dispatched to a polling place if a particular problem is reported to the Secretary of the State's office and Merrill determines it is necessary to receive independent confirmation. Designees have no authority in the polling place other than to observe the local administration of elections and report back to Merrill on the compliance with state and federal election laws. The volunteer attorneys have been trained in election administration by the Secretary of the State's office, and have signed an agreement that they will not act in a partisan way on Election Day. In total, more than 100 Connecticut attorneys have volunteered to participate in the program, and are ready to serve in communities all over the state.
Election Day Registration:
People intending to register to vote on Election Day are being urged to go to the Election Day registration site early. Election Day Registration permits anyone to register and vote in person on Election Day who meets the eligibility requirements for voting in Connecticut and is not already registered, or is registered in one town but has moved to another town. Election Day registration is not available at your polling place, but is available at a designated Election Day registration location in each town, beginning at 6 a.m. and ending at 8 p.m. Please plan to arrive early in the day as there may be long lines. You must be registered by 8 p.m. in order to vote. You will need to provide proof of identity and residency. A list of Election Day registration sites is available here.
You can find your polling place, Election Day registration site, voter lookup tool and more here.