Political leaders and others in Connecticut are reacting to the passing of President George Herbert Walker Bush last night in Houston. Bush was 94.
The 41st president was born in Massachusetts, but his family relocated to Greenwich within months. George grew up on Grove Lane in the border town, and met his wife-to-be Barbara at a Christmas dance at the Round Hill Country Club there. His father, Prescott Bush, served as a U.S. Senator from Connecticut. After serving in WWII, George attended Yale University. He eventually moved to Texas to make his fortune in the oil business, and start his own political career. He served in Congress, as the head of the CIA, special envoy to China, Chairman of the Republican Party, and Ronald Reagan's vice-president before he ascended to the Oval Office.
Governor Dannel Malloy has ordered flags to be flown at half-staff for the next 30 days in Bush's honor. In a statement, he said Bush "was not only the leader of our nation during a time of transition in a post-Cold War world, but he was also a son of Connecticut, a war hero, a baseball enthusiast, and a dedicated and selfless public servant. His commitment to serve this nation when called upon... illustrated his undying love of country. Especially at this time as we mourn his loss, all of us as Americans should take a moment to reflect on the diplomatic ways that President Bush lived his life and the example he set for our nation, particularly in the years following his service in the White House. He understood that living in the greatest democracy in the world also means that we may have differences of opinion in policies and ideology, but at the end of the day we are all Americans who love our country, whose peaceful coexistence is the very thing that makes this country great, and who all want our nation to succeed as one."
Lt. Governor Nancy Wyman said, "I am deeply saddened to hear of the news of the death of Former President George H. W. Bush, a man devoted to civic duty and public office. President Bush lived an extraordinary life and his lasting impact on our nation will be forever remembered. The entire Bush family has given so much to our country, particularly through their political and military services, and our hearts are with them during this time of mourning."
Governor-elect Ned Lamont said in a statement that historians should re-think their evaluations of George H.W. Bush's presidency. "Presidential surveys put George Bush the Elder in the middle of the pack. He should be moving on up. We have had mostly foreign policy rookies in the White House over the last generation and America was well served having a decorated war hero, UN Ambassador, Ambassador to China, CIA Director and Ronald Reagan's VP in the White House as the Berlin Wall came crashing down and Saddam Hussein invaded Kuwait." He closed "As American politics takes a particularly rough turn, we will all miss and should always remember George H.W. Bush, Connecticut's native Son, a kinder and gentler time, marked by courage and wisdom and service."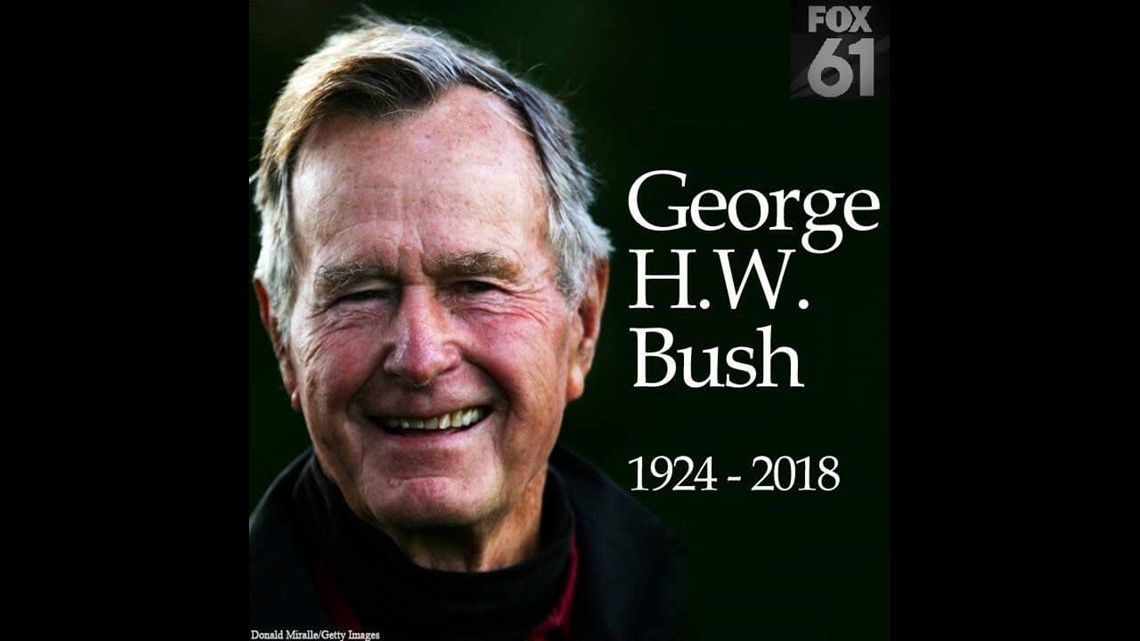 U.S. Senator Richard Blumenthal reacted to Bush's passing this way: ""What a great life! George Bush earned deep respect across the political spectrum because of his honesty, decency, and undoubted dedication to America. Agree or disagree, people knew that what he said was what he believed. And what he did, as well as said, was what he believed was right for our nation. His personal courage, moral fiber, and love for America's rich diversity, will be deeply missed. Our thoughts and hearts go out to his family, some still in Connecticut, which is proud of his early years and family roots here."
1st District Rep. John B. Larson released the following statement: "The country lost a great American with the passing of President Bush. Throughout his time in office and afterwards, he always exemplified the dignity of the Office of the President of the United States. He had a stellar career dedicated to public service from his time in the military to his Presidency and beyond. Our nation will deeply miss him and mourn him. My sympathies go out to President George W. Bush and the entire Bush family."
The Connecticut-based relief organization Americares is also grieving Bush's passing, saying "President George H.W. Bush and Mrs. Barbara Bush were instrumental in founding the health-focused relief and development organization nearly 40 years ago and remained loyal Americares supporters for decades. George H.W. Bush and Americares Founder Bob Macauley were friends since childhood. 'President and Mrs. Bush traveled with us on airlifts delivering medicine and relief supplies to crisis zones all over the world, and chaired numerous fundraisers inspiring others to support our mission,' Americares Co-Founder and Permanent Vice Chairman Leila Macauley said. 'He believed we could all be points of light and was the most commendable example. We have lost a great friend and a member of the Americares family.'"
President George H. W. Bush returned to Yale in 1998 for his 50th class reunion. This is FOX61's coverage of that event.