HARTFORD -- Connecticut State Police have confirmed that Fotis Dulos, the estranged husband of Jennifer Dulos, was taken into custody Wednesday afternoon.
Fotis is facing a new charge of tampering with or fabricating physical evidence. Fotis posted a $500,000 bond where he was then released Wednesday night.
"We plead not guilty to the pending charges. We intend to plead not guilty to these charges and we look forward to a full day in court," said Pattis.
State police released a 43-page arrest warrant in this case.
The arrest warrant states Fotis' girlfriend, Michelle Troconis, admitted to police during an interview on June 2 that she could not account for Fotis' whereabouts on the morning Jennifer went missing (May 24). Michelle and Fotis also wrote "alibi scripts" detailing where they were on 5/24 and 5/25, but Michelle later admitted the details were false, according to the warrant.
The warrant also details how police believe Fotis used a Fore Group worker's Toyota Tacoma truck to go down to New Canaan.
On page 13 of the warrant, police released the last known photo of Jennifer alive: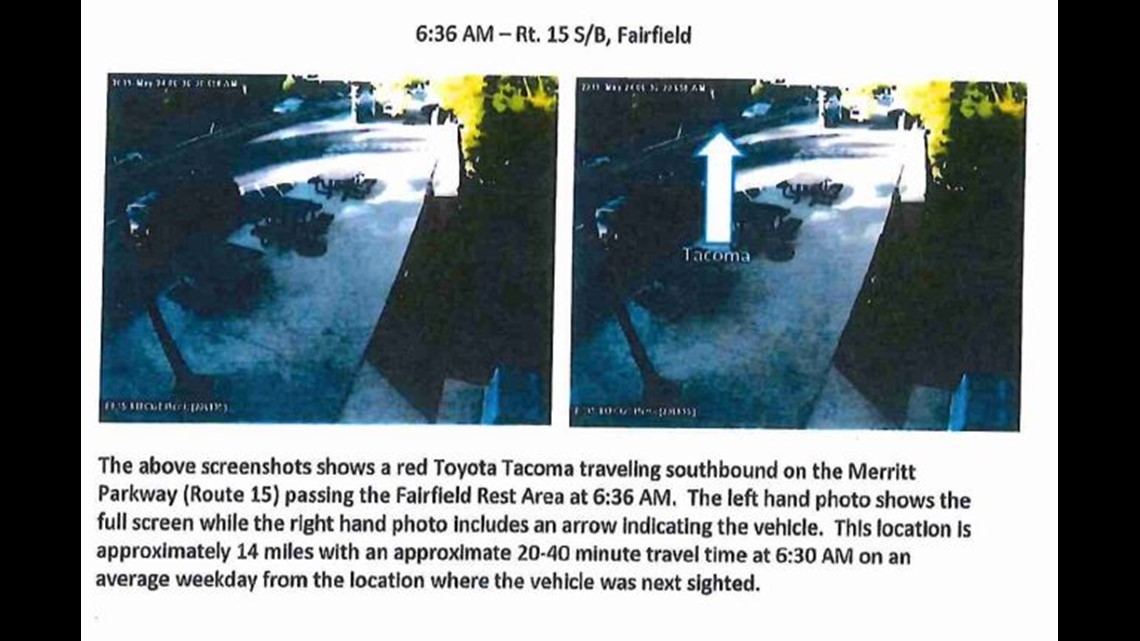 Police also believe that Fotis drove Jennifer's vehicle with her body inside and a number of other items used in the cleanup.
Also, state police mention surveillance video that shows the Tacoma traveling back to Farmington.
The arrest warrant also states that one of Fotis' worker told officers that Fotis told him to change out the seats of the Tacoma – lab techs found blood-like substance matching Jennifer's DNA on those seats.  The worker had swapped out the seats in the truck but saved the original seats.
State police said the worker told them he met with Fotis and Michelle on Mountain Spring Road where they were "cleaning".
The worker went on to say,  without his consent or knowledge, Fotis took the Tacoma to a car wash in Avon to get it washed and detailed. He said Fotis told him that he had hugged Jennifer on Mother's Day and was worried that police may find a hair in the vehicle.
State police also said Michelle told investigators that Fotis told her he spilled coffee in the truck and tossed a towel to her that she put in a garbage bag.  When questioned about the towel, Michelle said she couldn't remember the stain, but it did not smell like coffee.
You can read the full arrest warrant below:
Fotis' lawyer Norm Pattis released the following statement after state police released the arrest warrant:
"It is difficulty to see why the state waited for months to serve this warrant. It was unnecessary. Apparently, Michelle has changed her tune and a handyman is telling tales to deflect attention himself. We wish the state police spent more time looking for Jennifer and less trying to build a case against Fotis. We will plead not guilty to these charges next week in Norwalk."
Prior to the release of the arrest warrant, Pattis released the following statement:
"Based on what I've been told, the warrant is another circumstantial jab at the wrong man. The decision to arrest him again and require him to post another enormous bond is punitive and intended to break his will to fight. Read my lips: we're neither bending nor breaking."
Dulos will appear in court on September 12th in Norwalk.
Police are continuing to investigate the disappearance of Jennifer.
Jennifer, a mother of five, hasn't been seen since Friday, May 24  when she dropped her children off at school. She was reported missing that evening.
Around the same time, police say people matching the description of Fotis and his girlfriend Michelle Troconis were caught on video dropping garbage bags into bins along Albany Avenue in Hartford.
Police say at least two of those bags contained items with Jennifer's blood on them.
Fotis and Troconis were both free on bond.
The investigation remains both a missing person investigation and a criminal investigation.