HARTFORD -- FOX61's Chief Investigator Brian J Foley revealed Friday morning on the FOX61 Morning News that a video posted on Facebook showed a Hartford police sergeant telling group of people that he's "a little trigger-happy."
FOX61 reached out to Hartford City Hall and the Hartford Police Department. They have confirmed the sergeant in the video is Steve Barone, and that an immediate internal investigation has begun. He was suspended for four days following an internal investigation into an administrative excessive force incident in the summer of 2016.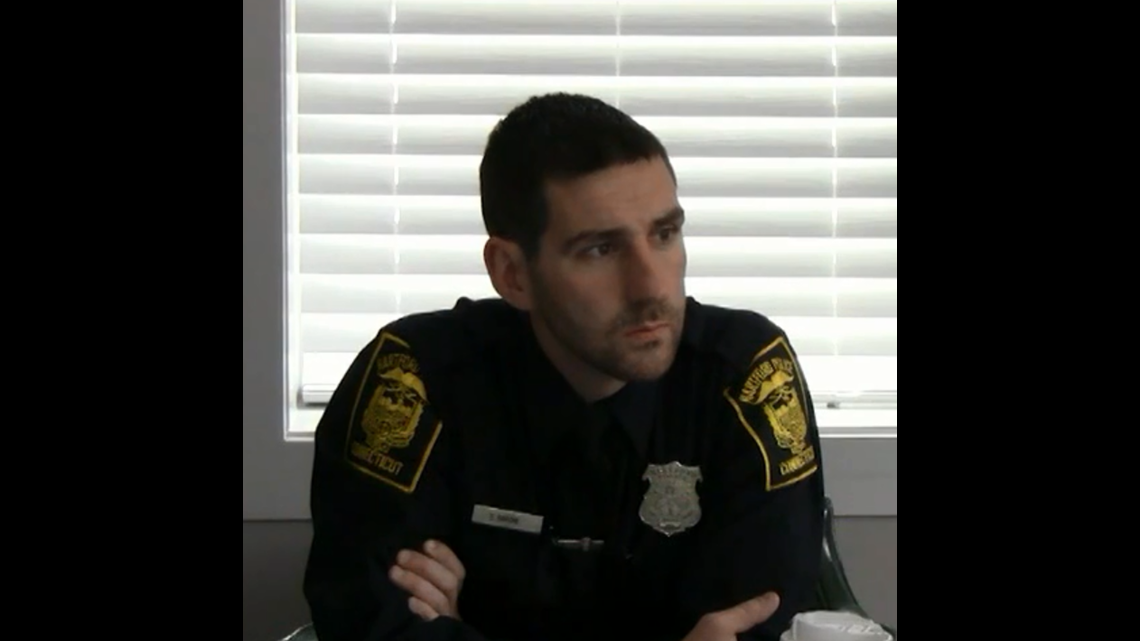 In the video, Barone approached a group of people and engaged in a conversation.
Barone, supervisor of the Community Response Unit, also called "The CRU", is heard in the video saying:
"At this point, you're all being stopped under suspicion of trespassing. We're going to get everyone's information. We're going to go through and make sure no one has guns or drugs on 'em, and we're going to get everyone's name. If anyone wants to fight or run... I'm a little trigger-happy guys, I'm not gonna lie, and I get paid a ton of money in overtime, if I had to shoot somebody. Don't do anything stupid."
In the video, you can hear the people being stopped express fear about the sergeant's choice of words.
Here's another reason why the language used by Barone has caused some sharp reaction on social media:
Hartford Assistant Police Chief Rafael Medina released the following statement:
"To our community partners:

I wanted to reach out to you as soon as possible to discuss a very troubling interaction one of our officers had in the community that came to our attention this morning. During a field interview of a group of people, our officer was evidently recorded telling the group that they would be checked for drugs and weapons, and that if they tried to flee or fight, he was "a little trigger happy, I'm not going to lie," and he didn't want to have to shoot somebody if they did flee or fight, so they shouldn't "do anything stupid." We are still investigating the circumstances of the field interview.

Regardless of the context or the intent, those statements are entirely unacceptable and represent a fundamental disregard for the conduct we expect and the standards we hold ourselves to. We look at it from the perspective of the person on the other end of the field interview, and to hear those words isn't just scary, it projects an image of law enforcement officers who take use of force lightly. As I hope you know, we do not take any use of force lightly as a Department.

We have placed the officer on administrative leave effective immediately, and internal affairs has already begun an investigation.

The Hartford Police Department has worked closely with many of you to build a stronger relationship with the community based on respect and trust. The ties we have built are our most valuable asset in serving the community, and incidents like this do not represent the department we strive to be, the relationship of trust we've worked to build, or the work we do in our community on a daily basis. We are committed to true community policing and true community partnership, and in this case that means being fully transparent and direct about this incident.

Please feel free to reach out to me to discuss this or anything else. I will be available today and over the weekend. My cell number is 860-462-2324.
Hartfor Mayor Luke Bronin also responded to the events in a statement:
"This incident is both disappointing and damaging. Law enforcement officers have a responsibility to treat the use of force and threats of force seriously at all times."
FOX61 News has also learned that summons were issued to at least some of the people involved in the incident.
The Hartford Police Department and city leaders said this will undoubtedly damage the relationship they've worked so hard to build with this community. But they also say these are the actions of one man – not the entire department