Parents were very upset by the decision. Victoria Johannsen, mother of a third-grader at Live Oaks School, told the Connecticut Post she heard about the decision in a letter last week from the principal.
Johannsen said that although she respects other people's beliefs, the decision isn't fair to students who cherish the parade.
An online petition was started asking the school district to restore the parades, and to end a ban on students and staff to wear Halloween costumes. It had more than 2,000 signatures by Monday afternoon, before the reversal was announced.
In the follow-up letter sent Monday around 5 p.m. reversing the decision, Superintendent Elizabeth Feser said that the original decision was made after the district reconfigured its schools--initially, there were kindergarten through second grade schools, and third through fifth grade schools, but this year the district changed to have pre-kindergarten through fifth grade schools. Only the K-2 schools used to have Halloween parades, so when the reconfiguration happened the principals discussed their options.
In the letter, it was outlined how the decision to end the parade was reached:
Ultimately, all eight principals, with my endorsement, chose to focus their energies on a family Halloween celebration, and forego the 20 minute parade in school. The thinking behind this decision was that a family event in the early evening would enable all who wanted to be a part of a Halloween celebration to do so. Meanwhile, children who for religious or cultural reasons would not take part, could easily, and without stigmatization, not attend the event. In addition, in recognition of many working parents who have difficulty leaving work to come to school, an evening event would allow them to be present with their children. Finally, for children who may not have a costume to wear at school, a family evening event that centered on fun and games, and not on one's costume, seemed far more appropriate.
However, Feser says she and the principals were "unmercifully attacked" for the decision, and were "falsely accused" "of being un-American, of denying children participation in an American tradition."
You can read the full letter reversing the decision by clicking here.
The parade will be held on Friday, October 30 from 8:45 a.m. to 9:05 a.m. for early start schools, and 9:15 a.m. to 9:35 a.m. for late start schools.
Monday evening, Milford Board Of Education member Dr. Heidi Gold-Dworkin said of the schools objectives with the new policy, "They wanted to focus more on academic programs and all of their educational resources to go in that area."
Dr. Dworkin added that she believes Halloween celebrations and costumes are for outside of the learning environment.
Each of the elementary schools, in conjunction with the parent teacher associations, will be holding after-hours Halloween parties, according to Feser.
Here is the original letter sent out: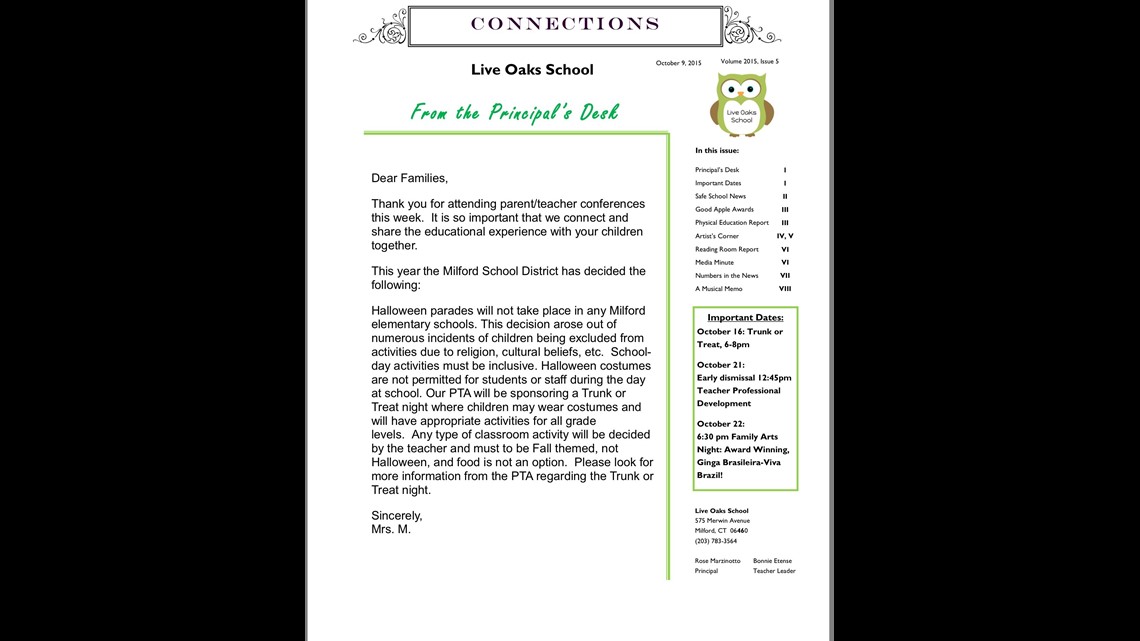 With additional reporting from the Associated Press.