WETHERSFIELD — A cancer patient whose Christmas wish was to meet Mariah Carey had her dreams come Saturday.
Last week, Larissa Podermanski filmed a music video set to the tune of Carey's hit holiday song "All I Want for Christmas" with her chemotherapy infusion nurses at Starling Physicians in Wethersfield. The 30-year-old from Berlin, who has stage 4 breast cancer, hoped it would get Carey's attention, and it did!
She said it all started with an idea from her nurses, who thought of it during a doctor's appointment.
"I actually forgot what I was there for when we did this video," Podermanski said. "I was surrounded by them and I was having chemo at the same time, I forgot."
After meeting Carey, Podermanski wrote:
Yesterday when I woke I had no idea my day would have in store! MCs team was phenomenal! They quickly organized a car to come pick us up, booked us a room at the Beacon Theater, treated us to dinner and gave us wonder seats. We waited awhile after the show to meet her but had the opportunity to meet many of her backup singers, especially MaryAnn who was the main person who brought my story to MCs attention. Mariah was touched to hear how her music has helped give me strength!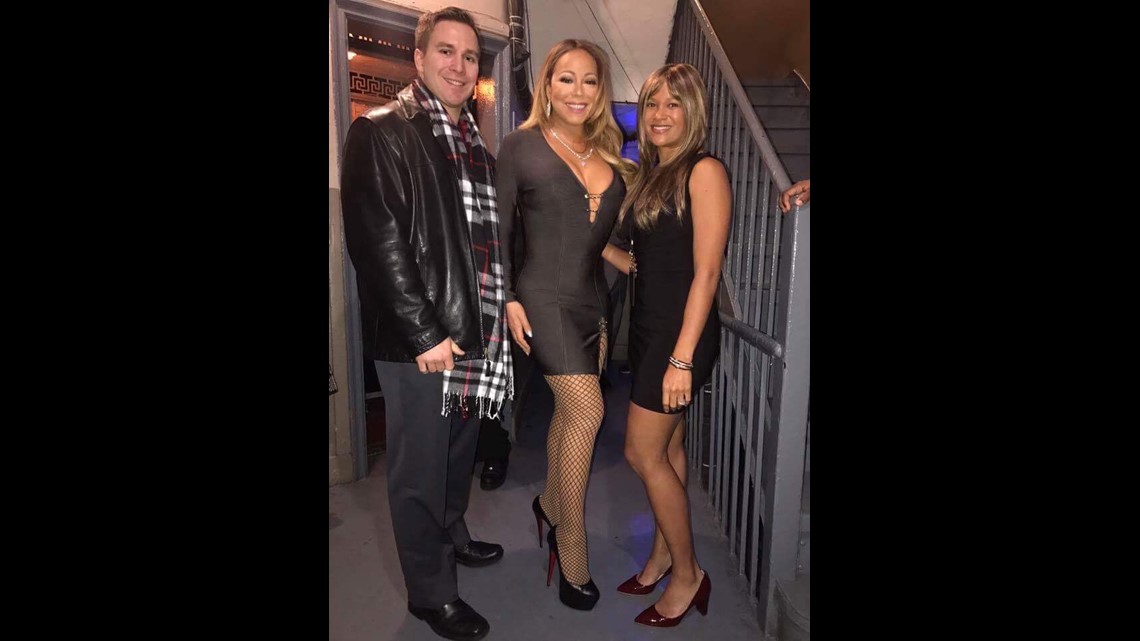 Podermanski told FOX 61 she wanted to meet Carey because she was always inspired by her music at a young age.
"I just made it my motto that cancer can't take that light from deep inside me," she said. "Music can inspire people to do many things but her music right now is inspiring me to stay strong."
She said the lyrics in Carey's song, "Can't Take That Away," have always inspired her, especially when she found out her cancer was stage 4.
Podermanski told FOX 61 that the encounter with her idol gave her a new found strength.
"Now it makes her music that much stronger for me because I still love her music, it's still very empowering music but now I know she knows I exist and she's rallying for me as well," she said.
Now, she has her own inspirational lyrics, which she and her nurses created. They include: "She doesn't want a lot for Christmas, there is just one thing she needs. She doesn't care about the presents underneath the Christmas tree. She doesn't need to hang the stocking there upon near a fireplace. Santa Claus won't make her happy with a toy on Christmas Day. She just wants to meet you so. More than you could ever know. Make her wish come true. All she wants for Christmas is you."
The date of Podermanski's meeting with was fate. The introduction came on December 17, 2016, exactly one year after her husband Martin proposed to her at another Carey concert.
Months later, when her cancer was upgraded, her family, both biological and adoptive, pulled together a wedding for her and her husband in six days.
"If I'm gonna live a short life, I now know that my last experiences have been remarkable and literally a dream come true," she said. "I don't think people with cancer should just get one wish I think as many times they get an opportunity to get a wish granted because for that period of time they're not thinking about cancer."
She has become an advocate for cancer patients. Her diagnosis has pushed her to speak out for other women with metastatic breast cancer and to encourage every woman to check their own bodies. She said she wanted to give up on the goals she had set for herself when she was diagnosed with cancer, but The Pink Agenda gave her courage and confidence to come forward. She recently spoke to hundreds of people at an event alongside Giuliana Rancic.
On a GoFundMe page set up by Larissa, which has nearly reached its $20,000 goal over the last eight months, she writes that she was settling into a new house with her fiance and planning her wedding when she got diagnosed with cancer. Unfortunately, even with a double mastectomy, the cancer had already spread to her liver.
Podermanski said if she could have one more wish, it would be for her husband Martin because he has stood by her side. He said he'd want to go to a Giants game, as he is a big fan.