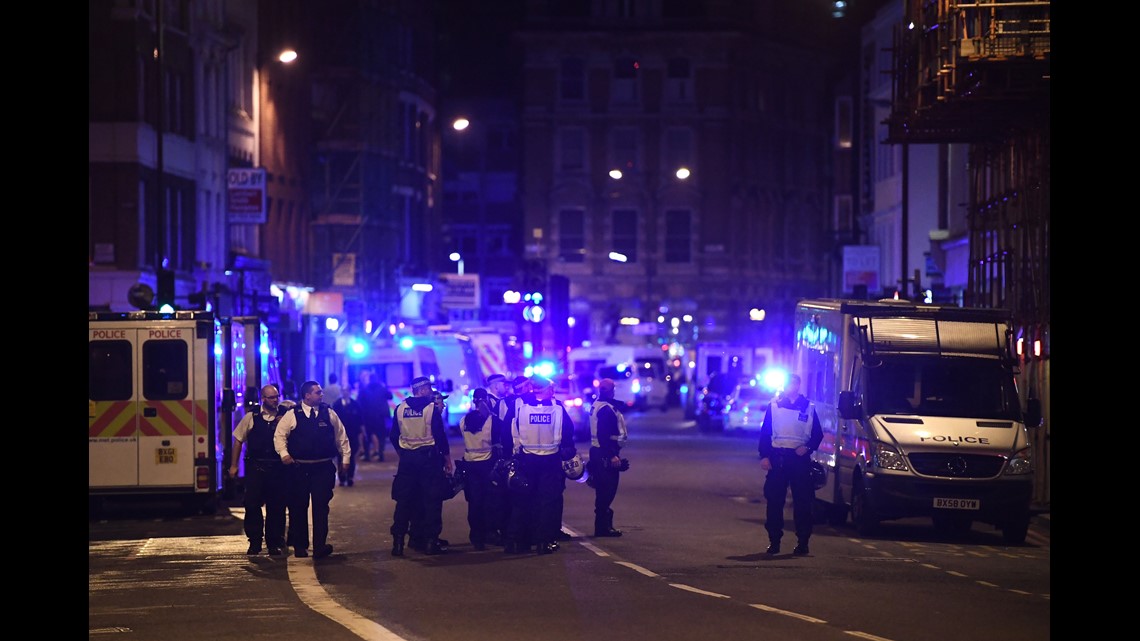 LONDON —  At least 20 people were taken to hospitals across London after the terrorist attacks on London Bridge and at Borough Market, London Ambulance Service said in a statement.
The injured were taken to six hospitals, while other people were treated at the scene, London Ambulance Service Assistant Director of Operations Peter Rhodes said.
British Prime Minister Theresa May says the incidents involving a vehicle and reported stabbings in London "is being treated as a potential act of terrorism."
Incident 1 – London police report 'incident' on London Bridge.
There has been an incident on London Bridge, London's Metropolitan Police said Saturday night. "We are dealing with an incident on #LondonBridge, when we have more information we will update this twitter feed."
BBC reports more than one person has died in London Bridge incident.
Incident 2 – Witness: Two people stabbed in restaurant near London Bridge:
Two men entered a restaurant at Borough Market, just south of London Bridge, and stabbed two people inside, a witness told CNN on Saturday. The patrons sheltered in the basement and police have arrived at the scene, the witness said. "As well as #LondonBridge officers have also responded to an incident in #BoroughMarket. We have armed police at the scenes," London's Metropolitan Police tweeted.
Incident 3 – London police say they are now responding to incident in Vauxhall area.
The Sun newspaper reported that two explosions were heard outside the paper's offices near London Bridge. The blasts, which occurred at 1:23 a.m. and 1:25 a.m., are believed to have been controlled explosions carried out by police, the newspaper said.
A third explosion was heard a few minutes later near The Shard, an iconic skyscraper close to London Bridge, the Sun reported. Several fire engines were parked outside the building at the time of the blast.
England has been on edge since May 22, when a suicide bomber killed 22 people at an Ariana Grande concert at the Manchester Arena.
President Donald Trump tweeted about the incident.