HARTFORD–The heroin and opioid epidemic in Connecticut is at an all time high, and the numbers are pretty shocking.
In 2012 there were 357 total accidental drug intoxication deaths in the state. By 2015 there were 729. And in just the first three months of 2016, there were 208, leading officials to predict a 2016 total of 832. That's a 233 percent increase in just four years.
There were 416 heroin-related deaths in 2015, 110 of which included just heroin. An additional 108 toxicology reports showed victims had died from a heroin-fentanyl mix, and 106 deaths showed both heroin and cocaine in the victim's bloodstream.
In 2015, fentanyl was involved in 80 other non-heroin-related deaths–31 involved just fentanyl, 43 showed fentanyl and cocaine in the blood streem and 23 were from a mix of fentanyl and prescription opioids.
From January 1 through March 31, there were 110 heroin-related deaths–26 involved just heroin, 39 involved a mix of heroin and fentanyl and 26 involved a mix of heroin and cocaine. There were 44 other fentanyl-related deaths that did not involve heroin.
By the end of 2016, it is predicted that there will be a nearly 76 percent increase in deaths related to fentanyl than in 2015. When compared to 2012, there's expected to be a whopping 2,300 percent increase in deaths involving the drug.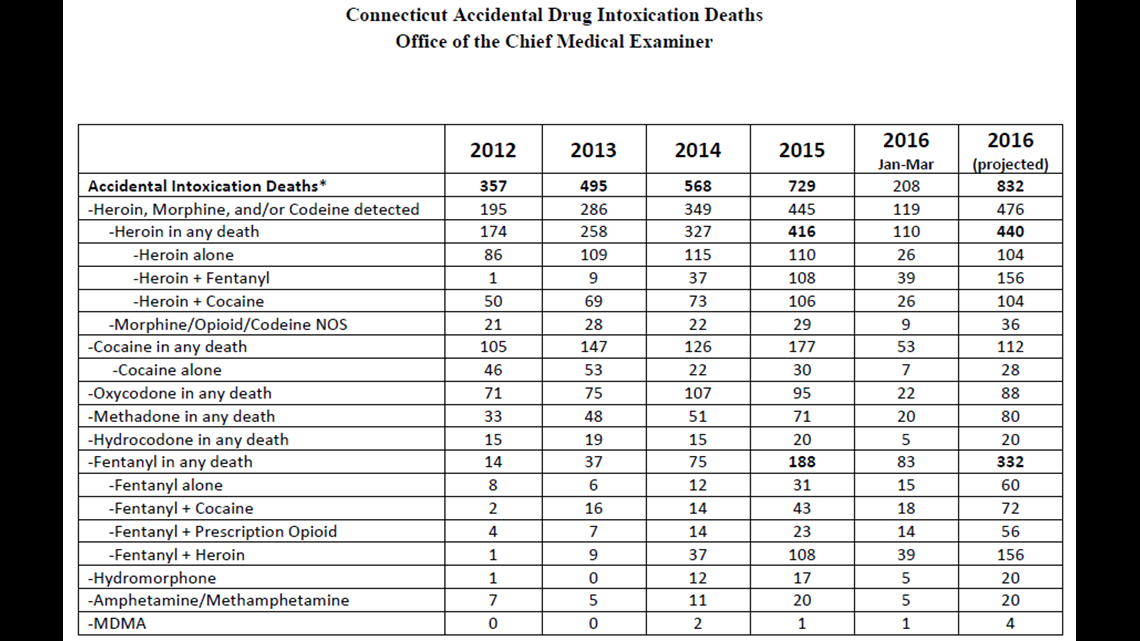 On Thursday, a Drug Enforcement Task Force, the U.S. Attorney's Office, the New Britain Police Department and the Wethersfield Police Department announced that they had arrested nine people and seized a ton of drugs. It was the largest fentanyl seizure in Connecticut, and one of the largest ever in New England, cutting off a major source of the drug in the state and hopefully stemming the increasing usage.
However, there is also a growing concern that that number could shoot up due to a new drug showing up in New England. W-18 is an opioid additive that is a white powder, similar to fentanyl and heroin. However, W-18 is 100 times more potent than fentanyl. Fentanyl is already 50 times more potent than heroin is, so heroin laced with W-18 could prove extremely deadly.
There was one bright spot in the report from the Office of the Chief Medical Examiner. From 2014 to 2015 the number of accidental drug overdose deaths increased 28 percent. However, from 2015 to the projected number for 2016, the increase is just 14 percent, meaning that drug intoxication deaths could be leveling off.