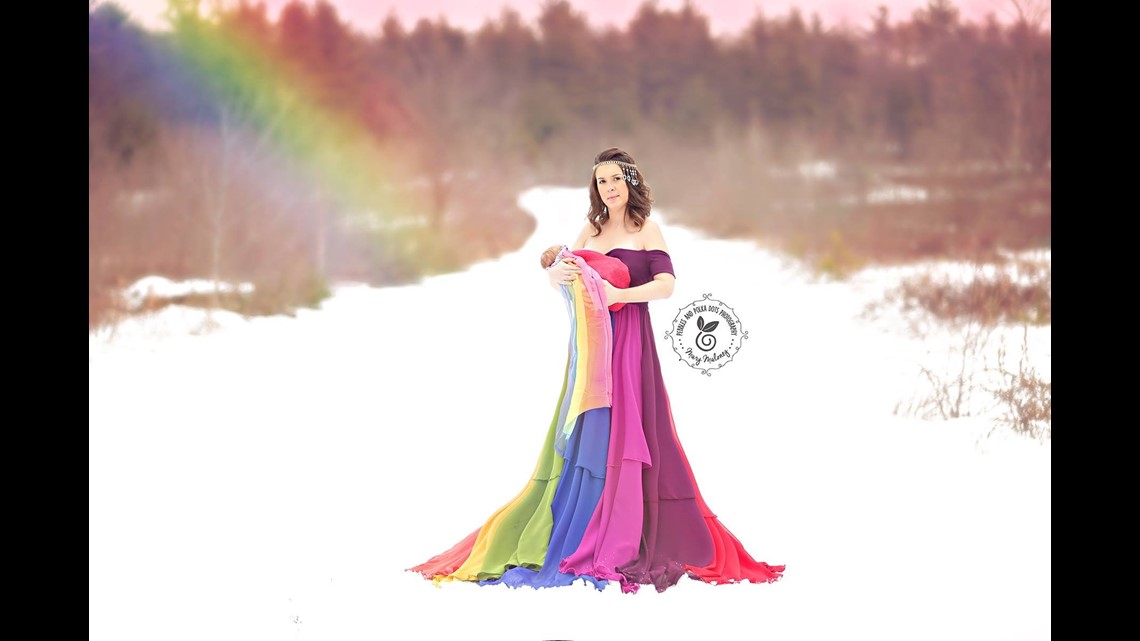 HOLDEN, Mass. — It's been about three months since Jessica Mahoney's maternity photo shoot went viral.
Now, she has had a new photo taken with her newborn daughter, her "rainbow of hope at the end of the storm." The new shoot is about breastfeeding, according to Jessica. She said that when she heard Mary was doing a shoot about breastfeeding, she reached out and offered to be a part of it.
"I would prefer to stay private but I feel strongly about issues surrounding breastfeeding so I really wanted to be a part of the project," Jessica said about her involvement in the shoot.
A "rainbow baby" is a baby that comes after a miscarriage or still birth. As the person behind Pebbles and Polka Dots photography, Mary Maloney, puts it: "When a rainbow appears, it does not mean the storm never happened or the family is still not dealing with its aftermath. What it means is that something beautiful and full of light has appeared in the midst of the darkness and clouds."
Mahoney's husband Kevin initially reached out to Rocky Hill-based photography studio "From Labor to Love," and its photographer, JoAnn Marrero, about doing the shoot. She coordinated with her mentor, Mary Maloney, and they created the stunning images.
The dresses worn by Mahoney in both the maternity shoot and post-baby shoot were created by Sew Trendy Accessories, which specializes in dresses for photoshoots, and in particular for maternity and newborn shoots. The company has a line of rainbow dresses for rainbow babies.