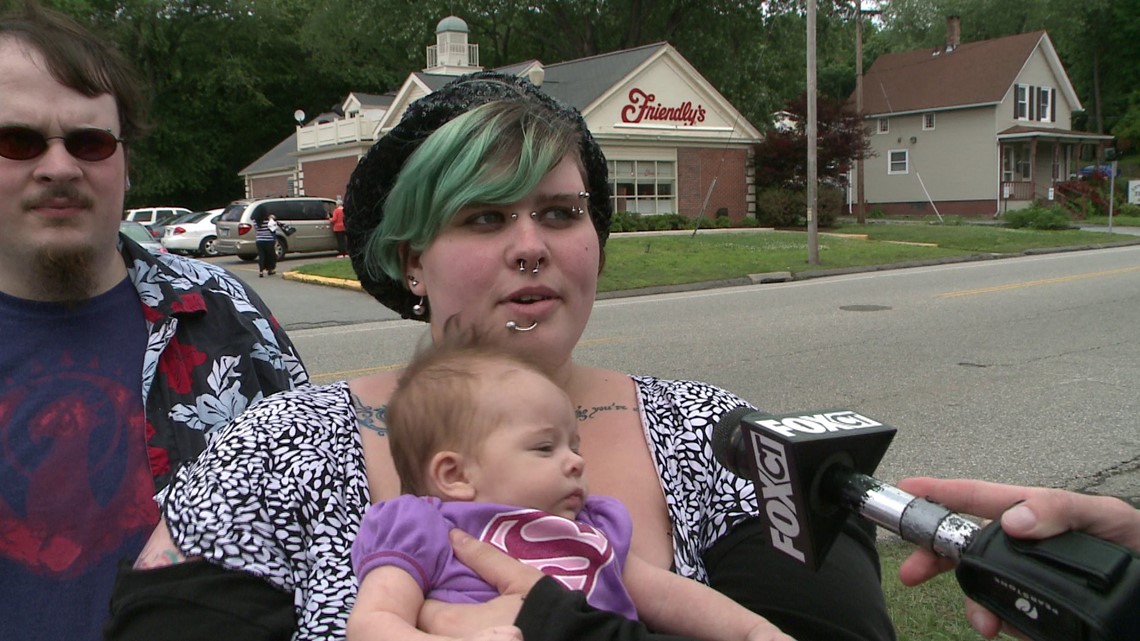 NORWICH — On Saturday afternoon,  more than a hundred advocates brought awareness to public breastfeeding after one mother found herself in an uncomfortable situation at a Norwich restaurant.
More than 50 mothers and their spouses packed Friendly's on West Town Street in Norwich Saturday for a "nurse-in."
The event was organized after Tabitha Donohue, a mother of an 8-week-old girl, says she was eating lunch at Friendly's on Monday  when a manager asked her to cover her breast or stop feeding the child because she was making other people in the restaurant feel uncomfortable.
"Management came over and told me to cover it up or stop feeding her,  and I told them I didn't want to do either of those things," Donohue said.
In a statement issued on Wednesday, Friendly's Ice Cream, LLC, said a manager "approached the guest to see if there was a better option to accommodate the mother and child as well as other guests dining in the restaurant, who had brought this to the staff's attention."
According to state law, no restrictions or limitations may be placed on a mother's right to breastfeed a child.
The law is enforced by the Connecticut Commission on Human Rights and Opportunities, which enforces anti-discrimination laws.
"Unfortunately, the manager didn't know anything about the law," said Liz Linehan.
Linehan, a mother of three from Cheshire, organized Saturday's nurse-in after reading about Donohue's story on Facebook.
"There were a ton of responses saying that nursing moms are just trying to get attention and that we're vulgar and that nursing is pornographic," Linehan said.
The support for the mothers at Saturday's nurse-in was clear.   Not only was the restaurant packed, but other supporters lined up across the street.
A little girl riding in a car driven by her parents presented a note to the crowd.  The note read,  "I am 8 years old. If a baby is hungry, you have to feed it.  My mom fed me. She is the best mom ever."
"In America, there's been an over-sexualized culture of the breasts.  We have to remember, breasts are made for feeding babies," said Linehan.
In a statement released Saturday, Friendly's Ice Cream, LLC, said, "We are a family restaurant and want all of our guests to be comfortable while dining with us. We honor each state's laws and welcome all breastfeeding moms and their children. We enjoyed serving all the moms who came into our Norwich restaurant today.

"We will use this as an opportunity to train all of our team members in Norwich, and all of our restaurants, as to how to appropriately accommodate breastfeeding Moms."

The statement added, "We have a detailed social media policy in place, and will address any employee actions that fell outside of any of our guidelines."
Many of the women who took part  in the event say it wasn't an event to expose themselves, but to show those who don't understand that nursing is natural and can be discreet.
Donohue says it was important  for the message about public breastfeeding to get out.
"I'm really happy that there's so many people that have a positive outlook on it," said Donohue.