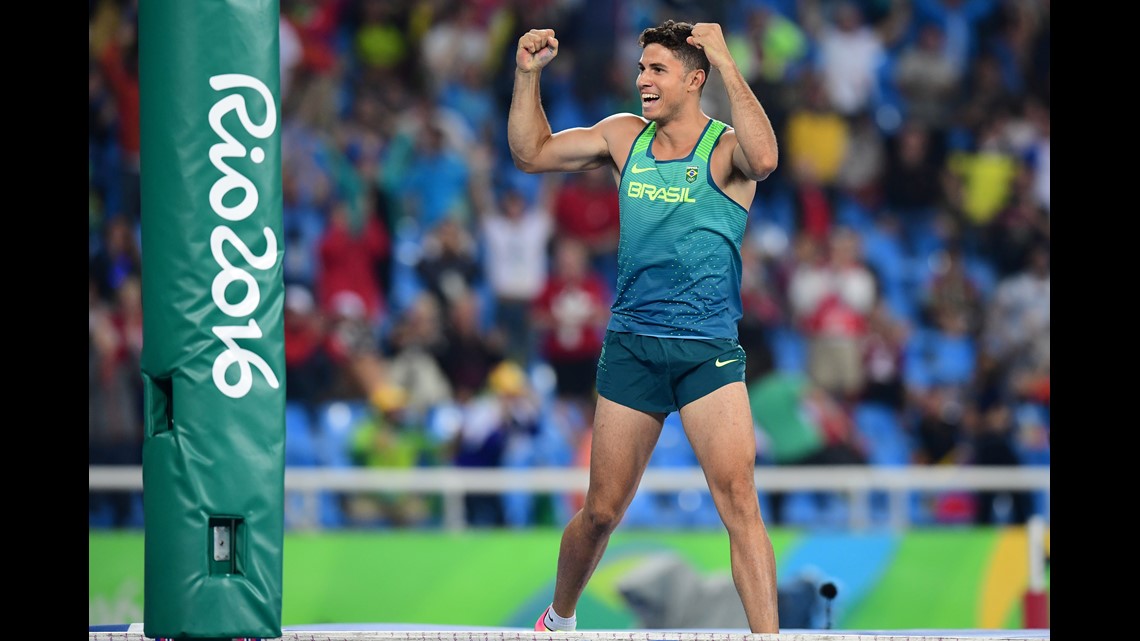 RIO DE JANEIRO, BRAZIL — The Rio Olympic Games ended its first day of its final week with spectacular drama, controversial decision, game-changing missteps and heavy showers.
Heavy rain delayed events while some competitors — hurdlers, field hockey players and discus throwers — got caught in it. But in the end there was more drama than simply what was caused by a slippery track.
Never underestimate the local even it is not really home field advantage
Few were keeping an eye on Brazil's Thiago Braz da Silva yesterday when they were talking about who might pole vault for the gold. All focus was on world record-holder Renaud Lavillenie of France, who has cleared an astonishing 6.16 meters — and fans were wondering if he could go higher.
He couldn't, but he still looked on course to win after clearing 5.98 meters.
Da Silva raised the ante to 6.03 meters, missed it and then cleared it.
Lavillenie couldn't match it and the Brazilian took home the gold medal while setting a new Olympic record.
Lavillenie settled for the silver, while American Sam Kendricks won the bronze with 5.85 meters.
Da Silva becomes only the sixth Brazilian to win an athletics gold medal at an Olympic Games.
The Brazilians went appropriately nuts.
A slip on the balance beam leaves teenage star unruffled
A slip on the balance beam cost teen Simone Biles the chance to be the first female gymnast to win five gold medals at a single Games since 1904. But the American athlete didn't let winning a bronze faze her.
After all, third best in the world isn't bad.
"I'm not disappointed in the medal that I received because anyone would love to have a bronze at an Olympic Games," she said. I'm disappointed in the routine that I did. Not so much the entire routine just the front tuck I guess, because the rest of the routine was pretty good."
She may not have won gold herself — that went to Sanne Wevers of the Netherlands — but the 19-year-old was delighted for US teammate Lauren Hernandez, who took silver on the beam.
Biles still has one more gold medal in her sights — the floor exercise final — and is confident nerves don't play a part when she's out on the mat.
Kenyan holds on to Olympic title
Kenyan runner David Rudisha successfully defended his 800 meter title after his compatriot Alfred Kipketer flew through the first 200 meters in 23 seconds but, unsurprisingly, couldn't sustain his lead.
The enthusiastic 19-year-old faded badly at the 600 meter mark and Rudisha opened up his stride, all 6-foot-3 of him, and with the finish line in his sights nobody was catching him, and he cruised across in 1:42:15.
It was slower than the world record he set at the 2012 Games when he ran 1:40.91, but it still earned him an almost immediate shout out from Kenya President Uhuru Kenyatta, who took to Twitter with the gusto of a Donald Trump.
"Standing Ovation @rudishadavid, you are a great soldier. Absolute class," said the presidential tweet.
Algeria's Taoufik Makhloufi took the silver and Clayton Murphy of the USA snatched the bronze.
University of Georgia student becomes Bahamian Olympic champion
But there was more drama in the women's 400 meters in which Bahamian Shaunae Miller literally hurled herself across the finish line to claim the gold a whisker ahead of American Allyson Felix who had hoped to add to her golden tally on the track.
Felix had made a valiant effort at the end but even with a stumble at the finish line, Miller finished with 49.44 seconds.
Felix finished second with 49.51 and Shericka Jackson of Jamaica was third with 49.85
The USA can still half claim the gold, sort of. The flag-bearer for the Bahamas is a student and star at the University of Georgia.
Italian goes on to win cycling gold after being creamed in collision
Great Britain's cyclist Mark Cavendish held up his hands and took the blame Monday for a collision during the final event Monday that resulted in South Korea's Sang-hoon Park being carried away on a stretcher.
Park and Cavendish's clash resulted in a crash that temporarily took out Italy's Elia Viviani — who got back on bike and claimed the gold — and Australia's Glenn O'Shea, who also finished the race.
Park was rushed out of the arena while his competitors finished the fifth and final event of the men's omnium points race competition, an all-round test of six events, from sprints to endurance.
Cavendish still took the silver and Denmark's 2012 Olympic champion Lasse Norman Hansen took the bronze.
The British rider blamed one of his moves for the collision.
"It was my fault, I should have been looking more," he said."I hope he (Sang-hoon) is all right."
Viviani was adamant Cavendish wasn't to blame.
"No. It's not his fault," the Italian champion said. "The Korean guy was halfway on his wheel to the right, normally you stay on the wheel. Cav was in the front and changed direction. So it's all normal. It's a normal crash on the track."
Park suffered a mild contusion and was released from the hospital after being examined.
Did the bad-behaving fans have a point? Boxing champ wonders
Russian boxer Evgeny Tishchenko had to endure boos to claim his gold medal in the men's heavy 91 kilogram category.
Many in the hostile crowd believed the judges should have scored Kazakhstan's Vassiliy Levit higher.
Tishchenko said the crowed may have had a point.
"I was whistled after the gong and I don't know the reason for that," he said after the fight. "But if people behave like this, then they have a reason to be like that. So maybe it (the victory) was not really fair."
10km women's swim: Silver medalist disqualified
Drama in the women's 10 kilometer swim began Monday morning as French swimmer Aurelie Muller was disqualified after finishing second to Sharon van Rouwendal of the Netherlands.
Muller was deemed to have impeded fellow competitors in the closing stages of the race.
France's loss was Italy and Brazil's gain as Rachele Bruni and Poliana Okimoto were elevated to silver and bronze medal positions.
It became Brazil's fifth bronze and the host's eighth medal overall.
One misstep and years of work down the drain
A false start cost France's Wilhem Belocian any chance to win a medal for which he had been favored to do. His misstep in heat four of the 110 meter hurdles left the the hurdler distraught.
It meant he was disqualified before his first — and only — Olympic race for this year's Games.
Athletics, Men's 800 meters — David Rudisha, Kenya
Athletics, Men's Pole Vault — Thiago Braz da Silva, Brazil
Athletics, Women's 400 meters — Shaunae Miller, Bahamas
Athletics, Women's Hammer Throw — Anita Włodarczyk, Poland
Athletics, Women's Steeplechase– Ruth Jebet, Bahrain (first-ever gold for Bahrain)
Boxing, Men's Heavyweight — Evgeny Tishchenko, Russia
Equestrian, Indiviuak Mixed Dressage — Charlotte Dujardin, Great Britain
Gymnastics, Men's Rings — Eleftherios Petrounias, Greece
Gymnastics, Men's Vault — Ri Se Gwang, North Korea
Gymnastics, Women's Balance Beam — Sanne Wevers, the Netherlands
Marathon Swimming, Women's — Sharon van Rouwendaal, the Netherlands
Track Cycling, Men's Omnium — Fernando Gaviria Rendon, Colombia
Weightlifting, Men's 105 kilograms — Ruslan Nurudinov, Uzbekistan
Wrestling, Greco Roman 85 kilograms– Davit Chakvetadze, Russia
Wrestling, Greco Roman 130 kilograms — Mijain Lopez Nunez, Cuba