ROCKY HILL--It was a bittersweet moment for a Connecticut man on Sunday when one of his heroes reached out in a very public way, and he reached a major life milestone.
Justin Miller has spinal muscular atrophy, something he has dealt with his whole life. SMA impacts a person's motor skills, muscles and nervous system, including the spinal cord, and eventually the ability to eat, talk or breath. SMA research is funded by the Muscular Dystrophy Association, though they are separate diseases.
Justin never really got the chance to walk, to play sports, or to go places that aren't wheelchair accessible, his sister Heather wrote in a heart-wrenching post on Huffington Post. In the letter, Heather wrote about his incredible determination despite extreme obstacles: his lung collapsed on his fifth birthday, and he nearly died. But he didn't, and now he's 27 and an "expert" at Apple who trains other employees.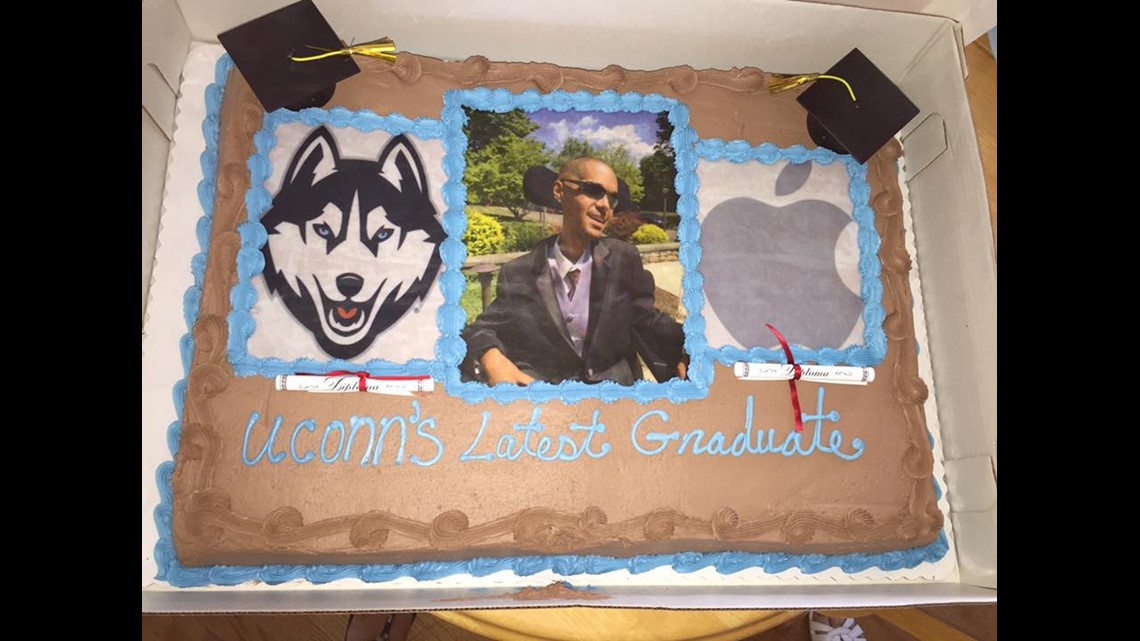 What's even more incredible? After Heather wrote that Justin was just two classes away from a UConn degree, the college surprised him with the news on Sunday that he'd be awarded an honorary degree! So his family and friends gathered to throw him a surprise party.
Unfortunately, time may be running out. Justin has a large cyst on his throat. It was drained earlier this summer to allow him to swallow food, but it has returned.
Due to the risky position it is in, surgery cannot be done, and draining it again isn't an option without doing a tracheotomy--an incision in the windpipe. Justin does not want a tracheotomy, which would be permanent and impact Justin's ability to continue to eat or speak or breathe on his own. He says that is not how he wants to spend the rest of his time, so he has decided to not have any further surgeries. It's possible it could go away on its own, but not necessarily likely.
Despite all his incredible accomplishments, before time runs out there was one last wish that Justin had, according to Heather: the chance to meet Patriots star Tom Brady.
While that may not happen, the famous quarterback did reach out personally to Justin on Sunday. Tom Brady sent a personalized video message to Justin, which has been viewed about 150,000 times in less than a day. The video was played for a beaming Justin at his party.
"I know you're a big Patriots fan, but after learning about your story I'm an even bigger fan of you and all that you've overcome," Brady said. "So I'll be rooting for you this season, and hope the Patriots can give you and your family some great memories and plenty to celebrate all year long. So we'll be wishing you the very best."
Heather has been a huge part of Justin's journey. Beyond getting Brady to send the video message, she has set up a GoFundMe page for Justin. Due to the cyst on his throat, he is on disability from work at Apple and therefore only getting 60 percent of his salary, so he needs help paying the bills. Since the cyst may not recover, he may never be able to return to the job he loves. In addition, Heather said that she is searching for a wheelchair accessible apartment so that when Justin leaves the hospital he can move in with her and her 2-year-old, who Justin adores and says is the reason he'll "never quit."
Brady even commented on Heather's dedication in his post: "Take it from someone with three great sisters: you have a phenomenal one."