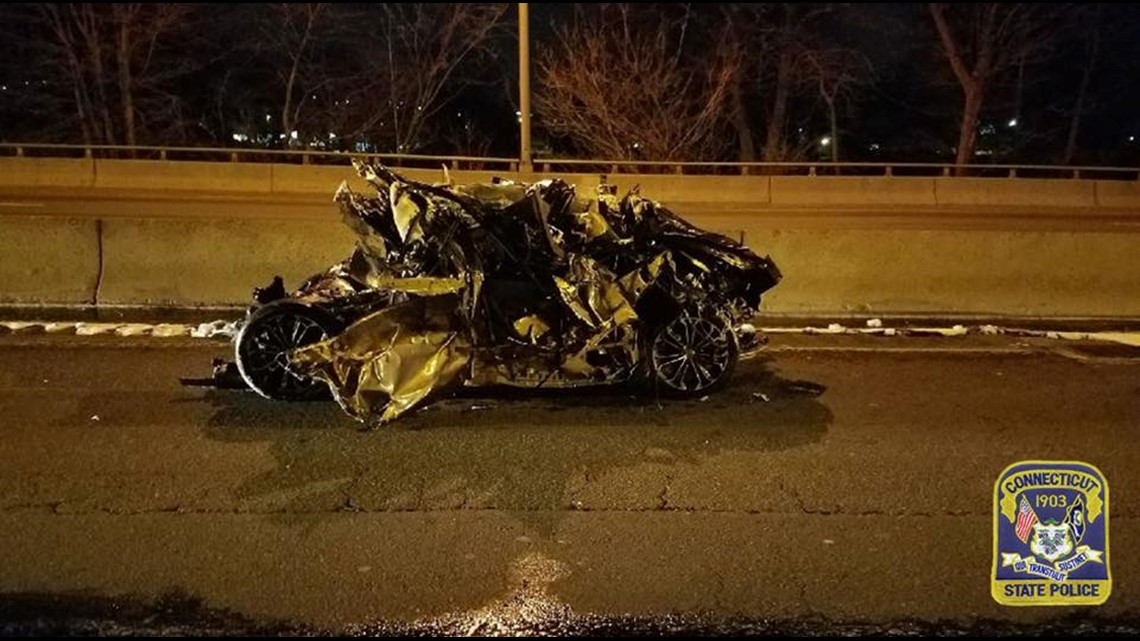 WEST HAVEN —  State police said they responded to a serious accident early Tuesday morning involving four tractor-trailers and a car.
Connecticut State Police said the accident occurred around 12:30 a.m.
Troopers from Troop G – Bridgeport, West Haven Fire Department and EMS responded to I-95 northbound near exit 43 in West Haven for a reported crash with injuries involving two tractor-trailer trucks.
However, upon arrival, state police said they found four tractor-trailers and a car involved in the crash.
State police said crash debris was also seen across lanes on the highway, forcing state police to close the highway for the safety of the first responders, crash victims and other motorists.
"Troopers, firefighters and EMS immediately checked on the crash victims and, despite what you see in the photos, thankfully there were no fatalities," state police said. Only two of the operators suffered serious injuries, but were still able to tell troopers what they could remember about the crash."
Police said three of the tractor-trailers and the Toyota, were traveling in the right lane when traffic began to slow down for a construction zone.
The three tractor-trailers and the Toyota safely slowed down along with the rest of the traffic, state police said.
"The fourth tractor-trailer did not slow down in time and struck the Toyota from behind pushing it into the tractor-trailer in front of it. The Toyota became sandwiched between the two tractor-trailers before being dislodged by the force of the impact," said state police."
Three of the tractor-trailers and the Toyota were heavily damaged due to the impact of the crash and only two operators were transported to the hospital, according to police.
"The at fault tractor-trailer operator was issued an infraction for traveling too fast for conditions and failure to maintain a reasonable distance/following too closely," said state police.
Troopers offer a few of the many lifesaving tips:
Look at traffic ahead of you so you are prepared
Pay attention to highway signs – they often warn of constructions zones, slick conditions, roadway dangers ahead, etc.
Reduce speed when approaching highway construction zones or first responders working on the highway
Don't follow another vehicle too closely, increase following distance.
Check traffic by using your rearview and sideview mirrors.
Give your full attention to the road. Avoid distractions such as cell phones and GPS devices.
If you are involved in a crash, state police offer the following tips:
Call 911, give the dispatcher your location and reason for the call.
Move your vehicle to the right shoulder or right side of the road if you can do so safely.
Stay in your vehicle and wait for first responders to arrive. It is very dangerous to stand or walk on the highway, even in the shoulder.