Praise and remembrances are coming in for former President George H.W. Bush from another former president.
President Donald Trump and first lady Melania Trump are mourning the passing of former President George H.W. Bush.
In a statement, the Trumps praise Bush for his "sound judgment, common sense and unflappable leadership."
The Trumps say that Bush "inspired generations of his fellow Americans to public service."
They also praise the former president for guiding the nation and the world to a "peaceful and victorious conclusion of the Cold War."
The Trumps add that Bush remained humble despite his accomplishments, "following the quiet call to service that gave him a clear sense of direction."
The statement was issued while the Trumps are in Buenos Aires, Argentina for the Group of 20 summit.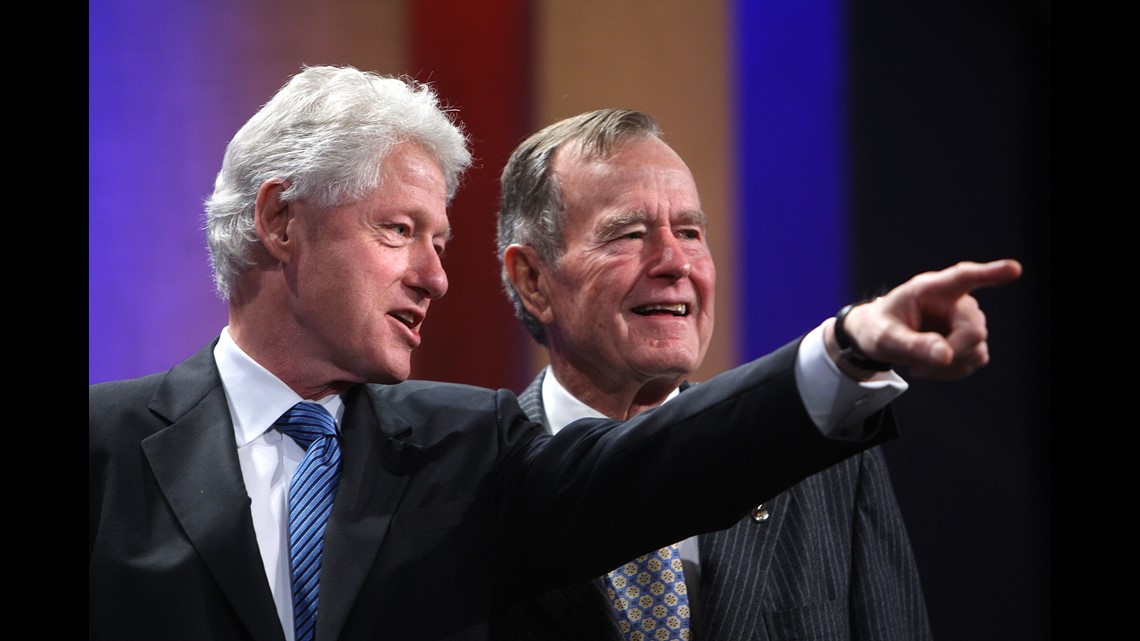 Former President Bill Clinton is remembering George H.W. Bush for his "great long life of service, love and friendship."
In a statement issued early Saturday, Clinton said he would be "forever grateful" for the friendship he formed with the man he turned out of the White House after one term.
Clinton, who defeated Bush in the 1992 presidential election, says he was always struck by Bush's "innate and genuine decency" and by his devotion to his wife Barbara and his family.
Clinton says Bush's extensive record of public service was rare, with his years in the military, in Congress, the United Nations, China, the CIA and as vice president and president.
Clinton adds that Bush never stopped serving even after leaving office, working on tsunami relief in Asia and within the U.S. after Hurricane Katrina.
The two former presidents worked together on those relief efforts.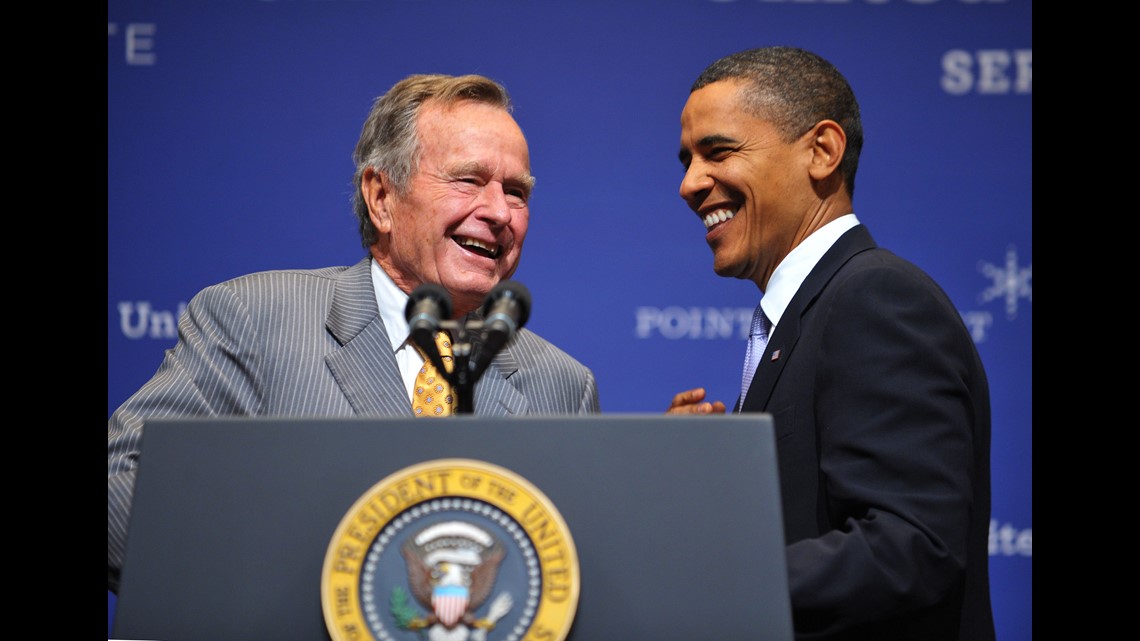 The office of former President Barack Obama and Michelle Obama said Bush's life was "a testament to the notion that public service is a noble, joyous calling. And he did tremendous good along the journey." They said: "It's a legacy of service that may never be matched, even though he'd want all of us to try."
Former Secretary of State Condoleezza Rice, who served Bush as National Security Advisor, said the 41st president was 'the epitome of a public servant.  He loved America with all of his heart and served her as fully and completely as anyone ever has. I am so grateful that I had the opportunity to work for him, to learn from him and to experience his deep and abiding commitment to his fellow citizens. He was a mentor to me and a dear friend."
Brent Scowcroft, the national security adviser during George H.W. Bush's presidency, said "The world has lost a great leader" and "this country has lost one of its best."
Scowcroft said in a statement that he was "heartbroken" at losing a man a man he called "one of my dearest friends."
James A. Baker III, former President George H.W. Bush's secretary of state and longtime confidant, said his friend's legacy "will be forever etched in the history of America and the world." He noted Bush's "lifelong record of selfless patriotic service to our nation," from being the youngest U.S. Navy aviator in World War II to serving as a Texas congressman, United Nations ambassador, the first U.S. ambassador to China, CIA director, vice president and president.In a statement, Baker said that in each position, Bush "led with strength, integrity, compassion and humility — characteristics that define a truly great man and effective leader." Baker added that, "with a singularly unique consistency, he always demonstrated these traits, whether on the global stage or interacting with people in his everyday life. His passion was a deep love of family and our country."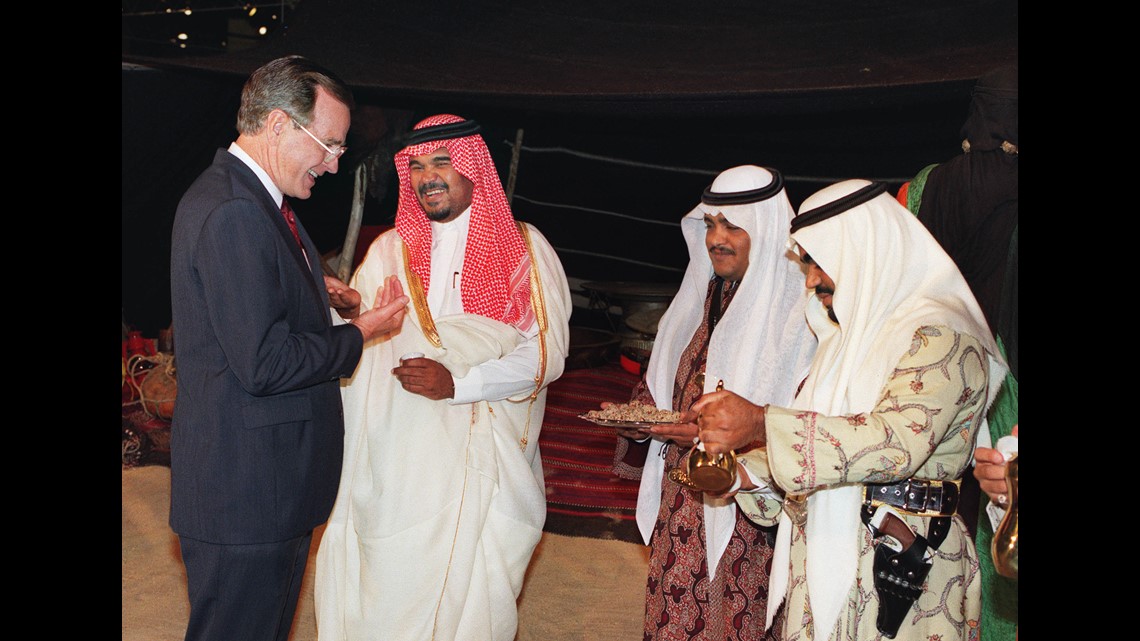 Gulf Arab nations allied with the U.S. have offered their condolences over the death of President George H.W. Bush.
Bush's death at the age of 94 takes on greater importance in the region over his actions in the 1991 Gulf War that saw Iraq expelled from Kuwait.
Leaders in the United Arab Emirates on Saturday offered condolences to both President Donald Trump and former President George W. Bush for the elder Bush's death.
Dubai's ruler Sheikh Mohammed bin Rashid Al Maktoum, who also is the UAE's prime minister and vice president, tweeted that Emiratis remember Bush as "a firm ally and friend."
Oman's Sultan Qaboos bin Said similarly offered condolences.
The small, oil-rich nation of Kuwait is offered its condolences for Bush, who led the 1991 Gulf War that freed it from Iraq.
Kuwait's ruling emir, Sheikh Sabah Al Ahmad Al Sabah, offered his condolences to Bush's son, the former President George W. Bush. Sheikh Sabah also offered condolences to current President Donald Trump.
State television station KUNA said Sheikh Sabah noted Bush's efforts to "create a new international order based on justice and equality among nations." Sheikh Sabah also said Bush never "forgot the Kuwaiti people and will remain in their memory."
Former Soviet premier Mikhail Gorbachev has expressed his "deep condolences" to the family of former U.S President George H.W. Bush and all Americans following his death.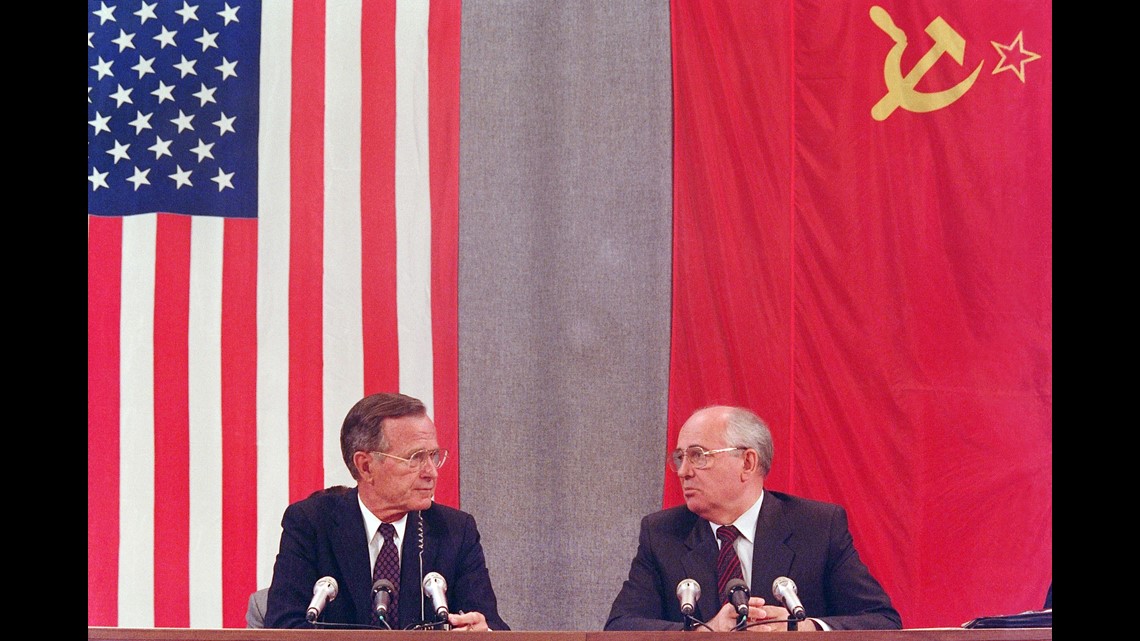 Gorbachev worked closely with Bush to bring an end to the Cold War in the late 1980s and 1990s, and lauded the former president for his abilities as a politician and his personal character.
"It was a time of great change," he told the Interfax news agency, "demanding great responsibility from everyone. The result was the end of the Cold War and nuclear arms race."
Gorbachev said that he and his wife, Raisa, "deeply appreciated the attention, kindness and simplicity typical of George and Barbara Bush, as well as the rest of their large, friendly family."
The Dalai Lama, has offered his condolences to George W. Bush. The Tibetan spiritual leader said: "He was in fact the first American President that I was privileged to meet. I recall being deeply touched by your father's concern for the Tibetan people and the situation in Tibet. It is truly admirable to have lived over 94 years. While nothing can replace the loss of a father, we can rejoice in the fact that his was a meaningful life, dedicated to public service. I commend your parents for encouraging their children, including you my dear friend, to devote yourselves to the service of others."
Iran has noted the death of President George H.W. Bush. A scrolling news bar on state television described Bush as being "like other U.S. presidents who wished to see the collapse of the Islamic Republic." State television on Saturday morning announced Bush's death, citing international reports.
Iran remained suspicious of Bush despite his pledge of "good will begets good will." Iran leaned on Lebanon's Shiite militants to help win the release American hostages like Terry Anderson of The Associated Press, but relations went no further.
One of Bush's last acts as president was pardoning former Defense Secretary Caspar Weinberger and others for their role in the Iran-Contra scandal, an offshoot of those hostage crises.
Germany's foreign minister remembers George H.W. Bush as one of the architects of his country's reunification in 1990.
Heiko Maas said in a statement Saturday that "we are mourning a great statesman and a friend of Germany."
Bush was president when the Berlin Wall fell in 1989 and supported German reunification less than a year later. Maas said that "he courageously seized the opportunity to end the Cold War."
He added that "he is also an architect of German unity. He supported it from the beginning without reservations. We will never forget that."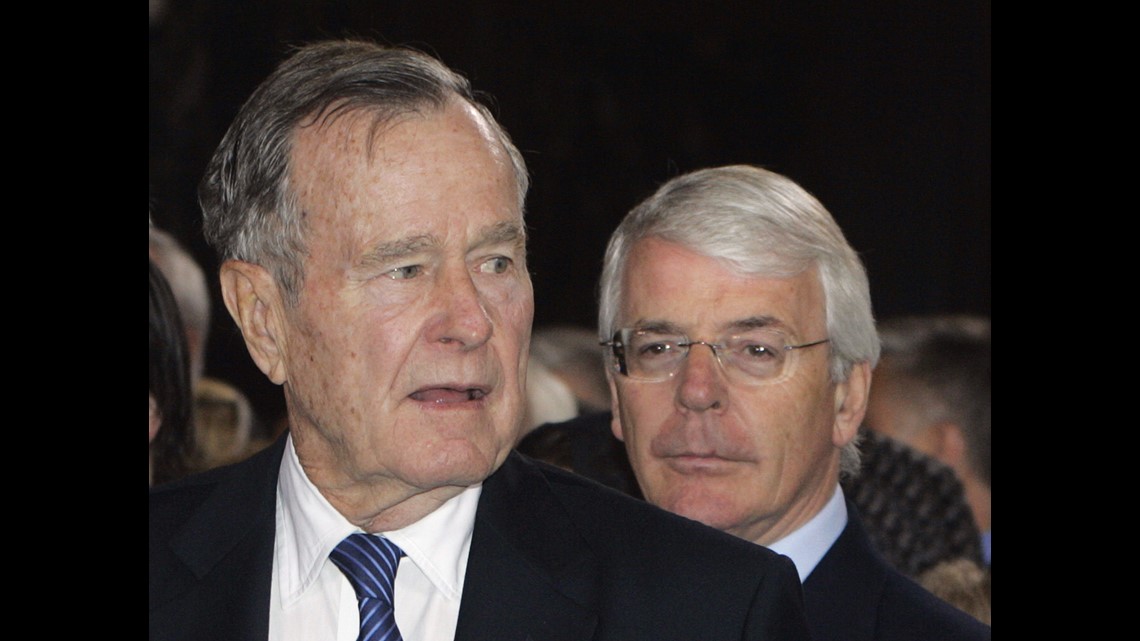 British leaders past and present are paying tribute to Bush as a committed public servant who helped the United States stand tall on the world stage.
Prime Minister Theresa May says Bush was "a great statesman and a true friend of our country" whose "ethos of public service was the guiding thread of his life and an example to us all."
May said in a statement that "in navigating a peaceful end to the Cold War he made the world a safer place for generations to come."
John Major, whose 1990-1997 term as British prime minister overlapped with Bush's presidency, said the late president "saw America's obligation to the world and honored it."
Major told the BBC that "I feel privileged to have worked with him, and even more privileged that he became a lifelong friend. He was, quite simply, one of the most deep-down decent people I have ever known."