HARTFORD -- Today is World Suicide Prevention Day. It's a day dedicated to raising awareness around the globe that suicide can be prevented.
Suicide is currently the 10th leading cause of death in the US, but it is a global phenomenon.
Experts say some ways to prevent suicide include: seeking help from professionals and reducing access to firearms and medications.
Ann Irr Dagle of the Brian Dagle Foundation and Rachel Papke of the Jordan Porco Foundation joined us on the FOX61 morning news, to talk about ways to spot the warning signs of suicide.
Both organizations have upcoming events. Visit their websites for details.
If you or someone you know needs help, you can call the National Suicide Hotline at 1-800-273-8255 or visit their website.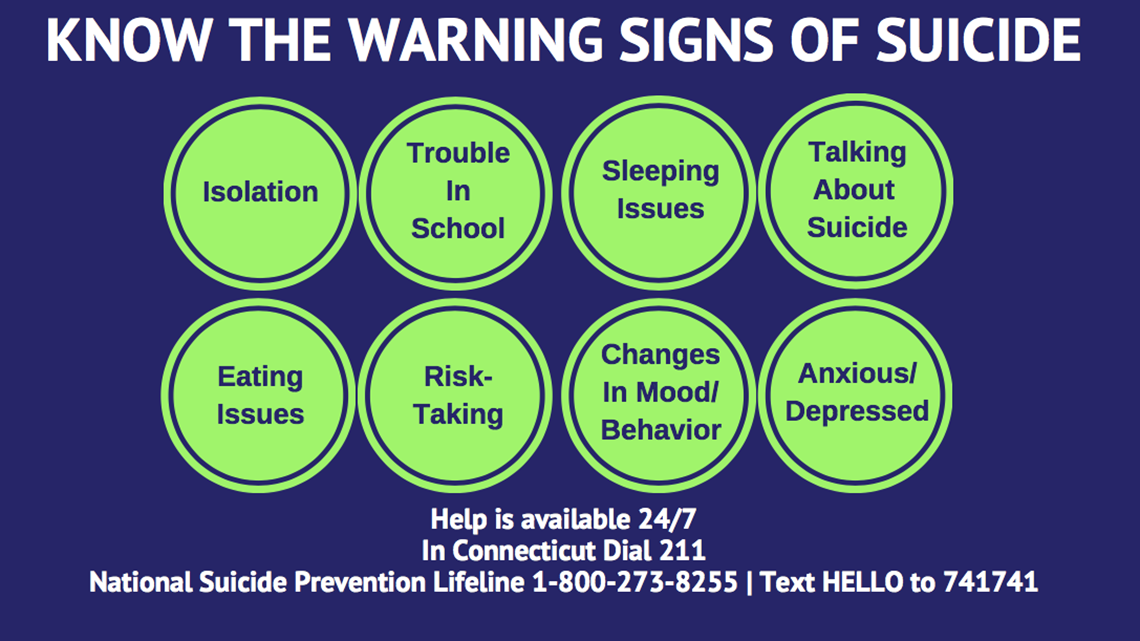 Talking about wanting to die or to kill themselves
Looking for a way to kill themselves, like searching online or buying a gun
Talking about feeling hopeless or having no reason to live
Talking about feeling trapped or in unbearable pain
Talking about being a burden to others
Increasing the use of alcohol or drugs
Acting agitated; behaving recklessly
Sleeping too little or too much
Withdrawing or isolating themselves
Showing rage or talking about seeking revenge
Extreme mood swings
If you or someone you know might be at risk of suicide, here are ways to help:
For the TrevorLifeline, a suicide prevention counseling service for the LGBTQ community, call 1-866-488-7386.
Text HOME to 741741 to have a confidential text conversation with a trained crisis counselor from Crisis Text Line. Counselors are available 24/7. You can learn more about how the texting service works here.
For online chat, the National Suicide Prevention Lifeline provides a confidential chat window, with counselors available 24/7.
Boys Town also provides counselors for youth-specific online chat at this link. It is available every Monday through Friday between 6 p.m. and midnight in the Central time zone.
Getting help around the world
Another way to help is by supporting the nonprofits that provide suicide counseling, prevention and education. Volunteers are needed, and some train to become counselors.
Online donations for some of these organizations can be made by clicking the button above.