CONNECTICUT, USA — President Joe Biden is in Connecticut to promote his "Build Back Better" agenda, as well as attend the dedication of a new human rights center at the University of Connecticut.
His first stop was at the Capitol Child Development Center to promote his proposal to make such child care free for lower-income families, and ensure families making up to 150% of their state's median income pay less than 7% of their salaries.
Biden was greeted by some gregarious children - one gave him a hug, as he kneeled to talk. Two children were holding a sign bidding "Welcome Joe Biden" with painted handprints.
The president's proposal is part of a massive expansion of the social safety net that Biden has championed and is aiming to pass with just Democratic votes in Congress.
"Too many folks in Washington still don't realize it isn't enough just to invest in our physical infrastructure. We also have to invest in our people," he said.
Biden went on to outline how his plan would reduce child care costs for Connecticut residents, and noted the disparity between U.S. spending on early child care versus greater investments in other countries, to argue that the lack of investment is causing the U.S. to fall behind.
"How can we compete in the world if millions of American parents, especially moms, can't be part of the workforce because they can't afford the cost of child care or eldercare?"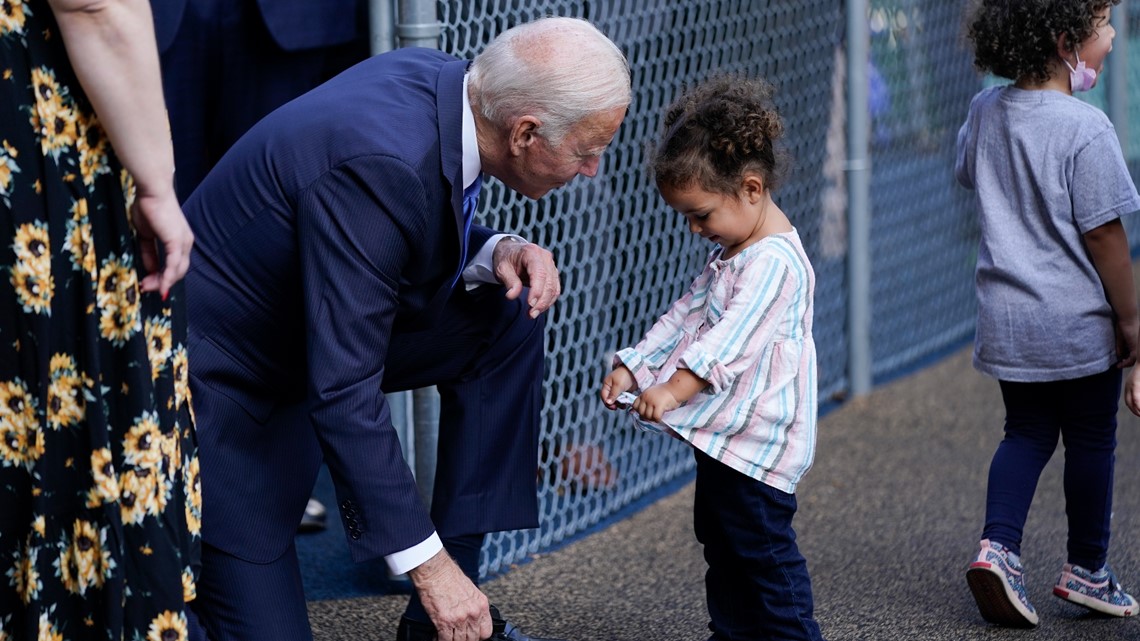 Ahead of the visit, Hartford Mayor Luke Bronin spoke with FOX61 about Biden's plan that's facing some pushback by those in Congress.
"I think what's important to remember that plan is overwhelmingly popular among the American people," said Bronin. "When people talk about affordable childcare options and access to community college, paid family and medical leave, and making the child tax credit permanent – that's something an overwhelming number of Americans support. It would lift up families across this country, open up pathways to opportunity, make sure we keep our middle class strong."
"I hope everyone in Washington, whatever party they're part of, remembers at the end of the day this is something that would make a huge difference to the American people and gets it done", he continued.
Several streets around the State Capitol were closed at 9:30 a.m.
After delivering remarks in Hartford, the president will head to Storrs for the dedication of the Dodd Center for Human Rights at UConn. The center is being renamed to honor a longtime friend, former Connecticut Sen. Chris Dodd, in addition to Dodd's father, who was also a former senator.
U.S. Sen. Richard Blumenthal said in a statement about the visit:
"He's honoring our state—recognizing values and programs our leaders have long championed. The critically needed investments that the Build Back Better Agenda will make in child care and working families will be a game-changer for children, parents, and communities across our state and nation."
Have a story idea or something on your mind you want to share? We want to hear from you! Email us at newstips@fox61.com
HERE ARE MORE WAYS TO GET FOX61 NEWS
Download the FOX61 News APP
iTunes: Click here to download
Google Play: Click here to download
Stream Live on ROKU: Add the channel from the ROKU store or by searching FOX61.
Steam Live on FIRE TV: Search 'FOX61' and click 'Get' to download.