WATERBURY, Conn. — Protesters in several cities around the state marched onto highways and blocked traffic Sunday. It marked another day of crowds of hundreds of people in Connecticut coming together in the wake of George Floyd's death under the knee of a Minneapolis police officer.
By the end of the day, there were numerous arrests made in Waterbury following their protest which started at 10 a.m. Sunday.
The protests blocked highways in Waterbury, Bridgeport, and New Haven over the weekend. New Haven Mayor Justin Elicker released a statement Sunday evening regarding the protests and the death of George Floyd, reading in part"

Today New Haven has experienced more than a thousand protesters deeply frustrated by the killing of George Floyd and police brutality. People are understandably angry and want action. I do, too.
New Haven Police say they are looking into an arson attempt that occurred at their Newhallville substation. According to police, someone had thrown a Molotov cocktail at the building located on Winchester Avenue around 2 a.m. Police are investigating and more details are expected later in the day.
Mayor Justin Elicker emerged from the police department at about 10:45 p.m. and briefly talked with protesters who were still gathered outside.
Waterbury police say they arrested 28 protesters involved in protests in the city today: 18 female adults, 8 male adults, and 2 male juveniles. Names and charges are not yet available, as the suspects are still being processed.

The protest in Waterbury started at 10 a.m. People briefly blocked I-84, and the protest seemed to dwindle in early afternoon, but regained intensity in the afternoon, leading to confrontations when protesters would not leave Wolcott Street. That is when police began making arrests.
As of 7:45 p.m., protestors are leaving the Oak Street Connector (Route 34) and appear headed toward the New Haven Green.
Meanwhile, about 150 protestors remain on the steps of NHPD headquarters.
Just after the NHPD provided their update, Mayor Justin Elicker released a statement. It reads in part:
Today New Haven has experienced more than a thousand protesters deeply frustrated by the killing of George Floyd and police brutality. People are understandably angry and want action. I do, too. ...[T]he protest has been mostly peaceful, and the New Haven Police Department has shown great restraint.... Chief Reyes and I have been abundantly clear about our expectations, that our officers work with compassion, that our officers don't over-police our neighborhoods, that our officers embody the spirit of real community policing. We've also been clear that if there is any complaint of misconduct, we will investigate and hold any officers accountable. I also stand ready to talk collaboratively with the protesters and the community at large to better understand, to listen and to begin to address racism. I hope you stand ready, too. But we must have these conversations respectfully, collaboratively, and peacefully. Otherwise we can't be successful. I urge New Haven residents with all my heart to be open to these conversations and to protest but do it peacefully. We will get through this very challenging time.


Pepper spray is being used in New Haven, according to FOX61's Brian Didlake.
The entrance ramps from I-91 to Rt. 34 have been closed according to DOT.
Protesters in New Haven have left the police headquarters and have gone back to Rt. 34.
By 6 p.m. some of the protestors have left Union Avenue and have returned to the Oak Street Connecticut (Route 34). The protestors have now blocked traffic.
At police headquarters, NHPD officers are now positioned in front of the main entrance. Officers formed a crowd control line after several protestors attempted to forcibly enter the building. Approximately 300 protestors remain at 1 Union Avenue.
No arrests have been reported as a result of this most recent activity.
David McGuire, executive director of the ACLU of Connecticut released a state ment:
"People are in the streets across Connecticut right now demanding racial justice, lifting up the value of Black lives, and calling for an end to police violence. Police in Bridgeport and Waterbury have undermined health and safety by responding to peaceful protesters with riot gear and arrests, with State Police making the arrests in Bridgeport. Footage and news reports show Waterbury police in riot gear with dogs out, tackling peaceful protesters while arresting them.
We call on all police in Connecticut to follow the law, uphold the constitution, and protect public safety by respecting people's rights to peacefully protest, and we call for police to immediately stop endangering health and safety with militarized responses and arrests. We call on State's Attorneys in Connecticut to drop any charges that police bring against peaceful protesters and to ensure peaceful protesters are not jailed for one moment, especially during this pandemic.
We are watching, and to those protesting, we are with you."
Earlier in the day, a group of several dozen people marched to the State Capitol in Hartford.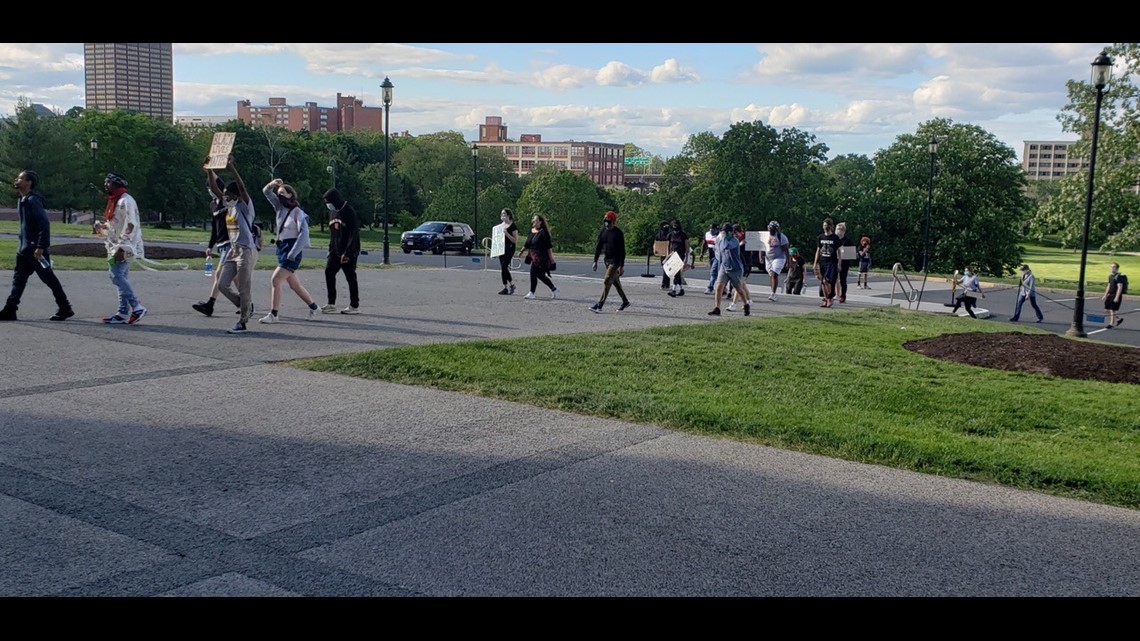 Shortly after 5pm, New Haven Police released information:
This afternoon around 1:15 p.m., New Haven Police responded to protestors blocking motor vehicle traffic at the merge of I-95, I-91, and the Oak Street Connector. Highway traffic was blocked until about 2:45 p.m.
Once the protestors left the highway, several hundred of them gathered and remain in the street and on the steps at NHPD headquarters at 1 Union Avenue.
NHPD officers are maintaining traffic posts and are detouring all vehicular traffic in the area of the police station. Motorists are advised to avoid the area.
The event is a peaceful gathering and the police department is standing by and monitoring it.
After leaving Rt 34, the group in New Haven marched to the Police Headquarters.
Protesters in New Britain marched from Walnut Hill Park to City Hall.
It appears New Haven protesters are marching back to city streets.
New Haven protesters marched from Rt. 34 to I-95 before returning to block the lanes on Rt. 34.
Norwalk police said Connecticut Ave Route 1 is CLOSED between Rampart and Scribner.
DOT said The northbound lanes were closed around Exit 13 and 14.
In New Haven, protesters marched from Broadway to Rt. 34 and then to I-95. I-95 Northbound was closed between Exits 48 and 50 and I-95 Southbound closed between Exits 48 and 46.
Live video from the New Haven Independent showed the marchers in a peaceful manner moving along the streets.
Video below is courtesy of the New Haven Independent. (Warning: Language my be offensive)
Protesters block highways in state
Waterbury Protest - Sunday, May 31
Protesters in Waterbury called for an end to police brutality and racial injustice Sunday. They marched through the city's streets and onto I-84 at one point, shutting the highway down for about 30 minutes. It marked another day of crowds of hundreds of people in Connecticut coming together in the wake of George Floyd's death.
"It's been going on forever, ever since I was a kid and at some point it's gotta stop," said Brenda Stallings of Waterbury.
She says the message that black lives matter is one that means everything to her as a mom of black sons.
"When my son got his license at 16, I was a nervous wreck, I really didn't anthem to get it," she said. "For me, it was if you get pulled over for anything be in compliance, don't talk back, it's like nerve-racking."
Protesters said they wanted to march because of that fear they say the black community should not have to feel.
"Worrying night and day should I go outside, should I hangout with these friends, should we go to this party, this club, should we even go out to eat sometimes," said Taliddeean Nasheed of Waterbury.
"You're just feeling this constant threat over your head and you don't know why it's there, it's just always been there. It hurts, it hurts," he said.
Those who showed up to support, said they felt it was their responsibility to be there during this time of unrest across the country.
"Everybody needs to show up because there's no reason that in this country, there's a police officer kneeling on someone's neck," said Kate Conetta of Danbury.
"We're in the middle of a pandemic in the middle of a virus just to make a change and be heard," said Morgan Armour of Bristol.
Throughout the protest organizers kept stressing the importance of keeping everything peaceful.
Gov. Ned Lamont posted a message about the protests in Twitter
Protesters blocked Rt. 8 in Bridgeport on Saturday.