20 years later | FOX61 journalists remember Sept. 11, 2001
In the news business, we are often asked about our experiences on 9/11. We talked to some journalists about that day.


Anxiety, Absence, Generosity and Unity
:
Laurie Perez - Former FOX61 reporter
Whenever someone asks me what I remember about covering 9/11 I never really know how to start or where to end. Should I begin by saying "where I was" when the planes hit? Should I talk about the haunting days that followed covering the story from Ground Zero? Or the weeks and months spent in living rooms and backyards with the families of victims - every one of them aching to share how special, how valuable….how missed...their loved one was?
I have all these fragmented memories of that time that I, frankly, normally try to avoid thinking of very often. But every Autumn…and especially every milestone year…they crowd my mind.
I wasn't scheduled to work that morning but as soon as the second plane hit the South Tower I headed to work - as did so many other reporters - no one needed to call us in…we all just got there as quickly as possible. I remember when I walked through the door into the studio someone, without saying a word, hugged me. And that was how it was that day - stunned, silent embraces…and then getting to work. When I picture the newsroom in the hours after the attacks it's as if I'm watching a silent movie. I don't hear the urgent hustle of the reporters and producers scrambling to find analysts and angles. I just see their faces…the worried, sad eyes of my friends and co-workers trying to balance reacting as reporters but also as Americans.
That day many workers in Hartford went home and businesses closed. The downtown streets were almost deserted and, again, just silent. There were very few cars and almost no foot traffic. At one point, across the country, people were urged to go outside and sing "God Bless America" and I remember looking over the side of the rooftop parking lot in our building and hearing the faint echo of a group raising their voices in song.
The streets in and out of New York were closed off almost immediately. No one except emergency responders and military could easily get past the road blocks. So, I hooked up with an ambulance company and my friend and photojournalist, Burchell Henry, and I embedded with a crew headed for Lower Manhattan. We were running on adrenaline - I have no recollection at all of how or where we ate or slept those first days. I do remember sitting in the ambulance and suddenly panicking, realizing I hadn't really said goodbye to my parents as we had no idea if there would be another attack.
One of the indelible moments of that ride was listening to the "Last Alarm/End of Watch" calls on the scanner radio…those are the calls to honor fallen firefighters and police officers…and one after another they kept being announced as we drove…revealing the scope of loss in such a raw way.
Along with the overwhelming sense of anxiety…and absence…there were, of course, many points of heartwarming generosity and unity. Residents flooded fire houses and police stations with donations of food, clothing, and medical supplies. The ambulance chief who let us ride with him to NYC with was a veteran first responder and I'll never forget a story he shared with us as we drove. He cried as he told us about an older woman who showed up, wanting to help, and all she had was a box of Band-Aids. But she insisted on donating them to the rescue and recovery efforts.
In 2011 I was back in NYC to cover the ten-year anniversary. The pain was still so fresh then, the loss still so palpable. I won't be there to mark 20 years since that day and I wonder how the families and friends we spoke with all those years ago are doing. That was a defining time in my career and my life…and I will never forget.
Laurie Perez is a reporter for KCBS in Los Angeles
When times are at their worst, journalism is sometimes at its best
:
Bob Bennett - Former FOX61 Senior Producer
September 11th, 2001 was already going to be a busy day in the FOX61 newsroom. It was Primary Day in Connecticut, and we had a lot to cover already. But that all changed before most of us were to get in the newsroom. The first wake-up call came from a friend, telling me what had happened. The station called through after that, and that's when I watched the second plane hit the World Trade Center. As soon as that happened, I told our news director that I'd be right in.
I remember every moment of that day, where we were to cover the story, and how it all developed during the day. It's frightening to think that the entire day stuck with me 20 years later, but it has. As a station, it was some of our best news coverage during my four years at FOX61. It's truly a difficult thing to digest… when times are at their worst, journalism is sometimes at its best. But our team did an incredible job that day, and in the difficult days after.

A couple of hours before we were to air our newscast at 10 p.m., a few of us walked out onto the parking deck by the station (FOX61 was in the "Stilts Building" on Church Street then). I remember commenting on the stunning sunset that night, and how it was so hard to believe that something could be so beautiful on such a tragic day.
20 years later… we still remember and will remember forever.
Bob Bennett is the Senior producer at WAVY TV 10 in Norfolk, Virginia
The injured weren't coming
:
Jason Shoultz - Former assignment editor / Reporter FOX61
No Twitter. No Facebook. With no social media to speak of on 9/11, on the assignment desk, we got word of the first tower getting hit like most Americans - the television.
One by one, the televisions lined up in a row behind us switched from normal programming, cooking and entertainment segments, to images of smoke billowing from the World Trade Center.
At first, my colleagues on the assignment desk, Ken Margolfo and Holly Stevens, assumed we were watching some kind of horrible accident. Then, live in front of the world, another plane. Another explosion. The phones started ringing, staffers arrived almost immediately. Where to send them? The airport? Downtown Hartford where buildings in Hartford were being evacuated out of fear?

I have many memories of that day that will stay with me forever, but perhaps the most troubling is an early-afternoon tip that hundreds of injured people were going to arrive via commuter rail for treatment in shoreline hospitals: Bridgeport, New Haven, New London.
The hospitals were expecting a flood of people, we were told. We sent a crew to the shoreline to await their arrival. As the day wore on, the crew reported back that those trains were not arriving. It was a realization, in real-time, that the death toll was going to be much worse than we could have imagined.
Unforgettable lesson
:
Richard Washington III - Journalism student at Syracuse University
I remember that day vividly. I was a senior at Syracuse University and it was my day to report for my broadcast journalism class.
I started off on a story about signs in the Syracuse mayoral race. I quickly got a call from a classmate, who was serving as the managing editor that day, who told me to "get to the airport as fast as you can."
I get there with my student camera and there's already a gaggle of reporters surrounding the airport's director. They looked back at me like, "Who is this kid showing up super late?"
I stuck my mic in there and got some of that impromptu press conference and then went inside the airport. Officers with German Shepherds were patrolling the airport and there was just an incredibly eerie feeling inside. I ended up getting a one-on-one interview with the director in his office.

Then I hauled it back to school where I was our lead reporter just reflecting on what I saw at the airport that day. It was my first experience with breaking news and one I'll never forget.
I returned to my apartment on South Campus and saw my friend had her patio door open. I walked inside and we just watched CNN for hours in disbelief reflecting on the day which will forever live in infamy.
Richard Washington III is the News Director for FOX61
A deserted Logan Airport in Boston
:
Doug Stewart - FOX61 Videographer
The thing I'll always remember is how blue the sky was that day. I was scheduled to work nights covering the New Haven mayoral primary. I heard about the first crash at the World Trade Center from a friend on AOL messenger. I got in my news vehicle and headed to the station. From there, I went to the Sub Base in Groton, back to Hartford to pick up Lynn Jolicoeur, a reporter, and we headed to Boston to report from Logan where two of the flights originated. I remember both Hartford and Boston being deserted. We ended up having to come back to Connecticut because we couldn't book satellite time to do a live hit.
With all that time in the car, my initial memories of the coverage was listening to NPR. I talked to friends in TV news in other cities, about what they were experiencing. One had been set to take off for a conference, and the plane never left the runway.
I often think about the work of our late colleague Tom Misczuk who reported from Ground Zero. Initially, he reported just for FOX61, but after the reporter who was doing live shots for all the Tribune stations bowed out, Tom was the nightly live presence for stations in our company. He brought his own unique style to his stories. They were crafted with care and compassion and provided a personal insight to what was a large and complex event.
Here's one of Tom's stories from Ground Zero.
I went with Lynn Jolicoeur to report from Ground Zero the following Monday. The dust was everywhere in lower Manhattan. We ran into troopers from the Connecticut State Police as they assisted New York authorities.
For the next week or two, I would work with different reporters as we crisscrossed the state, talking to families who had lost someone in the collapse of the towers or the other crashes. I remember the grace under pressure that the families showed.
Doug Stewart is a Digital Content Producer for FOX61
Parents showed up at school
:
Lauren Zenzie - Elementary School Student
I remember the day so vividly.
I was on the carpet at morning meeting in elementary school, listening to my teacher read us a story when all of a sudden parents started showing up at school to pick up their kids.
I remember students being pulled out of class to go home and I was so confused. When I got home from school I remember my mom being glued to the news, following what was going on.
Lauren Zenzie is a reporter for FOX61
A meeting canceled
:
Lucia I Suarez Sang - Middle school student in the Dominican Republic
I very vividly remember that day. I was sitting in my middle school health class when our teacher was pulled outside. He came back in a few minutes later and his eyes were bloodshot from crying. He broke the news to us: A plane had just hit the World Trade Center in New York. He then told us that classes were being canceled for the day and that our parents were being called to pick us up.
It was chaos when my picked me up – so many parents were at the gate trying to get us out. My school, an American school in the Dominican Republic, was closely tied with the U.S. Embassy. Our security was heightened from the moment the news broke and leaving that day was difficult.

As soon as we got home, the phone was ringing off the hook. Everyone wanted to know if my dad was in the country – or if he was in New York City, where he had a meeting planned that day. My dad was supposed to be in one of the towers that day.
Every year, I thank God that my dad's meeting got canceled and he was nowhere near New York City. That day he was safe in his office.
That day changed the world. The images of the planes going into the towers are ones that I will never forget.
Lucia Suarez Sang is the Digital Content Director at FOX61.
New to NYC
:
Keith McGilvery - New to college and NYC
I was in New York City on September 11, 2001. What started as a beautiful Fall morning quickly turned into something horrific that many will never forget. I had just started my freshman year at Fordham University in the Bronx when the Twin Towers were hit. I was in class at the time and remember returning to my dorm like so many others just trying to figure out what was going on. Our campus was shut down, we were glued to the news, many struggled to reach family members and everyone was doing whatever they could to help those in need.
For a while we were stuck on campus but as time passed and we were able to move closer to Ground Zero. I remember seeing missing persons signs that people had shared in efforts to find lost loved ones. I remember the campus vigils and memorials around the city. I remember the blood drives and remember talking for hours with new friends about what we had experienced together.
I am grateful to have been at Fordham during such a tragic time in our history. The friendships I made in those early days around 9/11 are ones I am thankful for today.
The September 11th attacks also reinforced my desire to become a journalist and share the stories of the people, places and experiences that make us different. They also remind me of the opportunity I have to share good news and to do something kind for someone else.
Here are some pictures I took on campus and around the city following the 9/11 attacks.
Keith McGilvery's photos from NYC after 9/11

Keith McGilvery is a Morning Anchor on FOX61
"I've got something to tell you."
:
Carolee Salerno - Anchor/Reporter FOX61
On the morning of September 11, 2001, Carolee Salerno was home with her 10-month-old son. She had just returned from a run when her husband John called to say he had something to tell her. She said, "I have something to tell you too!" And started to talk about some dogs in the neighborhood that were large and threatening as she passed.
He interrupted her and said a plane had hit the World Trade Center. John told her he was going in to Manhattan to assist. He had been working for the DEA with the New York Police Department and had been out on assignment late the night before.
Like many people, she thought at first it was a small plane, but soon came to realize what had happened. Because of the overloaded phones and cell service, it was hours before she heard from her husband again. Carolee was working with Brent Hardin that week anchoring the FOX61 News at 10, since Susan Christensen was in France on her honeymoon.
Carolee remembers the full impact of the attack hitting her the next day, realizing that no one was going to emerge from the rubble alive. She, like other FOX61 reporters and photographers, started talking to family members of those who were killed in the attack.
Twenty years later, she still recalls with clarity so many moments of that day and the ones that followed. She talked to the family of a college classmate, Ed Vanacore, who was working in one of the towers. Today, she thinks of what a great musician he was. One thing she said she'll always remember is talking to the wife of a man who was missing. She spoke, with her heart breaking, about how she was laying out all his sweatshirts waiting for her husband to return to her and her small children. - FOX61 Staff
Carolee Salerno is the mother of five, and works in Media Relations for the Diocese of Springfield in Massachusetts
A letter answered
:
Margaux Farrell - 6th grade
I had just turned 11 on August 22nd, and I was two weeks into the school year as a 6th grader on the devastating day of 9/11/2001.
During the day, there were mumblings in the hallways as the elementary students were seeing images in certain classrooms. My teacher decided not to turn the TV on and kept our innocence alive for a few more hours.
By the time I got to my afterschool program, I was sitting at a snack table with a friend of mine who had a radio set. She was listening to it, and saying The World Trade Center is gone, the Twin Towers collapsed. At that time, my young 11-year-old brain did not realize what that meant. For starters, I only knew the WTC as the Twin Towers. I had been to the top of the towers when I was younger, and that's what I knew about them.

I remember saying to my friend, "Well that's ok, they will just build new ones." It had not occurred to me at that point that there were PEOPLE in that destruction. Suddenly, it was a wave of fear, my young mind didn't know how to process such evil.
That evening, when I got home from school, my mom and dad told me to take my brother upstairs to watch the Disney Channel. Meanwhile, my father, my mother, and their close friend who was in town visiting sat in disbelief as they watched the news. I saw so many people crying, started seeing so many stories, and pictures... it was not what I thought, far from it.
My father later told me that he had a friend in tower 2, and that he was able to get out safely. That made it hit even closer to home. We knew people who were there that day. It was real.
As the weeks went on, my teacher decided to have us write letters to the crews working in the rubble. I included my phone number and address on the card I sent. I had asked if it was possible to get a piece of the rubble to put in my church. One day, our home phone rang. It was the man who received my card. He told me that my card meant so much to him and helped him fight through it. My mother, I remember, listened, and started to cry.
The gentleman told me he would get a piece of rubble to me. He even sent me photos of him making a cross out of metal. Sadly, I don't know where those photos went over the years, and I never received that cross or heard from that man again.
To this day, I still think about that man, and I wonder, where is he? Did he die too?
Margaux Farrell is a morning anchor at FOX61
A day of change
:
Matt Caron - 8th grade
September 11th is my birthday, but 2001 didn't feel like much of a celebration.

I was in the 8th grade at the Michael E. Smith Middle School in South Hadley, MA. I remember walking into my history class to the TV turned on CNN. The graphic on the screen read the words, "Attack on America." You could hear a pin drop.

My classmates and I watched in stunned silence as the second plane hit the second tower. We then watched that tower vanish from the Manhattan skyline behind a plume of ash like the world had never seen.

I remember CNN anchor Aaron Brown became speechless while he reported from the roof of the CNN Center in Manhattan. I thought he brought humility and humanity to his coverage, and he became one of my news mentors.

Even at that younger age...the moment was not lost on me. I knew I was witnessing history. I think 9/11 was one of the moments that solidified my career choice. What a weighty responsibility it was to cover the news. A responsibility that I remind myself about daily as I serve my Connecticut community.
I then watched as my friends in class were getting picked up by their parents who were worried because we didn't know how many planes were hijacked or where they could hit next. The anxiety was palpable.

I stayed glued to the news and watched President Bush as he was informed about the attack in front of a class of grade school students. His facial expression instantly changed.

I watched the President in the days that followed as he climbed on top of the pile of rubble with a bullhorn - his arm wrapped around a firefighter who had tears in his eyes. As the President began to speak, someone in the crowd of first responders who gathered around him shouted, "We can't hear you!" The President replied, "I can hear you. Your country can hear you, and the people who knocked these buildings down will hear all of us soon!" Those words sent chills down my spine.

I then watched in the years that followed as America lead a global war on terror that had countless implications.
9/11 changed the world. It also changed me.
In 2001, I forgot it was my birthday...and that's okay. I learned an important lesson that day about humility and the power of community. I learned that even in such unspeakable horror and tragedy, Americans rise to the occasion. People learned to be a little nicer to each other in 2001 because we realized that what unites us is so much bigger than what divides us.
Matt Caron is a reporter for FOX61
September 11 Anniversary Photo Gallery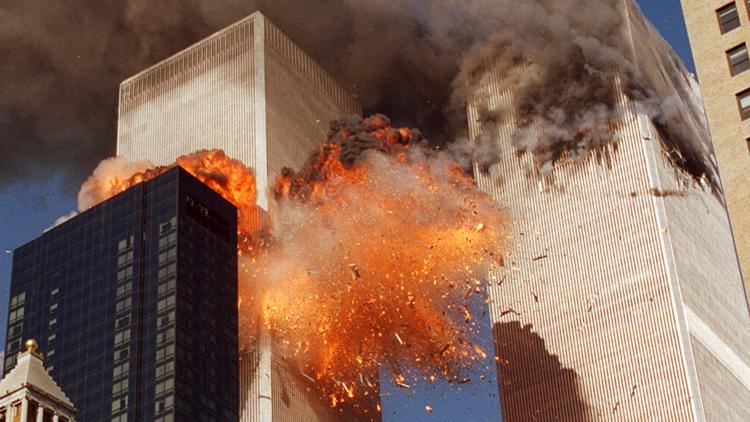 HERE ARE MORE WAYS TO GET FOX61 NEWS
Download the FOX61 News APP
iTunes: Click here to download
Google Play: Click here to download
Stream Live on ROKU: Add the channel from the ROKU store or by searching FOX61.