HARTFORD, Conn — The capitol city's police chief is responding to the death of George Floyd, an unarmed black man in Minneapolis.
Floyd, 46 died in police custody Monday night, and bystander video has since circulated showing a Minneapolis police officer with his knee on Floyd's neck as Floyd says repeatedly, "I can't breathe."
Floyd was in handcuffs and became unconscious. He was later pronounced dead.
Hartford Police Chief Jason Thody took to Twitter Wednesday to express his frustrations with Floyd's death.
"As a career member of law enforcement, I am horrified by what I saw on that video," Thody tweeted.
The chief continued by saying there was 'simply no excuse' for the behavior displayed by the responding officers.
"As police officers, we must remember our primary responsibility is public safety and the preservation of life. When someone that wears a badge goes against those principles, the damage is immeasurable and far reaching," Thody said.
The Connecticut Police Association also released the following statement:
"We have all seen the videos from Minneapolis, where a man has lost his life during an encounter with the police, as well as the aftermath of those actions.
These images are beyond disturbing and cast a stain over the law enforcement profession and the dedicated men and women who strive to protect and serve their communities with honor. As Law Enforcement Officers we recognize that the behavior in these videos reflect failures in police tactics, judgement and training.
Of equal concern is the lack of intervention by other officers on the scene. We are reminded that we are leaders in our communities, especially during a time of crisis. Our oath and our ethics require us to act whenever we are witnessing an unjust act, even by another police officer.
Unfortunately these actions in Minnesota erode the layers of trust, confidence and goodwill that so many of you have built within your communities, especially those who lead agencies in fragile communities.
Every person deserves to be treated with dignity and respect, this is the foundation of our profession. Any violation of these core tenets is inexcusable."
"Every day, Every Incident Matters"
Chairman, Police Officers Standards and Training Council
The four Minneapolis police officers involved have been terminated. They are:
Officer Derek Chauvin
Officer Thomas Lane
Officer Tou Thao
Officer J Alexander Kueng
However, Minneapolis Mayor Jacob Frey also called on Hennepin County Attorney Mike Freeman to file charges against Chauvin, the officer who held his knee on Floyd's neck.
"I've wrestled with, more than anything else over the last 36 hours, one fundamental question. Why is the man who killed George Floyd not in jail?" Frey said to reporters on Wednesday. "If you had done it, or I had done it, we would be behind bars right now. And I cannot come up with a good answer to that question."
Mayor Frey said that his request is based on video evidence that he's seen, and would not go into further details for fear of jeopardizing the investigation, but the maneuver used by the officer is not approved by the Minneapolis Police Department.
County Attorney Mike Freeman has since announced that Chauvin was charged with third-degree murder and second-degree manslaughter.
Prosecutors are continuing to review evidence and there may be subsequent charges later, according to Freeman.
Freeman said they focused on the "most dangerous" perpetrator first, but the other three officers involved in Floyd's arrest are under investigation and he anticipates charges against them as well.
Floyd's tragic death has led to protests and fires set. Multiple businesses, homes and a construction site burn, while demands for justice throughout the country explode.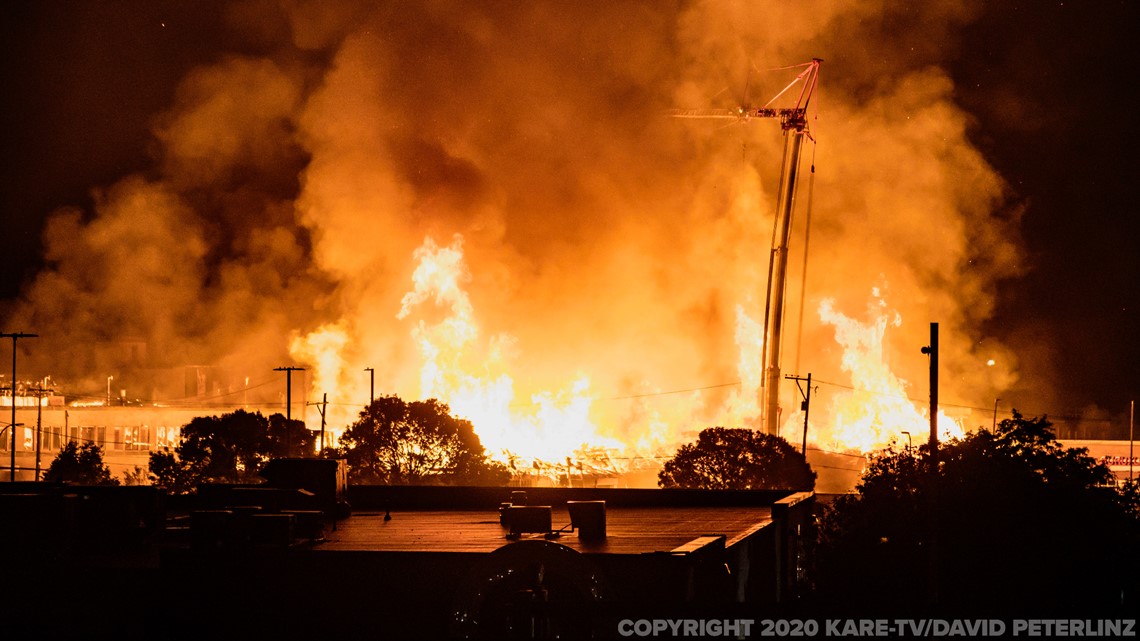 Floyd's family is now calling for action after the bystander video, showing him beg for help went viral on social media.
"I'm glad that it didn't take forever for them to see what everybody else could clearly see took place, and that's that they murdered our cousin," Tate said.