Bank of America customers took to social media on Wednesday, Jan. 18 to report issues with transactions made through Zelle, an online payment service that allows people to send and receive money.
Sen. Elizabeth Warren also tweeted about the situation, writing in part, "Bank of America and Zelle are apparently failing customers again, with money somehow disappearing from accounts. This should be fixed immediately and customers should be compensated."
THE QUESTION
Did Bank of America customers experience problems with Zelle transactions?
THE SOURCES
Alert displayed in Bank of America app
THE ANSWER
Yes, Bank of America customers experienced problems with Zelle transactions.
WHAT WE FOUND
A spokesperson for Bank of America told VERIFY "there was a delay in some recent Zelle transactions posting to client accounts," but that the issue had been resolved as of Wednesday afternoon.
Bank of America customers also received an alert about the delay in transactions through the company's app, which was provided to VERIFY by a staff member at one of our partner stations.
"Zelle transactions made between January 14 and January 17 may be delayed in occurring and posting to accounts as requested," the alert read. "Transfers will be completed and will appear in your account activity as soon as possible. We apologize for any delay or inconvenience."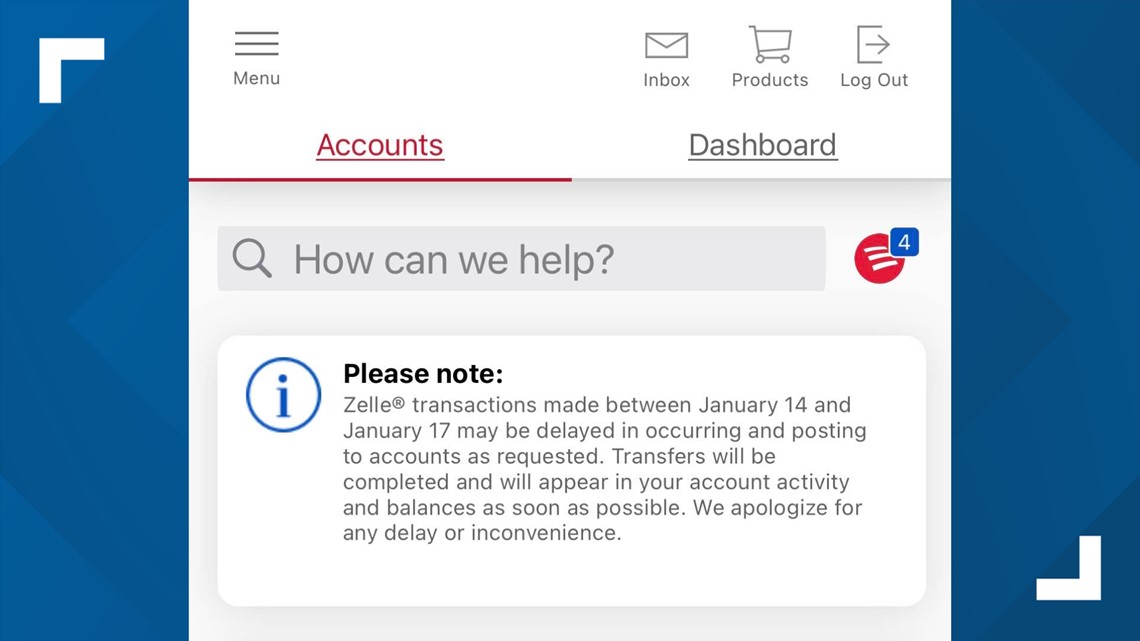 Thousands of people reported issues with Bank of America to the website Downdetector on Wednesday, with reports spiking around 9 a.m. Eastern. Some of those customers reported missing funds from their account.
The banking company's spokesperson did not respond to questions about the reason behind the delay in transactions posting to accounts.
Zelle addressed the issues with transactions via Twitter on Wednesday morning, but said its app and network were "up and running."
"We are aware of an issue that is impacting Bank of America customers when sending and receiving payments," Zelle wrote. "We recommend contacting Bank of America's customer support team for additional updates."