In 2021, popular video conferencing platform Zoom reached a settlement in a class action lawsuit over alleged privacy and security issues that occurred between March 30, 2016 and July 30, 2021. While the company denied any wrongdoing, it agreed to pay $85 million to settle.
Multiple VERIFY viewers including Roger and Bryan reached out to our team asking if emails they received about an upcoming payment claiming to be from the Zoom class action settlement are real. Online searches show that other people are wondering the same thing.
THE QUESTION
Are Zoom class action settlement payment emails real?
THE SOURCES
THE ANSWER
Yes, Zoom class action settlement payment emails are real.
WHAT WE FOUND
Zoom class action settlement payment emails sent from "EpiqPay" are legitimate, according to the Zoom class action settlement website. EpiqPay is a digital payment platform that sends class action settlement payments to claimants.
"If you received an email from noreply@epiqpay.com, it is because you were determined to be eligible for a payment in a class action settlement," the Zoom class action settlement website says.
Eligible individuals had to submit a valid claim form on or before March 5, 2022, to receive an email. VERIFY obtained one of the EpiqPay emails received by a viewer.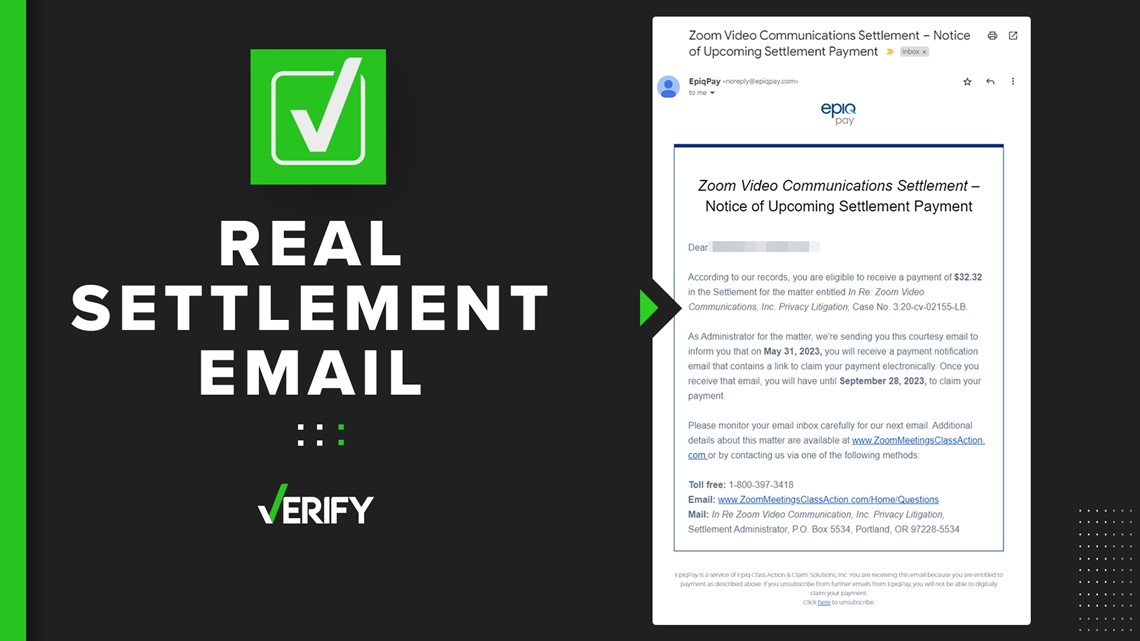 The settlement website explains that people who are eligible to receive the $32 payment will get a notification email on May 31, 2023, that contains a link to claim their payment. EpiqPay also sent a prepayment notification email to eligible individuals. In addition to emails from EpiqPay, claimants will receive one or more follow-up emails from Tremendous, the settlement website's payment partner, confirming where their payment is in the process.
In June, many people also received an email from EpiqPay reminding them to claim their settlement by Sept. 28, 2023.
In order to claim your settlement payment, you can click the "Claim Payment" link found in any payment or reminder emails you have received from EpiqPay prior to the payment expiry date of Sept. 28. The link will take you to a payment dashboard where you can select your preferred method of payment.
It typically takes two to five business days for the payment to be delivered. If you choose to receive a check, it will take about four to six weeks for your payment to be mailed to you. For more information, visit the Zoom class action settlement website.
The Associated Press contributed to this report.