CONNECTICUT, USA — The Connecticut Department of Health and the Department of Econimic and Community Development released an updated sports guidance, recommendations and sector rules for the winter season.
The new guidance applies to both interscholastic leagues as well as recreational and private leagues for both children and adults. This revision updates the guidance that was released on September 25. Its goal is to protect athletes from COVID-19. The guidance does not impact collegiate or professional level sports.
"As we get into the winter season, there is a higher level of community spread of COVID-19 than there was a few months ago, and that impacts athletes in all sports, especially those played indoors," said Acting DPH Commissioner Deidre S. Gifford, MD MPH. "It is still important to remain as physically active as possible during the winter and I encourage that. It will be important going forward that sports league or event organizers give their coaches and players the tools to mitigate risks of transmission as much as possible. For our youth, this also clearly applies uniformly to sports played as part of a school-based league and private or recreational leagues. We have seen clusters of cases related to individual teams and sporting events, and this can be very disruptive to schools if youth or anyone else exposed then needs to quarantine due to exposure. Even though the effects of COVID-19 in youth tend to be less significant, children can easily spread infection to more vulnerable members of our community if exposed."
Two charts were released showing the risk of spreading COVID-19 through the various sports. There were also more restrictive measures like:
Requiring the use of face-covering masks that completely cover the nose and mouth by
all coaches and players (including during active play)
Postponing indoor activities and/or moving indoor activities outdoors
Keeping individuals in small cohorts
Limiting/eliminating interactions with individuals outside of your household
Increasing and maintaining distance between participants
Implementing rule changes that reduce the number, frequency, duration, and/or exertional
level of person-to-person physical contact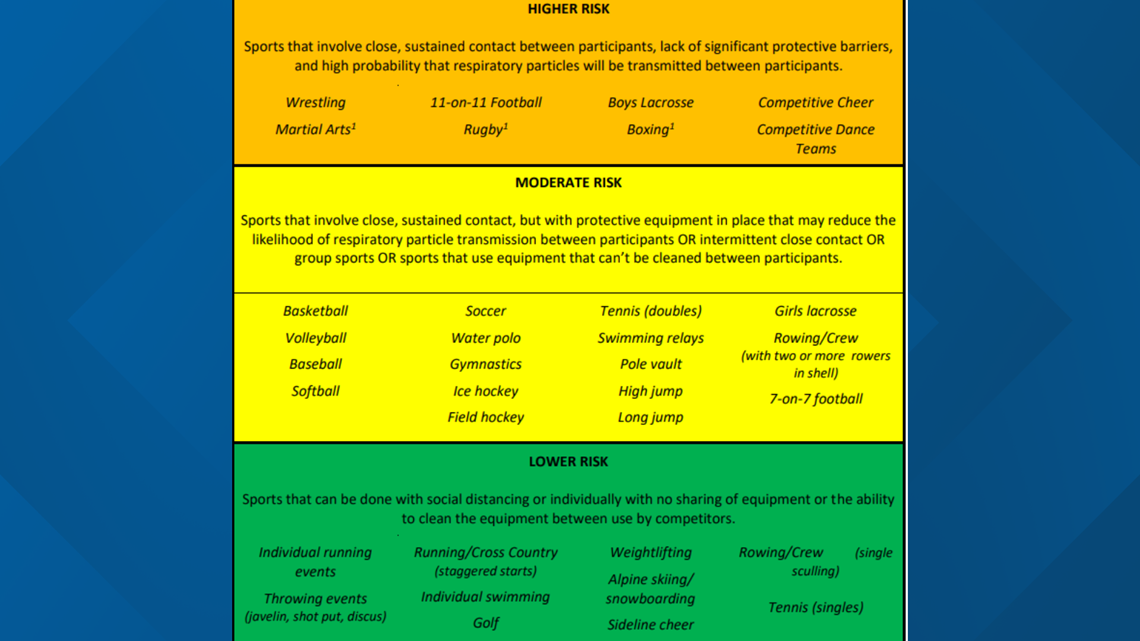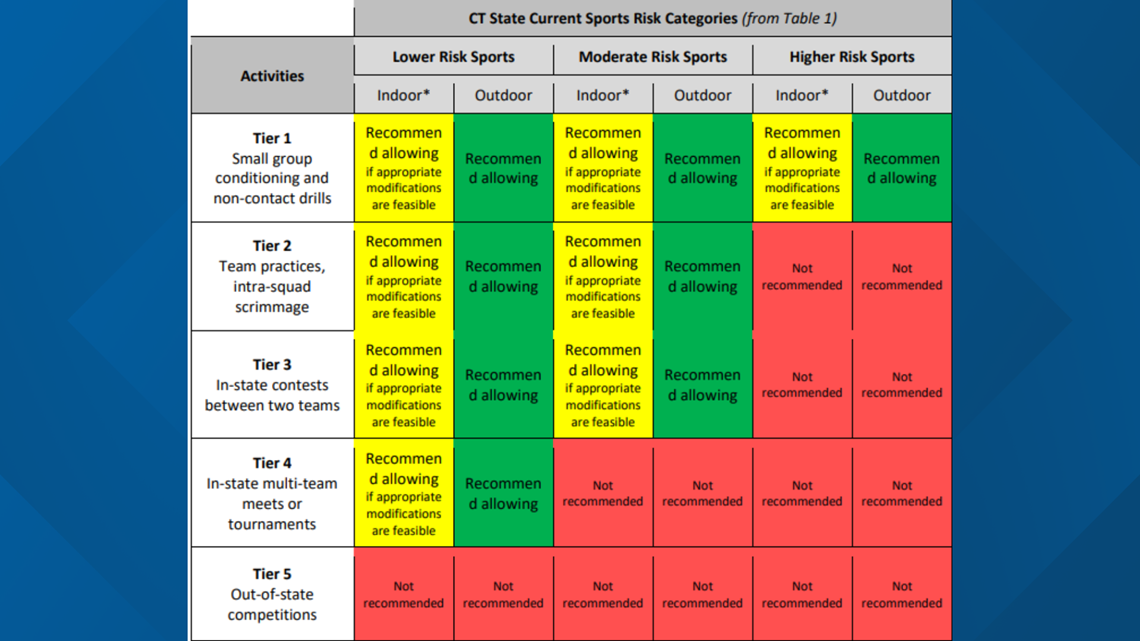 For more on the guidance click here.