WASHINGTON — The 2023 Super Bowl matchup is set and the big game (along with its high profile halftime show and eye-popping commercials) is on the horizon.
The matchup features the Philadelphia Eagles representing the NFC and the Kansas City Chiefs representing the AFC.
When is the Super Bowl? What time does the Super Bowl kick off?
Super Bowl LVII (which stands for Super Bowl 57) kicks off Sunday, Feb. 12 at State Farm Stadium in Glendale, Arizona, around 6:30 p.m. Eastern (5:30 p.m. Central Time, 4:30 p.m. Mountain Time and 3:30 p.m. Pacific Time)
What channel is the Super Bowl on?
Super Bowl LVII will be shown on FOX and live streamed on the FOX Sports App.
Who is performing at the Super Bowl?
We already know several big names who will be center stage at the Super Bowl. Rihanna, who recently received her first-ever Oscar nomination, will be performing during the halftime show. It has been nearly seven years since the multi-Grammy award winner has released an album, and fans have been yearning for new music ever since.
Before Rihanna and the Super Bowl teams take the field, country music star Chris Stapleton will help kick things off by singing the national anthem. R&B legend Babyface will perform "America the Beautiful."
Actor-singer Sheryl Lee Ralph, who won an Emmy for "Abbott Elementary," will also perform "Lift Every Voice and Sing."
Troy Kotsur, who won an Oscar for his role in "CODA," will perform the national anthem in American sign language.
Who is going to the Super Bowl?
Donna Kelce Super Bowl
No matter what happens, Donna Kelce will win...but also lose. That's because the Super Bowl will feature the brother-against-brother showdown between Chiefs tight end Travis Kelce and Philadelphia center Jason Kelce.
Chiefs vs Eagles Super Bowl odds
Historic QB matchup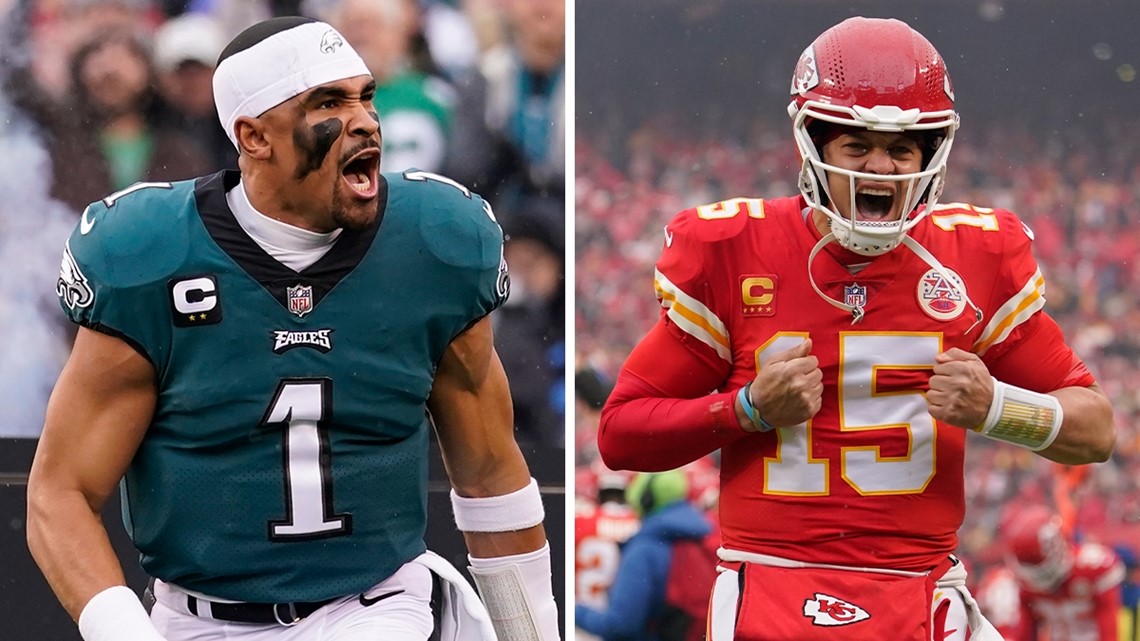 When was the last time the Eagles were in the Super Bowl?
When was the last time Kansas City was in the Super Bowl?
The Kansas City Chiefs were last in the Super Bowl two years ago, when they lost to Tom Brady and the Tampa Bay Buccaneers. But the year before that, the Chiefs won Super Bowl LIV against the San Francisco 49ers.
Which teams have never been in the Super Bowl?
There are just four teams in the NFL who have never appeared in the championship game: The Browns, Jacksonville Jaguars, Detroit Lions and Houston Texans.
Which teams have never won a Super Bowl?
There are 12 current teams, including the four listed above, who had never won a Super Bowl. That list includes the Minnesota Vikings, Buffalo Bills, Cincinnati Bengals, Atlanta Falcons, Carolina Panthers, Arizona Cardinals, Tennessee Titans, Los Angeles Chargers, Cleveland Browns, Detroit Lions, Jacksonville Jaguars and Houston Texans.