NEWINGTON, Conn. — Many across Connecticut are filling up their gas tanks for under $3 a gallon for the first time in months.
Triple A reports the average cost of a regular gallon of gas in the state is $3.34. That is a penny less than Sunday and down eleven cents from a week ago. A bigger decrease from the previous month when it was $3.93.
For those filling up along the Berlin Turnpike, the lower prices mean more spending money.
"Not having to worry about if I'm going to fill my gas or if I'm going to have good grocery," Luis Alvarado, New Britain, said. "Maybe I'll go out more now I don't go out because of that."
Quinnipiac University International Business professor Mohammad Elahee says there are a couple of reasons for the decrease. He says supply and demand and the changing seasons are big factors. With the busy summer travel season over, people are traveling less. The highest recorded price for a gallon of gas in the state peaked in June at $4.98.
Elahee also says the war against Russia and Ukraine did not have as big of an impact globally as expected.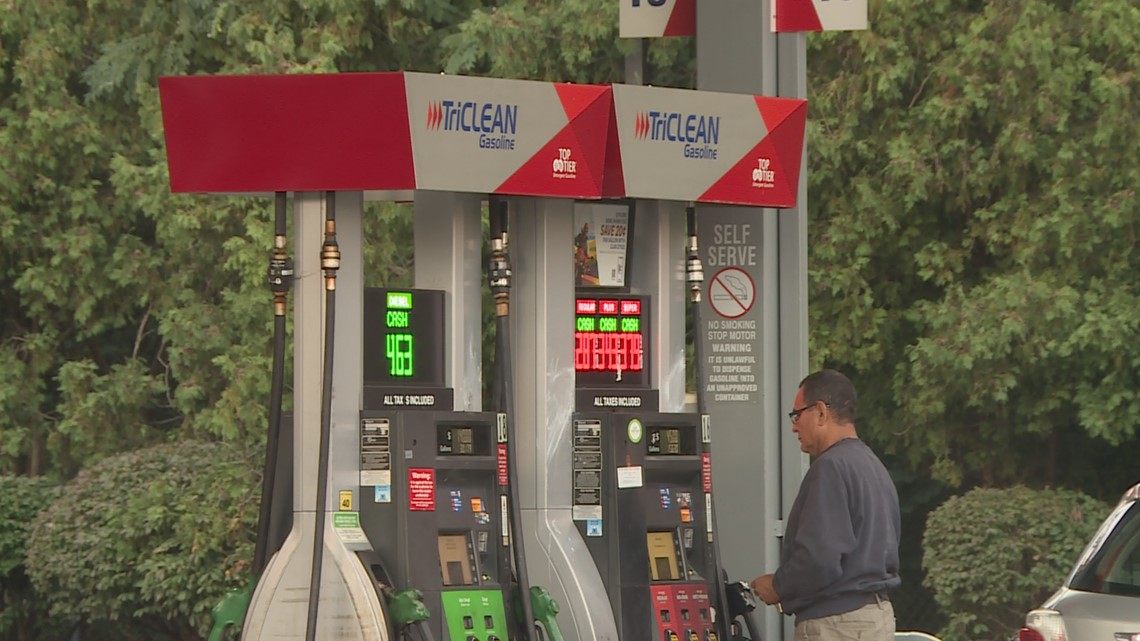 "There was a fear of a global shortage, which did not really materialize despite U.S. sanctions on Russia," he said.
However, the professor says the impacts of the war on gas prices may not be over if Russia cuts off oil supply to Europe. Triple A also says Hurricane Ian may impact the price of gas as the storm heads towards the southern United States.
Brianna Flanagan, Plainville, has traveled across different states on the east coast within the last week and says Connecticut has had the cheapest gas.
"It's been fantastic. I have been to Jersey and Massachusetts in the last week and we're the only people even close to under three," she said.
Triple A reports Connecticut has the cheapest average price for gas in New England. Vermont has the highest with $3.71. Rhode Island is the closest to Connecticut; only nine cents higher.
The price for a gallon of gasoline ended its 98 consecutive day downtrend trend last Thursday because of tight supply and changing oil prices due to maintenance work in the Midwest and west.
Still, Connecticut drivers say they will take the cheaper gas to save them more money in the future. Drivers in Hartford and Litchfield Counties are paying less than anywhere else in the state. Windham and Fairfield Counties are paying the most.
"It's a relief that Christmas is coming," Flanagan said. "My paycheck goes a little bit further."
Many wonder if and how elections impact the price. Elahee says it does because the incumbent party will do what it can to keep voters on their side.
"When the gas price is high voters are not happy, and when the voters are not happy, the party and power usually suffers," he said.
Connecticut's $.25 gas tax suspension is set to expire before the month of December begins. Elahee says there's always the possibility it gets extended.
In years ahead, he's optimistic about gas prices remaining low as countries like China and the United States shift to more electric vehicles.
Have a story idea or something on your mind you want to share? We want to hear from you! Email us at newstips@fox61.com
HERE ARE MORE WAYS TO GET FOX61 NEWS
Download the FOX61 News APP
iTunes: Click here to download
Google Play: Click here to download
Stream Live on ROKU: Add the channel from the ROKU store or by searching FOX61.
Steam Live on FIRE TV: Search 'FOX61' and click 'Get' to download.