HARTFORD, Conn. — Gas prices in Connecticut have slowly dropped since peaking in mid-June at almost $5 a gallon. Some drivers are now starting to fill up for under $4.
Triple A reported Monday the statewide average was $4.38, about three cents higher than the national average. The price per gallon is about 50 cents less than a month ago, but more than a dollar higher than in 2021.
The average price per gallon in each Connecticut county is:
Hartford: $4.28
New Haven: $4.36
New London: $4.40
Middlesex: $4.36
Litchfield: $4.26
Tolland: $4.37
Windham: $4.33
Fairfield: $4.55
Connecticut's gas tax is lifted through the end of November saving drivers $.25 per gallon.
"I commute about 30 miles a day each day so 60 miles. I fill up two to three times a week," Erin Plouffe of Wallingford said. "I can definitely do a lot more this summer. I can support local businesses. Go out and spend some more money instead of putting it in my tank."
Plouffe was filling at a gas station in Windsor for $4.39 a gallon. Just a few miles south in Hartford, the price at one station was $3.87.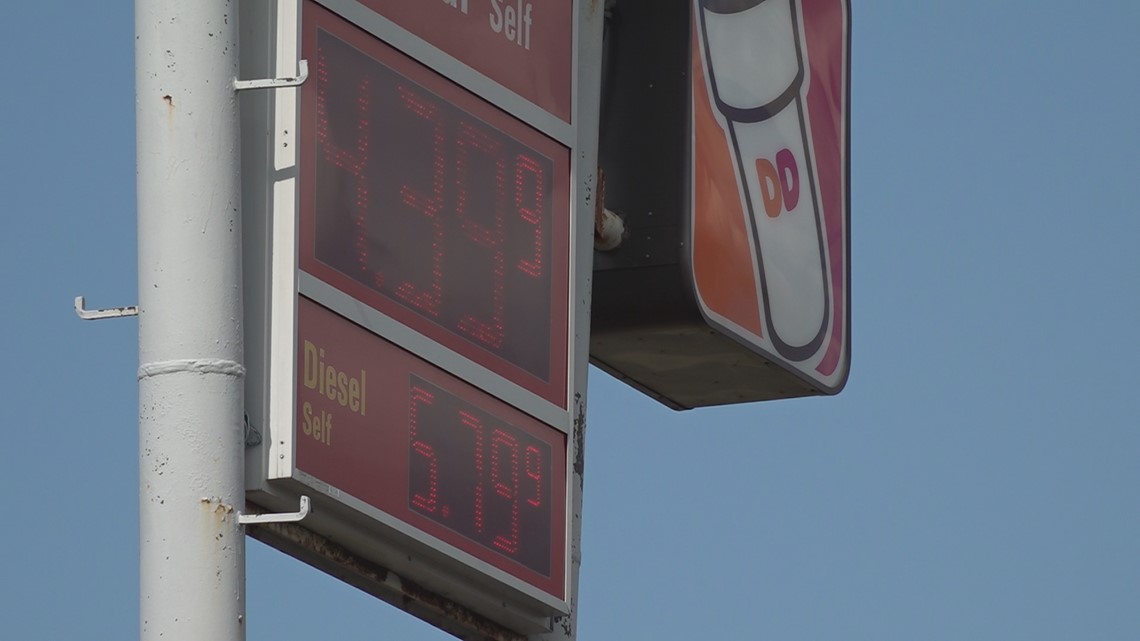 "This is great," Sandra Moore said. "It's been a while. I want to say a good year or better at least."
The Bloomfield resident came to the station because she knew prices were low. Many others did the same including Ronald Campbell.
"It's crazy because who wants to pay four dollars but they are a little under four dollars. I never thought I'd be saying I'm happy about that but I'm happy about that considering where gas was," the Hartford resident said. "It's just where can I get the cheapest gas period. Even if it was a five-cent difference that's where I want to go."
Triple A says a decrease in demand and lower oil costs are contributing to the dropping prices. Even as prices go down, many wish they were even lower.
"This is a gift right now but, like I said, this can change any second," Andres Trochez of Windsor said. "I know it could be cheaper but I'll take it as it comes."
Drivers say they've had to limit trips and purchases because of the high gas prices. As they get back to a level where people can comfortably fill the tank, that leaves extra spending cash to put back in the economy instead of the car.
"They've already gone down this summer so far, so hopefully by the end of the summer it'll get down towards three dollars, $3.5 I think is pretty reasonable for what we got going on," Plouffe said.
The price of diesel is slowly dropping as well in the state. It peaked at $6.44 in May and now the average is $5.58 per gallon, a drop of fifty cents from a month ago but more than a two-dollar increase from a year ago.
Have a story idea or something on your mind you want to share? We want to hear from you! Email us at newstips@fox61.com
HERE ARE MORE WAYS TO GET FOX61 NEWS
Download the FOX61 News APP
iTunes: Click here to download
Google Play: Click here to download
Stream Live on ROKU: Add the channel from the ROKU store or by searching FOX61.
Steam Live on FIRE TV: Search 'FOX61' and click 'Get' to download.