Delta's impacts will be felt long after the storm blasts the Louisiana coast on Friday, and although the worst of the hurricane will be felt from the Gulf Coast to the Interstate 10 corridor, the disruptive storm will make its presence felt across the interior of the central and eastern United States this weekend.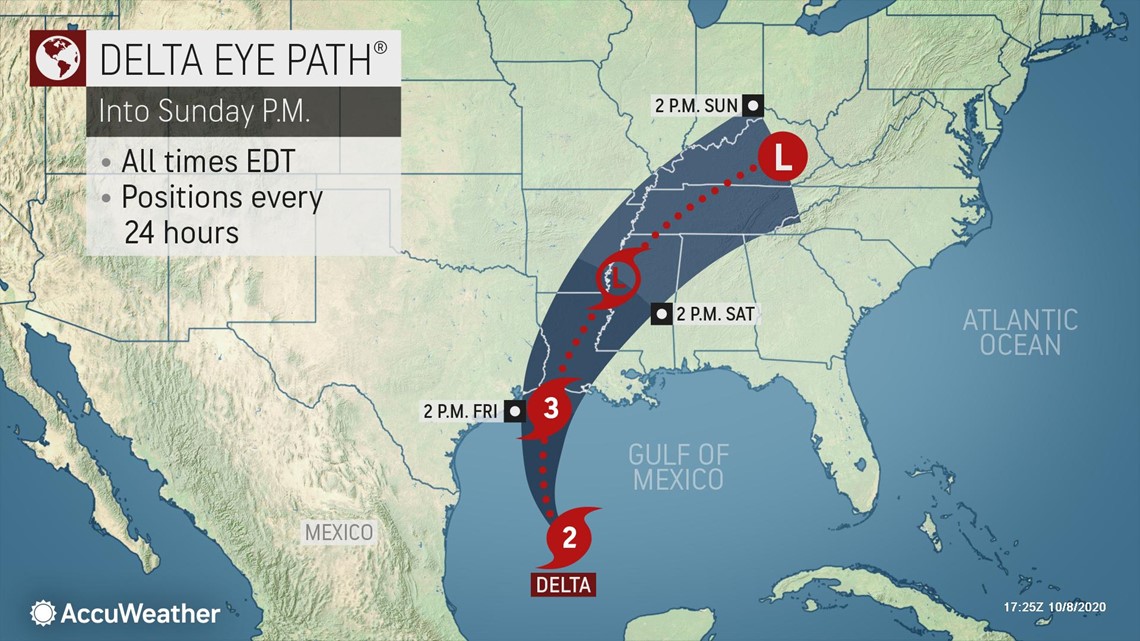 Winds to hurricane force or at least 74 mph are forecast to extend as far to the north as the tri-state area of Louisiana, Mississippi and Arkansas by Saturday morning. Winds this strong can not only cause widespread power outages and knock down trees, which can block roadways, but can also lead to minor property damage from Interstate 10 to I-20.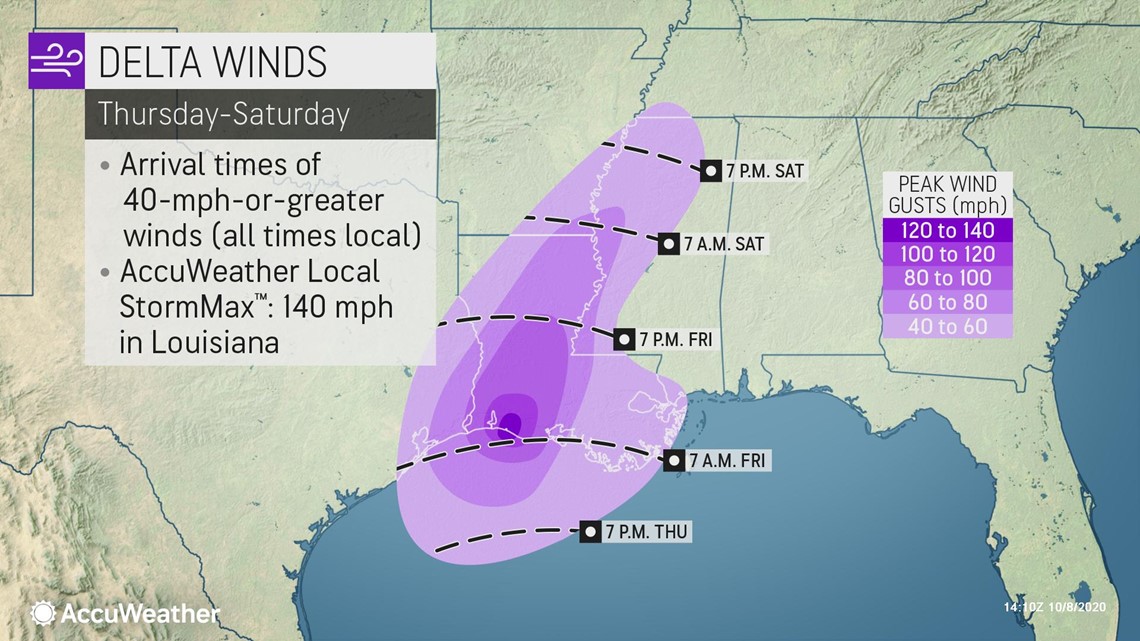 People in communities such as Alexandria and Monroe, Louisiana, as well as Natchez, Jackson and Greenville, Mississippi, should be prepared for lengthy power outages that could last days.
The risk of tropical-storm-force wind gusts between 40 and 60 mph with sporadic power outages and tree damage can occur as far to the north as the part of the I-40 corridor around Memphis, Tennessee, area by Saturday evening.
Tornadoes from Delta may pose another significant threat in part of the South.
"As Delta approaches the coast then moves inland, the counterclockwise wind flow around the hurricane will support the development of isolated tornadoes mostly along and to the right of the tropical cyclone's path," AccuWeather's top hurricane expert, Dan Kottlowski said.
While the greatest risk of tornadoes will be along the I-10 corridor, there is the potential for severe thunderstorms near and east of the track of the center of Delta from Friday afternoon to Saturday night in Louisiana, Mississippi, Alabama and Tennessee.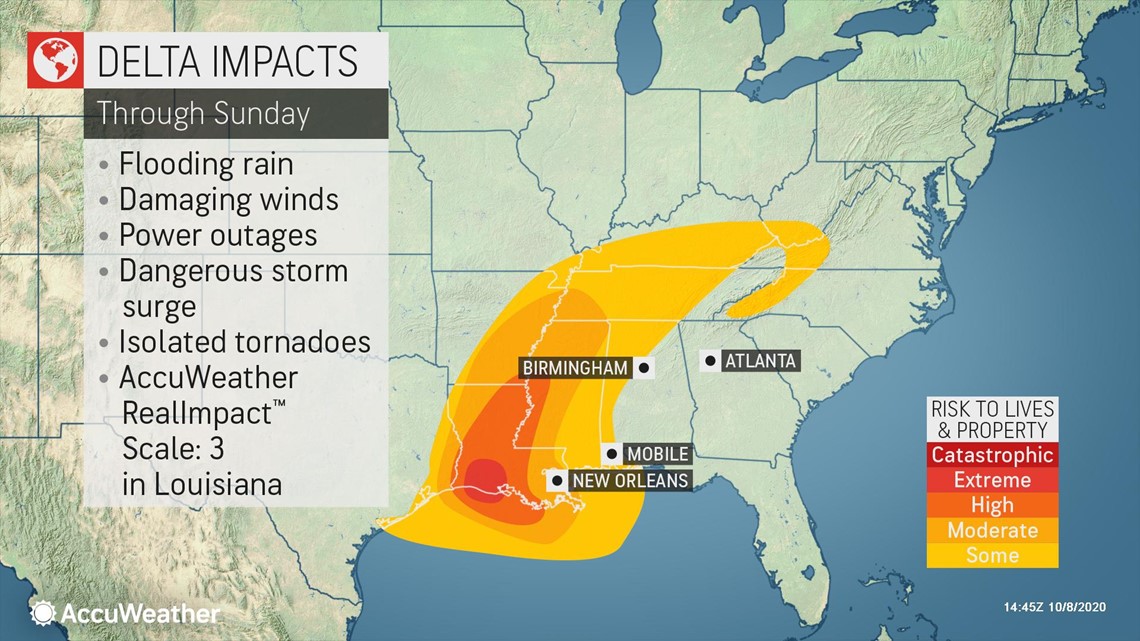 "Every hurricane is different in the amount of tornadoes that are produced as the storm makes landfall and moves inland and is dependent on a number of factors, but not so much the time of the year," Kottlowski said.
The most far-reaching inland impact from Delta will be heavy rainfall.
The fast forward motion of Delta is forecast to limit the amount of rain and prevent disastrous major river flooding from unfolding. However, there can be moderate rises on some of the secondary rivers in response to a general 4- to 8-inch rainfall as far north as all of eastern Arkansas and much of western Tennessee.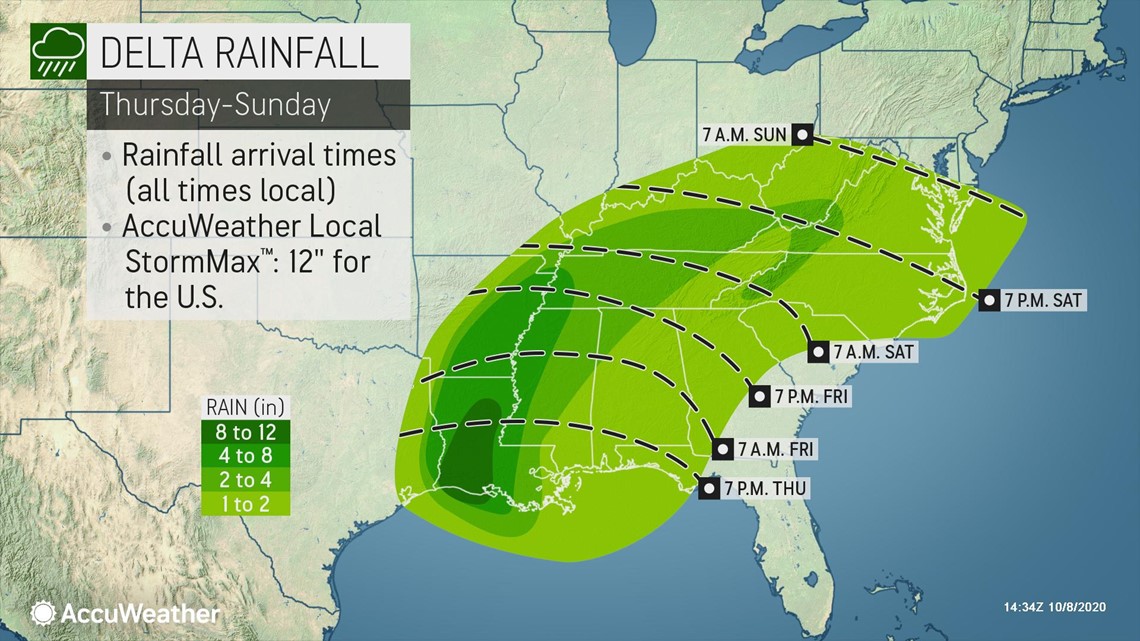 "As Delta continues to move inland during the second half of the weekend, its center is likely to become poorly defined and could be torn apart by strong westerly winds associated with the jet stream," according to AccuWeather Meteorologist Jake Sojda.
Still, pockets of heavy rainfall with a general 2-4 inches are forecast from middle Tennessee and southern Kentucky to parts of western North Carolina, southwestern Virginia and southern West Virginia. This amount of rain in 24 hours can be enough to lead to urban flooding and quick rises on some of the smaller streams in the region.
"Much of the region, across the lower and middle Mississippi Valley, Tennessee Valley and Ohio Valley, has been pretty dry and can handle a lot of rain right now without significant flooding concerns," Sojda said.
"However, some streets and poor drainage areas are still likely to flood and can be dangerous. Motorists should never try to drive through flooded roadways."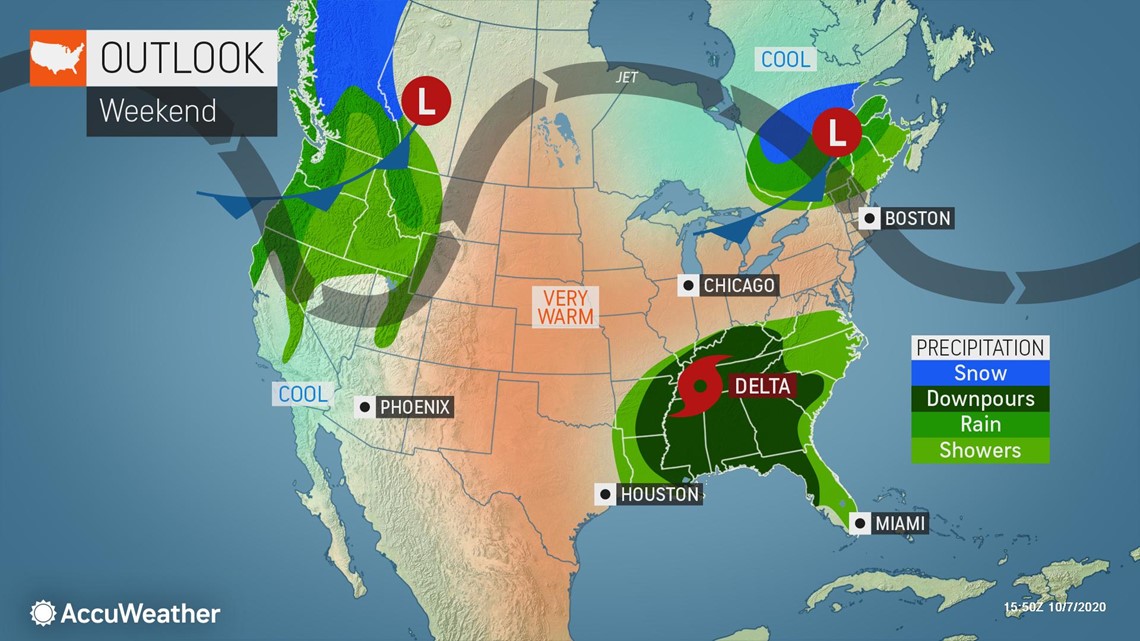 A small amount of the moisture and perhaps part of the circulation from Delta may survive into the central Appalachians and mid-Atlantic region by early next week. However, to say that all of the rain that falls in this zone will be from Delta would be misleading.
Tropical moisture from the Caribbean, combined with Atlantic moisture, non-tropical entities and a bit of Delta, will be factors in any drizzle, patchy rain and downpours from Sunday to Monday.
"The heaviest rain this weekend is likely to be in the southern and central Appalachians, where the moisture will be forced up the mountains and essentially be 'squeezed out,'" Sojda explained.
In the mountains of North Carolina and southwestern Virginia, rainfall totals of 2-4 inches of rain are expected, which could lead to some localized flash flooding given the steep terrain.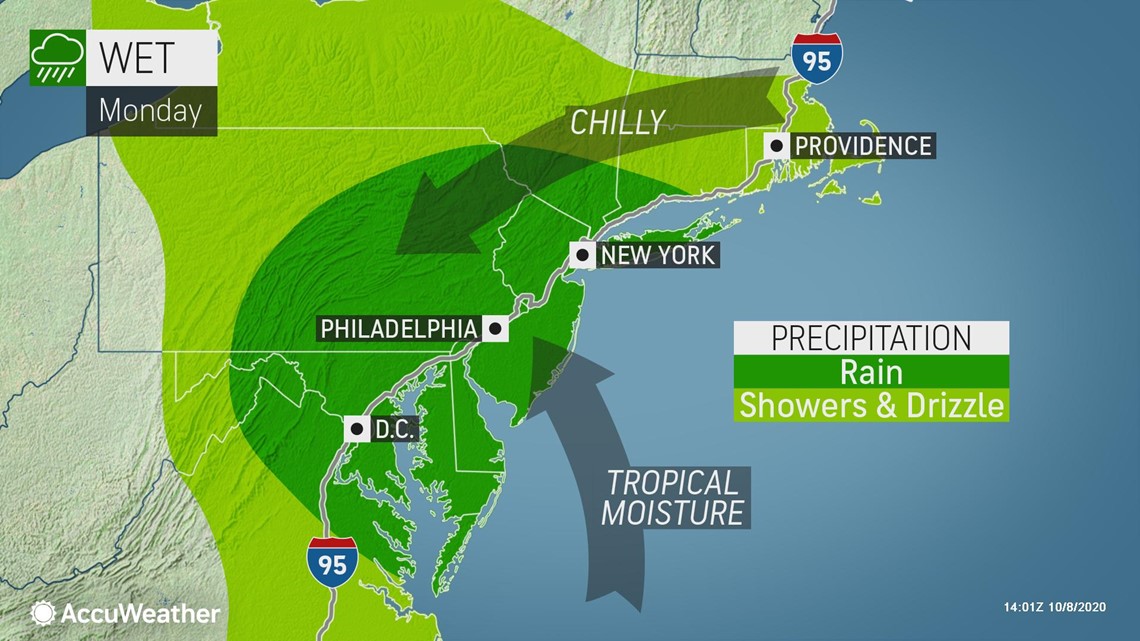 In some urban areas of the Northeast and Appalachians, where leaves are in peak color and many have dropped, the combination of any heavier downpours and fallen leaves could lead to some street flooding due to clogged storm drains and culverts.