CONNECTICUT, USA — Big changes in the weather are coming to Connecticut in the next few days.
Sunday will be quiet with a mix of sun and clouds, and high temperatures in the lower to mid-40s.
But between Monday and Wednesday, we'll go through quite the whiplash, from spring warmth to potentially our first accumulating snowfall of the season.
Note: There's still lots of uncertainty on the Wednesday snow potential, being early in the season and four days out. That said, it's on the table.
While that chance will, naturally, get a lot of attention, so don't sleep on Monday's forecast. It won't just be warm, but the strong gusty winds will be a concern too.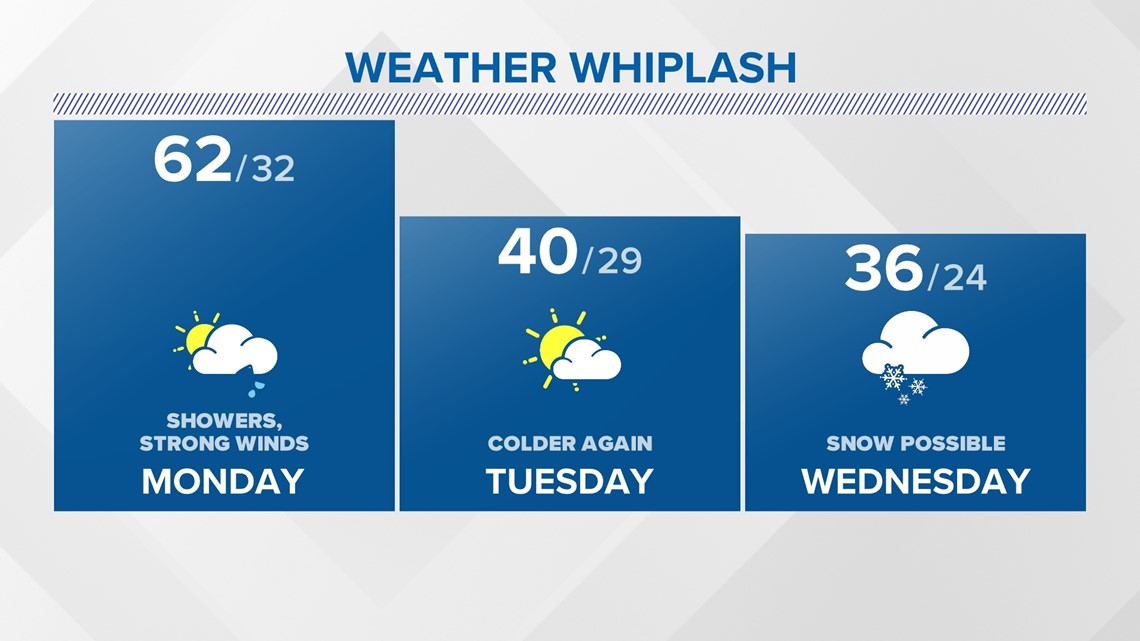 MONDAY
There will be a couple of rounds of showers on Monday. The first comes early in the day as a warm front approaches the area. Showers and downpours, and perhaps even a rumble of thunder, will be around Monday morning.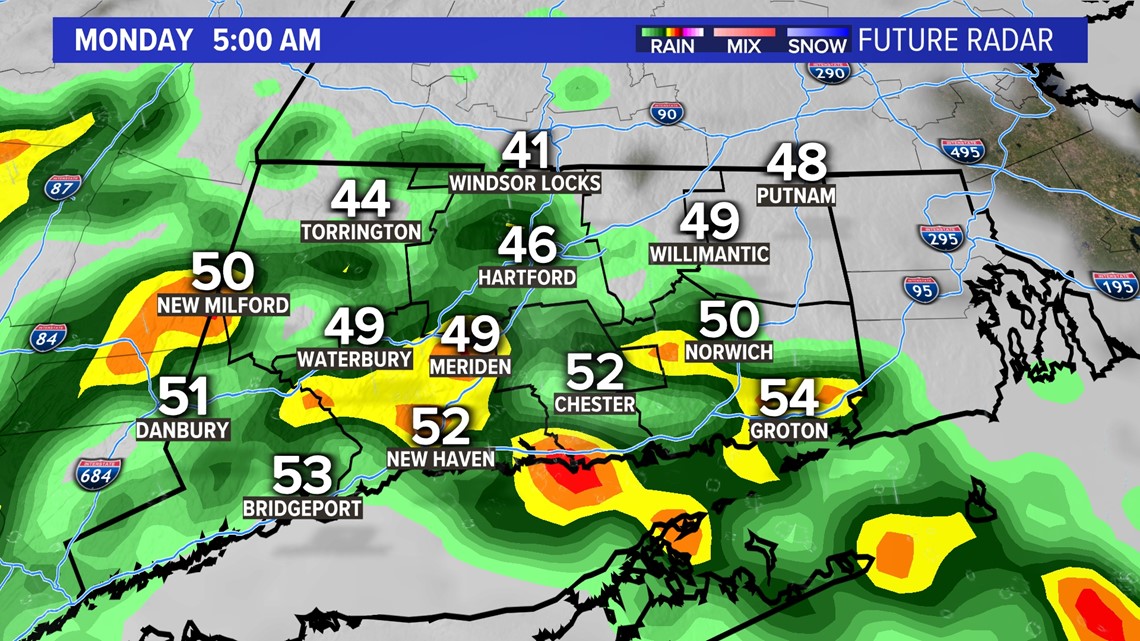 Once the front passes through the area, we'll have a partly to mostly cloudy sky for the late morning and afternoon. The midday hours should be dry and temperatures will rise to around 60 degrees in many spots.
A powerful cold front will be moving in Monday evening with another line of showers and there could even be some rumbles of thunder.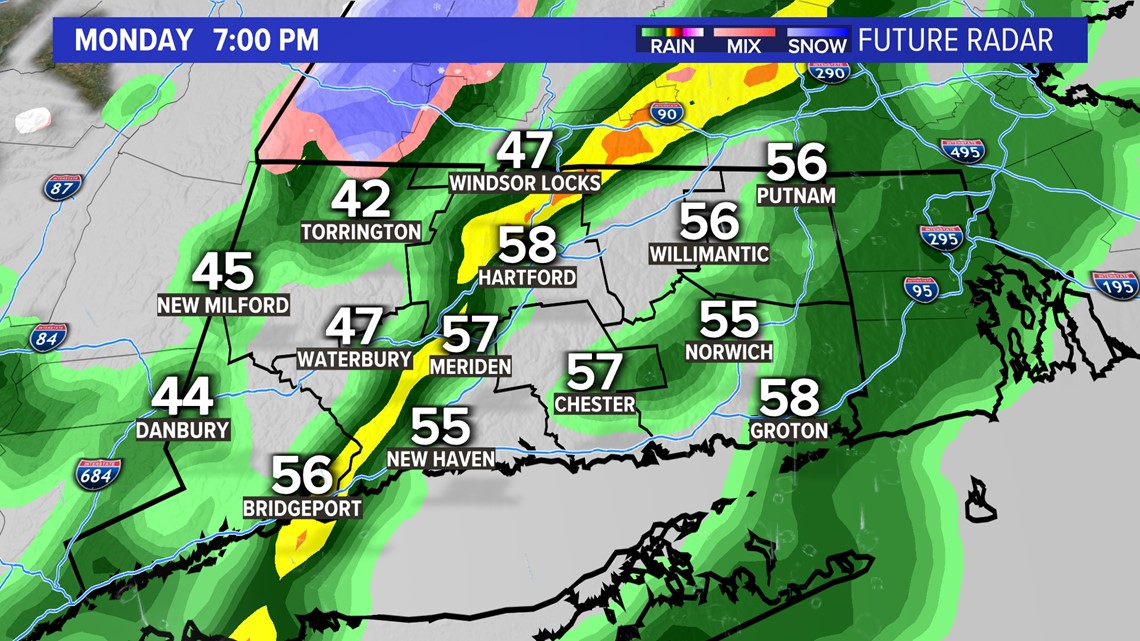 There will be strong gusty winds as this front arrives too, there could be some gusts over 40 mph. We aren't expecting widespread damage, but there could be some isolated damage in spots.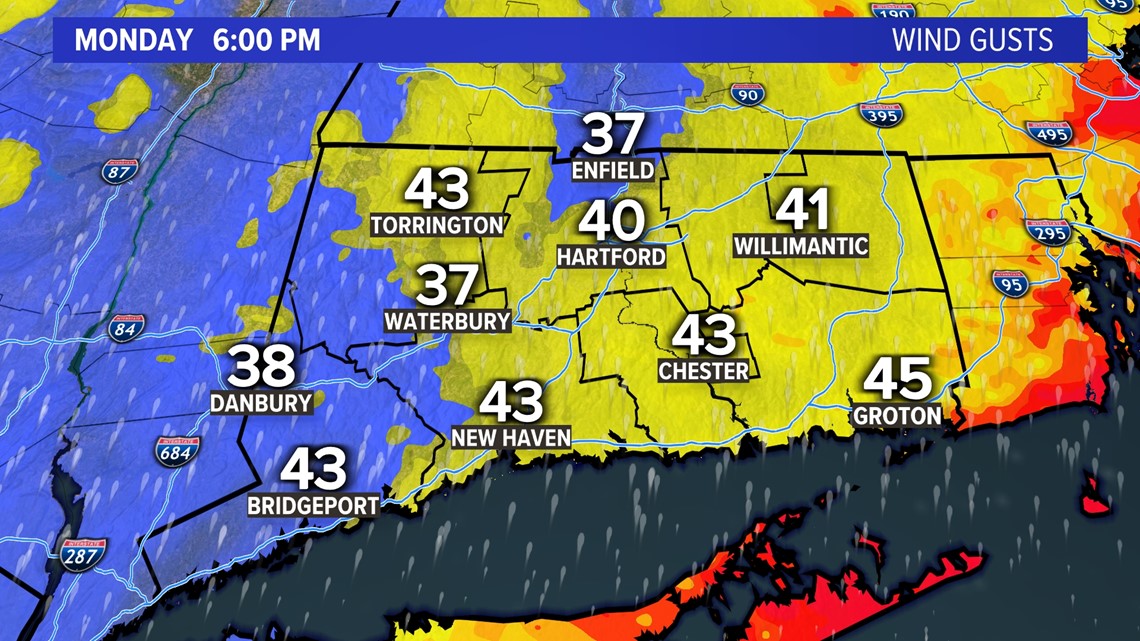 This set-up looks a lot like last Thursday evening, when a line of gusty downpours and thunderstorms swept through the state.
TUESDAY
Tuesday will be a colder, breezy day with a partly sunny sky and highs near 40.
That colder air will be in place ahead of the next storm which is possible Wednesday.
WEDNESDAY
Outside of the hill towns, there hasn't been accumulating snow this season so far. The first legitimate snow chance is always an attention-grabber. At this point, the impact from this system is still highly uncertain.
At least some snow seems possible Wednesday. The question is how heavy will it fall, and where will the rain-snow line set up.
Here are the two possible scenarios at this point. The first would be a fairly minor event (perhaps a couple of inches of snow inland, falling at a fairly light pace). Travel wouldn't be significantly impacted if this is the case.
The second would be more significant with heavier snow, falling farther south too. Plows would have to come out for much of the state.
At this point, four days out, both options are on the table. I tend to think the truth may be somewhere in the middle. Accumulating snow inland, a mix with rain and snow and little accumulation near the shoreline. If you have plans Wednesday, I would not cancel them at this point, but I would consider having a "Plan B" in case the snowier scenario does happen.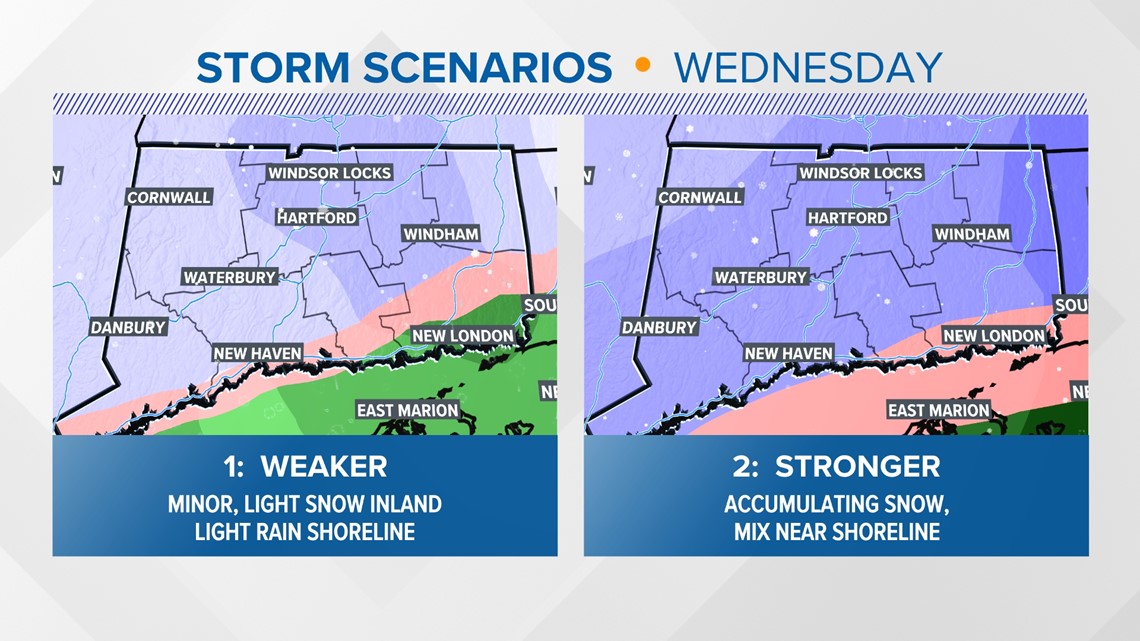 Ryan Breton is a meteorologist at FOX61 News. He can be reached at rbreton@fox61.com. Follow him on Facebook, Twitter and Instagram.