HARTFORD, Conn. — Temperatures will rise into the 90s through the middle of this week, marking the third heat wave of the season.
But it's not just the heat we're talking about. Rising humidity will send heat index values to near 100 degrees Monday.

We were 1 degree shy of the record high temperature on Sunday as Bradley Airport reached 99 degrees. The record is 100 set back in 1991 both Sunday and Monday.
Heat Advisories are in effect through this evening for the heat index reaching the triple digits. Many inland towns will top out around 100°. We could have a shower or thunderstorm this afternoon (especially in eastern CT), but most of the day will be rain-free.
Here's how to stay safe in extreme heat, from Ready.gov:
Extreme heat can occur quickly and without warning.
Older adults, children and sick or overweight individuals are at greater risk from extreme heat.
Humidity increases the feeling of heat as measured by a heat index.
IF YOU ARE UNDER AN EXTREME HEAT WARNING:
Find air conditioning.
Avoid strenuous activities.
Wear light clothing.
Check on family members and neighbors.
Drink plenty of fluids.
Watch for heat cramps, heat exhaustion and heat stroke.
Never leave people or pets in a closed car.
Never leave a child, adult or animal alone inside a vehicle on a warm day.
Find places with air conditioning. Libraries, shopping malls and community centers can provide a cool place to take a break from the heat.
If you're outside, find shade. Wear a hat wide enough to protect your face.
Wear loose, lightweight, light-colored clothing.
Drink plenty of fluids to stay hydrated. If you or someone you care for is on a special diet, ask a doctor how best to accommodate it.
Do not use electric fans when the temperature outside is more than 95 degrees, as it could increase the risk of heat-related illness. Fans create air flow and a false sense of comfort, but do not reduce body temperature.
Avoid high-energy activities.
Check yourself, family members and neighbors for signs of heat-related illness.
If a city/town opens a designated cooling center, the site location and hours will be listed here.
Hartford
Cooling Centers Open July 18, 2020 – July 21, 2020
12 noon – 8 PM: North End Senior Center, 80 Coventry Street, Hartford
12 noon – 8 PM: South End Senior Center, 830 Maple Drive, Hartford
11 AM – 7 PM: Asylum Hill Congregational Church, 814 Asylum Avenue, Hartford
New Haven
If the need arises, the City of New Haven will open all public libraries to serve as cooling centers on Monday and Tuesday from 9:00 AM – 5:00 PM at the following locations for the general public:
Fair Haven Branch Library is located at 182 Grand Avenue;
Mitchell Branch Library is located at 37 Harrison Street;
Stetson Branch Library is located at 200 Dixwell Avenue in the Dixwell Plaza;
Courtland Seymour Wilson Branch Library is located at 303 Washington Avenue;
The following are City Parks with splash pads which can be used for cooling off daily from 9:00 AM – 8:00 PM:
South Genesee Park, located on South Genesee Street
Cedar Hill Playground, located at View Street and Rock Streets
Edgewood Park located, located on the corner of Chapel Street & Ella T. Grasso Blvd
Kensington Street Park, located between Edgewood Ave & Chapel Street
Jocelyn Square Park, located on the corner of Humphrey & East Streets
Ann Street Park, located between Kossuth & West Streets
Trowbridge Square Park, located at Cedar & Portsea Streets
Galvin Park, located at Greenwich Avenue & First Street
Lighthouse Point Park, located at 2 Lighthouse Road
Edgewood Park, located at Ella T. Grasso Blvd & Stanley Street
Dover Beach, located on Front Street
Note that city/town libraries, senior centers and other public locations are good places to cool off.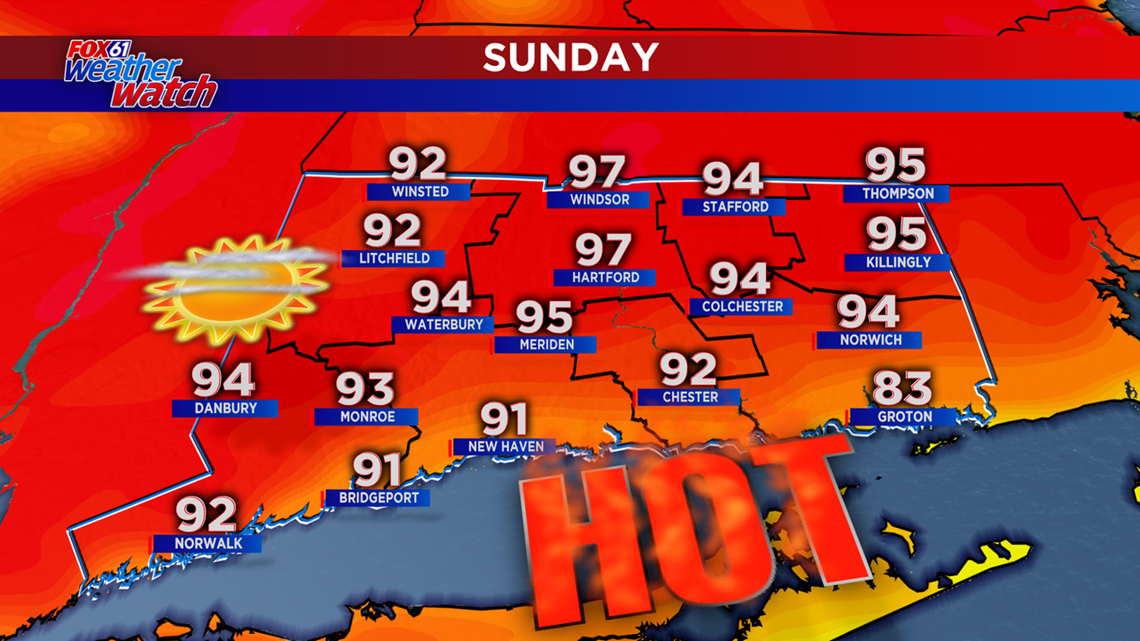 The rising heat and humidity could lead to scattered afternoon showers this week. Think, Florida weather!