CONNECTICUT, USA — Every year, FOX61's meteorologists like to have a little fun with the winter forecast. They incorporate science, storytelling, and fun graphics to explain the unique setup for the season.
This year, we present the "Winter Forecast Extravaganza," since forecasting the winter season can be as chaotic as a three-ringed circus.
If you just want to "get the show on the road" and see our outlook for this winter, just jump to the conclusion at the bottom.
To the weather enthusiasts out there: Keep reading for a more in-depth look at the weather factors we're juggling this year!
Here are some of the elements we are considering this year:
Third year La Niña: Points to warmer-than-average temperatures
The first thing meteorologists often consider is the phase of the El Niño Southern Oscillation.
But this year is a little different. It's the third La Niña winter in a row, which is rare. There are only two times in reliable weather history this has happened, making it tough to find a pattern. The other "third year" La Niñas were 1975-76 and 2000-01. Remember, La Niña is cooler than average water in the eastern equatorial Pacific, which can affect weather patterns worldwide.
Most La Niña winters are warmer than average in Connecticut, and we're leaning that way this winter.
The last two winters have resembled La Niña quite well. In the Hartford area, both were warmer than average as a whole and less snowy than average.
On the shoreline, temperatures in both winters were warmer than average. However, 2020-21 did produce above-average snowfall in Bridgeport.

A typical La Niña year has a wave-like pacific jet stream with a strong ridge in the southeast states promoting drier and warmer-than-average conditions. Above-average precipitation is favored in the northwest and Great Lakes.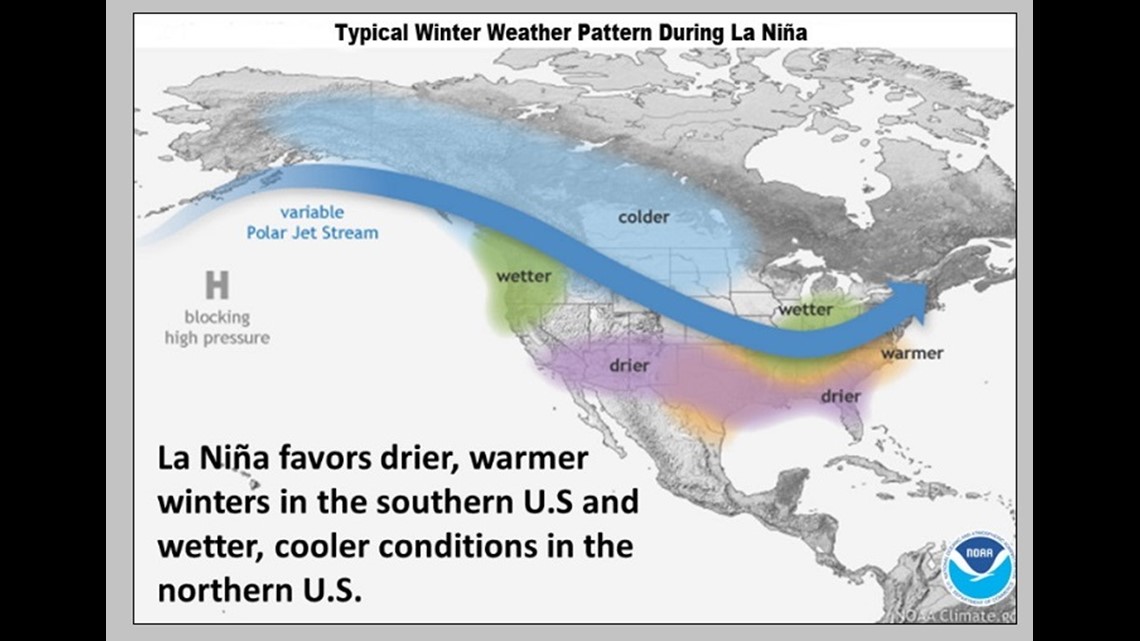 For Connecticut, temperatures usually start near average (or cooler than average) in December and then trend warmer for January and February.
Tonga volcanic eruption: A wild card
Keeping with the circus theme, we're calling this the "sideshow" of this year's forecast. You probably haven't heard much about it, but the Hunga Tonga-Hunga Ha'apai volcano, which is an underwater volcano in the South Pacific, produced a massive eruption back in January.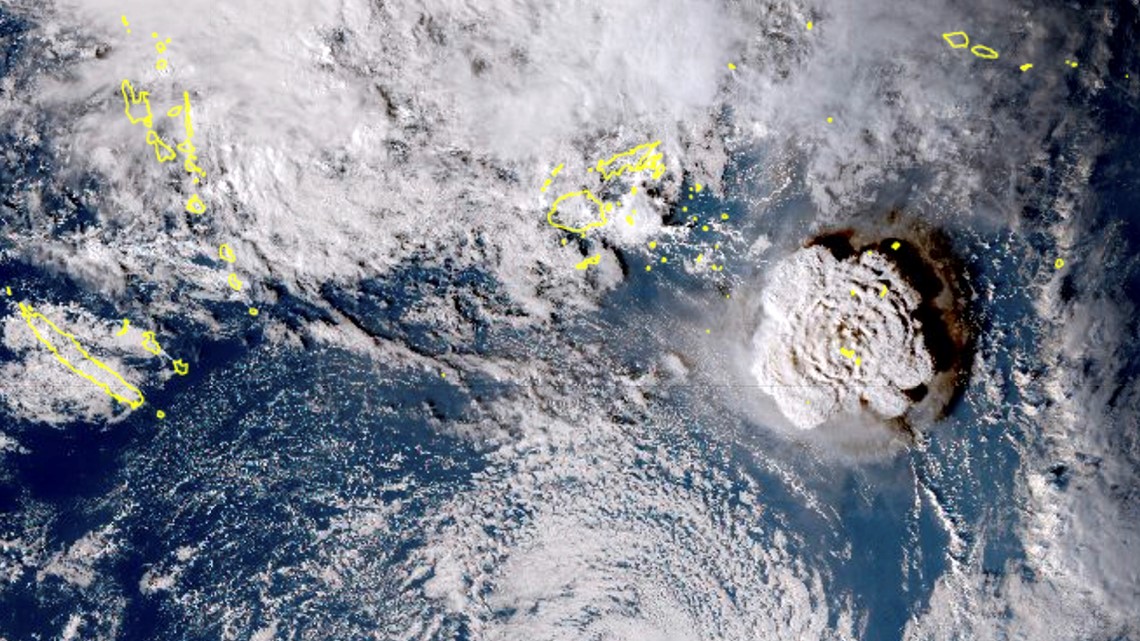 The underwater eruption occurred 500 feet below sea level, superheating seawater and releasing at least 55 million tons of water vapor into the air. Water vapor is a greenhouse gas, acting like a blanket for the earth.
In theory, an eruption injecting this much water vapor into the atmosphere could have a warming effect. This is such an unprecedented and rare event, however, it's tough to draw a definitive conclusion.
East coast sea surface temperatures: Points to warmer than average temperatures

What's happening close to home is important too. Long Island Sound, the Gulf of Maine, and the water for hundreds of miles off the Jersey Shore continue to run warmer than average for this point in November.
This can do a couple of things: First, it can lead to warmer air any time the wind is coming in off the ocean, helping keep temperatures above average, particularly at night.
It can also play a role in fueling coastal storms: When cold air drives south and bumps into warmer air off the eastern seaboard, this increases the baroclinic zone, where storms can form. This so-called collision of air masses can help generate stronger coastal storms or nor'easters.
Eurasian snow cover: Points to less harsh arctic outbreaks
Researchers have found a positive correlation between the amount of cold/snow in Siberia during the month of October to the cold/snow in the eastern United States during the winter. The more cold days and snow in October, the weaker the polar vortex becomes, and the more likely that cold can break free and travel south to pay us a visit.
This October had the least snow since 2009. This could mean the polar vortex stays strong, bottling the cold up in the arctic, so less of it comes south. It doesn't mean there won't be cold outbreaks when the polar vortex gets dislodged south. However, it does mean the odds of these outbreaks all winter long are lower than usual. This is another sign this winter will likely have temperatures that wind up warmer than average.
Climate trends: Points to warmer-than-average temperatures

Temperatures have been warming in recent decades, and that's something that has to always be considered when putting together a seasonal outlook.
Winter is actually the fastest-warming season in Connecticut. Long stretches of below-average temperatures are becoming less common. In fact, the last seven winters in a row have had above-average temperatures here in Connecticut.
Pacific Decadal Oscillation: Points to warmer than average
The PDO is a sea surface climate cycle describing temperature anomalies over the northeast Pacific Ocean.
When the water is in a cooler phase like this year (negative PDO), air temperatures on the east coast tend to be warmer in the winter.
This can be enhanced in a La Niña year, promoting a ridge to develop in the southeast pumping milder air into the eastern United States.
Long-range computer models and NOAA's seasonal outlook: Point to warmer than average temperatures, near average precipitation
Most of our long-range guidance is showing above-average temperatures being favored for this winter with near-average precipitation.
NOAA's seasonal outlook mirrors that and gets weighed heavily into our decision (many smart brains went into the creation of that forecast.)

The orange you see on NOAA's map above doesn't show how warm temperatures will be but the level of confidence for above-average temperatures. So for New England, that means a 33-40% chance of above-average temperatures. NOAA is leaning towards the warmer winter idea.
But there is more confidence in above-average temperatures to our south.
NOAA is forecasting an equal chance of above and below-average precipitation. Basically, this means, they aren't leaning one way or the other. Flip a coin!

Quasi-Biennial Oscillation: Fewer cold blasts
This is an alternating easterly/westerly wind in the tropical stratosphere and, like La Niña, can have far-reaching impacts on global circulation. Think, the butterfly effect!
Last year, the QBO was negative/easterly. This year it's positive/westerly.
Research has shown that a negative QBO like last year can be more likely to break down the polar vortex and cause high latitude blocking to occur (with a positive AO or negative NAO developing).
A positive/westerly QBO could mean less cold/blocking and less potential storminess this winter.
Conclusion: Warmer than average winter
Many of the signals outlined above point to above-average temperatures. It's always quite a "balancing act" determining which factors will play the biggest role.
La Niña winters tend to be warmer than average in Connecticut. There are signs the polar vortex may be tougher to dislodge, meaning shots of bitter cold would be less frequent.
Plus, the last time winter temperatures were colder than average was in 2014-15. These days it's a better bet to forecast warmer-than-average temperatures, especially with several factors pointing in that direction.
We think winter may get off to an earlier start, as in many La Niña years. December has the best chance of having near or colder-than-average temperatures. Warm spells in January and February should balance the scale, with the three months winding up warmer than average in the end.
Being above average doesn't mean it won't be cold OR snowy. There will be wild swings in temperatures fluctuating from bitter cold, to milder temperatures, similar to last year. But the mild days should outnumber the bitter cold ones.
Conclusion: Average precipitation, slightly below average snowfall
The total precipitation we forecast will be near average, which is typical for a La Niña winter.
Then the question becomes, what type of precipitation will we see more of? Since we're forecasting warmer-than-average temperatures, some of that precipitation will fall as sleet and freezing rain. There are some storms that will be warm enough for just plain rain.
Considering the warmer-than-average sea surface temperatures nearby, mixing will likely come into play in any early-season storms, unless they take the perfect track. The coldest ocean temperatures of the year don't happen until February or March, but by that point, it's no guarantee the cold air will be sufficient enough for pure snowstorms.
This is why we're forecasting below-average snowfall. We're thinking we'll end up around 80% of seasonal averages.

Final thoughts
If you've ever been to a carnival, you know how some of the games are rigged. Forecasting how much snow will fall during the entire winter season is kind of like a rigged carnival game. Even when it seems like a slam dunk, all it takes is one storm to miss the moving target.
This happened just last year - a blizzard sideswiped Connecticut while burying Boston and eastern Massachusetts.
Most of the factors point to a milder winter overall. However, if we wind up with a single blockbuster storm, that may be how the winter is remembered. It's always a possibility, even when forecasting below-average snowfall.
One way or another, we'll make it through the circus that is a New England winter.
The FOX61 Weather Watch team will be with you every step of the way!
Rachel Frank is the chief meteorologist at FOX61 News. She can be reached at rfrank@fox61.com. Follow her on Facebook, Twitter and Instagram.
Have a story idea or something on your mind you want to share? We want to hear from you! Email us at newstips@fox61.com
HERE ARE MORE WAYS TO GET FOX61 NEWS
Download the FOX61 News APP
iTunes: Click here to download
Google Play: Click here to download
Stream Live on ROKU: Add the channel from the ROKU store or by searching FOX61.
Steam Live on FIRE TV: Search 'FOX61' and click 'Get' to download.