CONNECTICUT, USA — Get ready for heavy rain and strong winds, peaking on Christmas morning. Be prepared for power outages with this powerful storm moving in.
Today's quiet, for the most part. So any last-minute shopping plans, picking up take-out, etc, should be just fine. Temperatures will warm into the 50s during the day, with wind gradually picking up as well (20-40 mph by late afternoon). The skies will be mostly cloudy, and we may have a few showers moving in during the afternoon. Those showers will become more numerous heading into the overnight hours.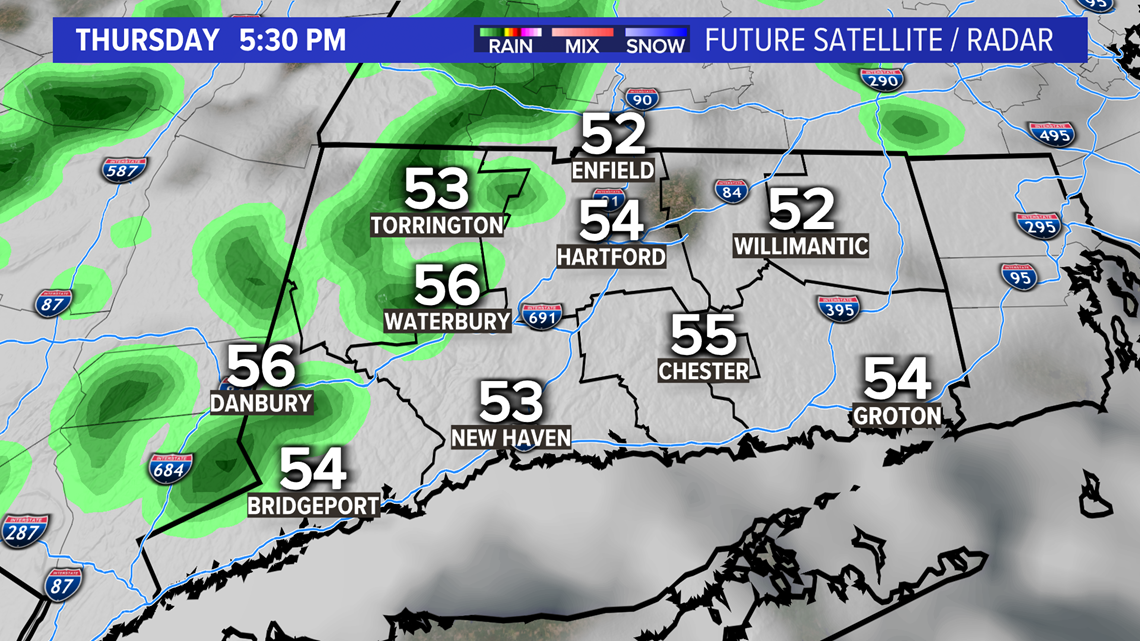 By 10 PM gusts could be as high as 40-45 mph, but overnight the rain picks up and so does the wind. A High Wind Warning has been issued for the entire state. A Flood Watch has been issued for the entire state. Rain will fall heavily all across the state (1"-3").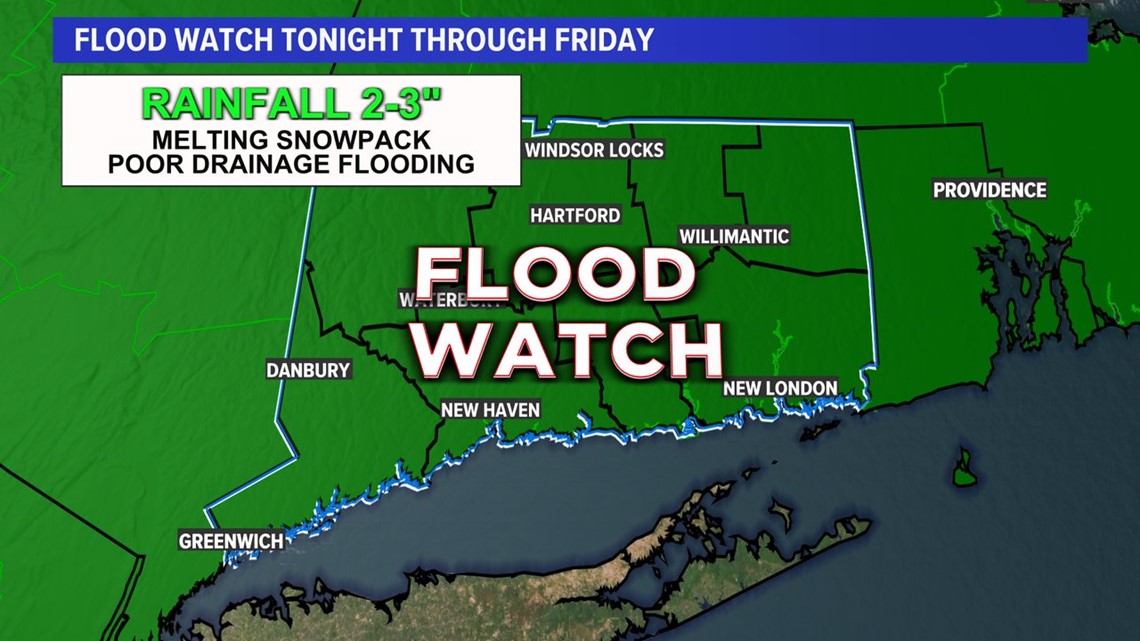 The chance for 50-60mph gusts are possible throughout the entire state but at this point the best chance for 60+ mph will be in southeastern areas and along the coast. It's best to prepare for an outage and hope the wind underperforms in your area.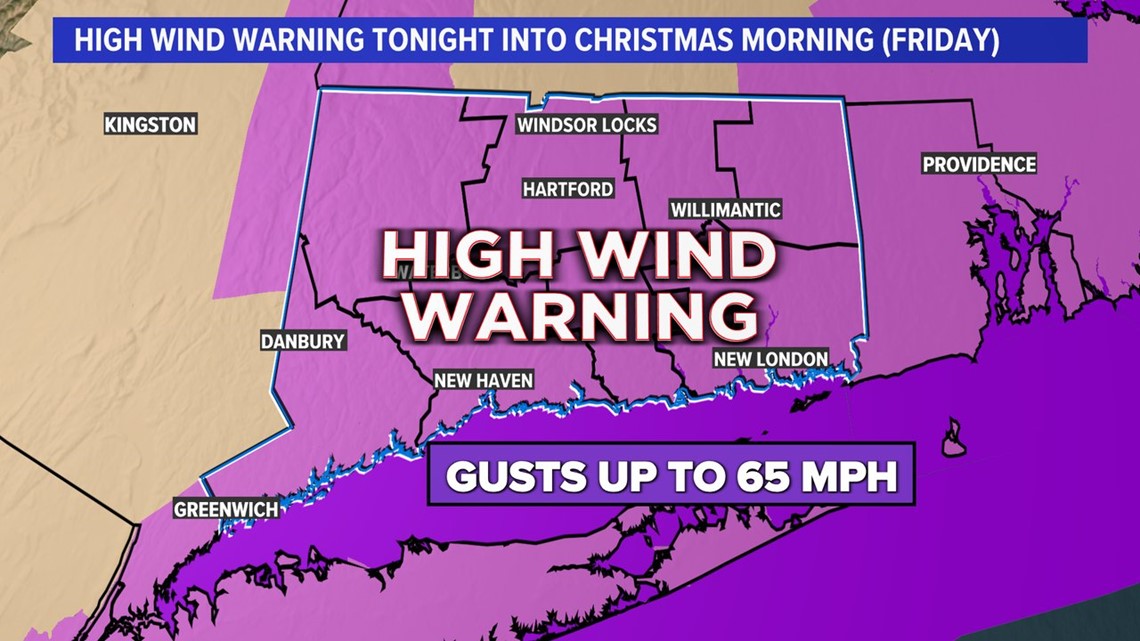 In terms of rain, we have a lot of moisture to work with. Dense fog is likely overnight and into Friday morning, in addition to downpours. Here is a look at the future radar at 6 AM. It's absolutely pouring across parts of the state and a rumble of thunder cannot be ruled out. Temperatures will be warm, as we head into the 60s!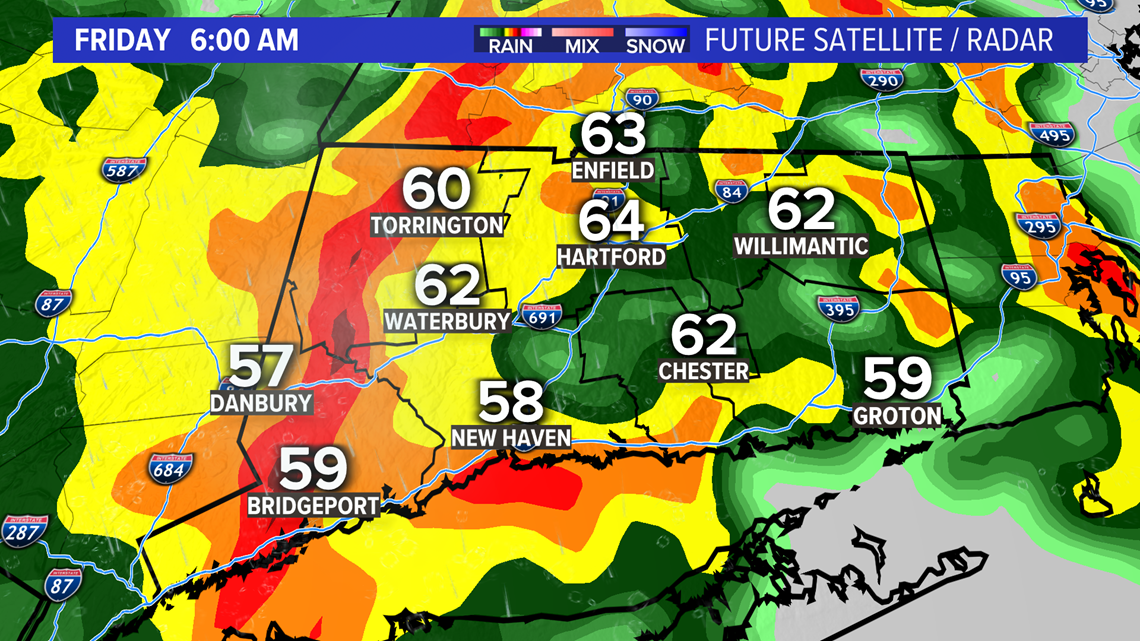 With all that rainfall and warm temperatures, say goodbye to our snowpack. We currently have about 6" to a foot of snow on the ground, and pretty much all of that is going to melt by Friday afternoon.
That snowpack may have clogged and blocked some storm drains, which may lead to flooding as this rain comes down.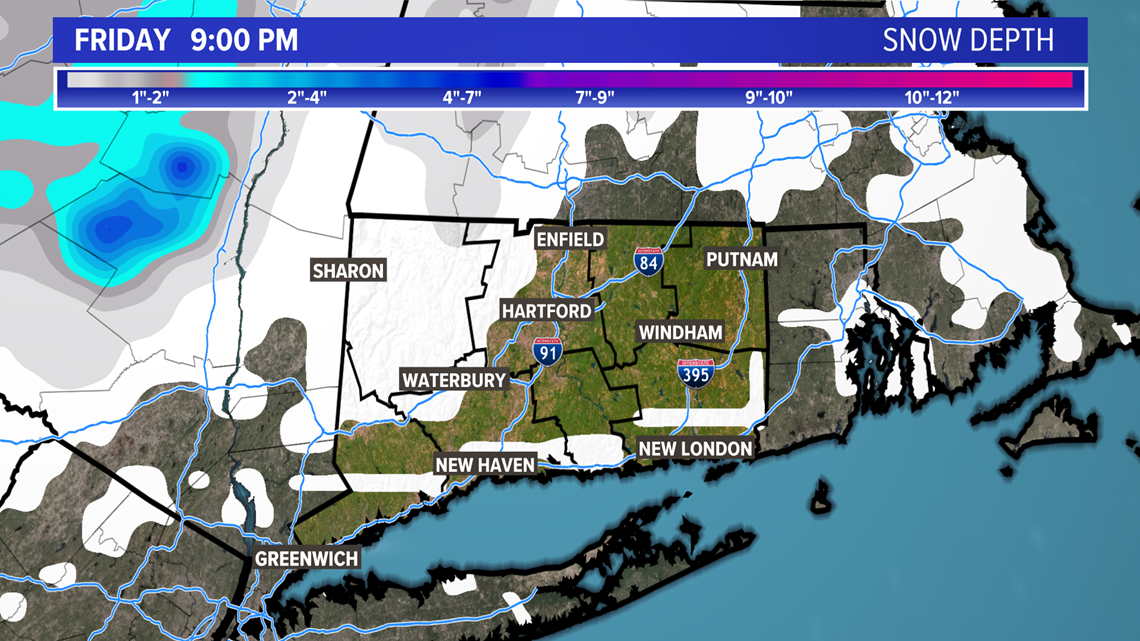 Afterwards, we're back to some chilly weather, with temperatures topping out around 30° this upcoming weekend. Watch for some frozen spots out on the roads by Friday night into Saturday morning.
Both Eversource and United Illuminating both said on Tuesday they are preparing for the storm.
"While our hope is that this storm passes without impact, the weather takes no holidays, and we are ready to serve our customers 365 days a year," said UI President Frank Reynolds.
"We recognize the last thing anyone wants is another storm, especially on Christmas. We're taking all necessary actions now – including canceling employee vacations and working to secure out-of-state crews – so our team is ready to respond to whatever this storm may bring," said Eversource President of Regional Electric Operations Craig Hallstrom. "We're pre-positioning crews and necessary equipment at our work centers throughout the state to respond to any damage to the electric system and restore power as quickly as possible so our customers can enjoy their holiday."