CONNECTICUT, USA — The rain was epic Friday just to our southwest in the New York City metro area, where more than 6 to 8 inches of rain has fallen in spots. JFK has had its wettest day on record, breaking the previous record of 7.8 inches from Hurricane Irene in 2011.
In Connecticut, we were soaked with 3 to 5 inches of rain in the western and northern part of the state. The rainfall rate was not as intense as what fell in New York City, so we were spared from major flash flooding. Here is a list of rain totals as of early this morning.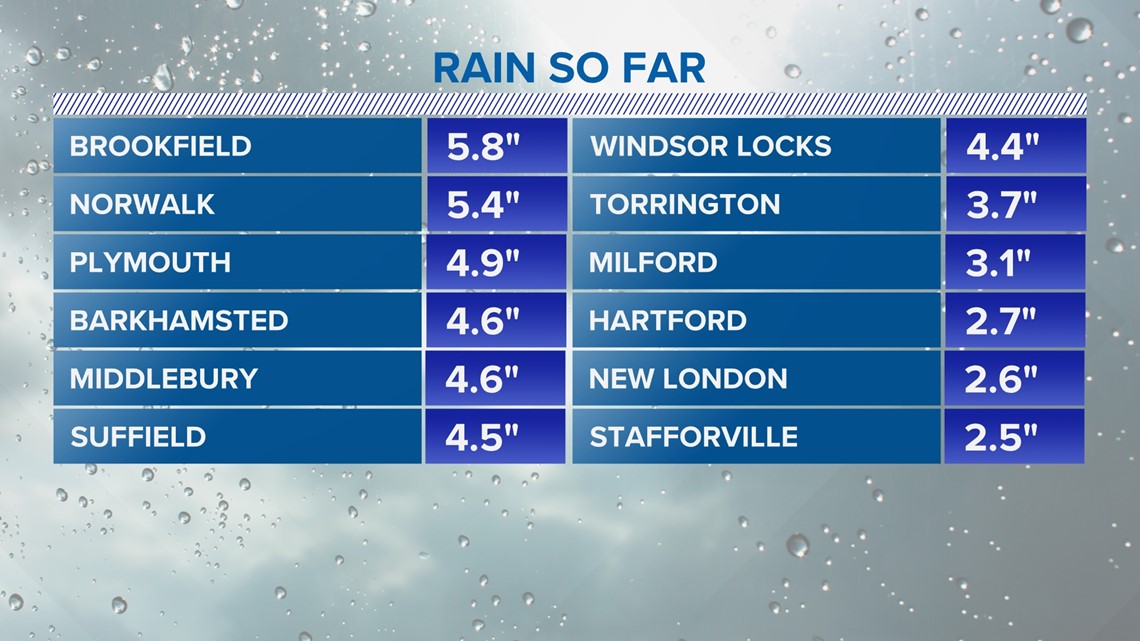 With the ground already saturated from the very wet Summer and September, yesterday's heavy rain caused many local area rivers and streams to exceed their banks, especially in western Connecticut. For example, the Pomperaug River in Southbury crested at 12.95 feet, its highest since March 2011. While it went up quickly, it's been dropping quickly since yesterday. Larger rivers, including the Housatonic and Farmington will take a bit longer to drop below flood stage as Flood Warnings are in effect through at least tomorrow. You can get the latest warnings here.
The rainfall forecast we issued Thursday afternoon worked out quite well, with the least rain in eastern areas and the most in western Connecticut.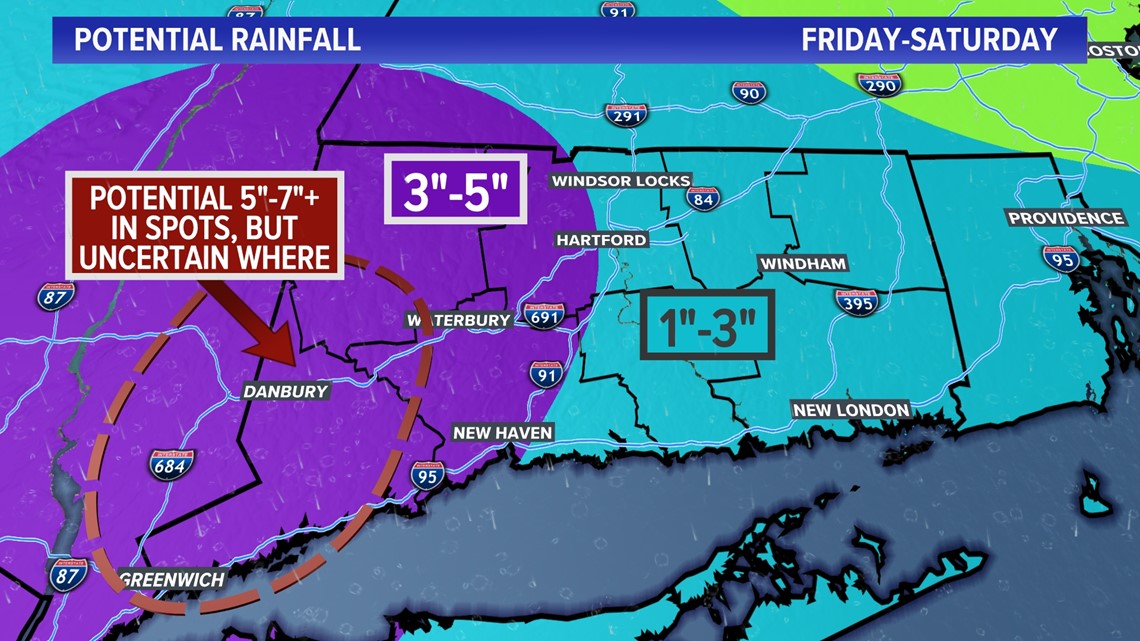 Periods of light rain/drizzle and fog continues early this afternoon. Then drier air should begin moving in from north to south mid afternoon, with some breaks of sun possible by late this afternoon. We'll still have a cool northeasterly flow, so temperatures will struggle to hit the upper 50s- low 60s.
After this, a beautiful stretch of weather begins Sunday and likely lasts into the middle of next week.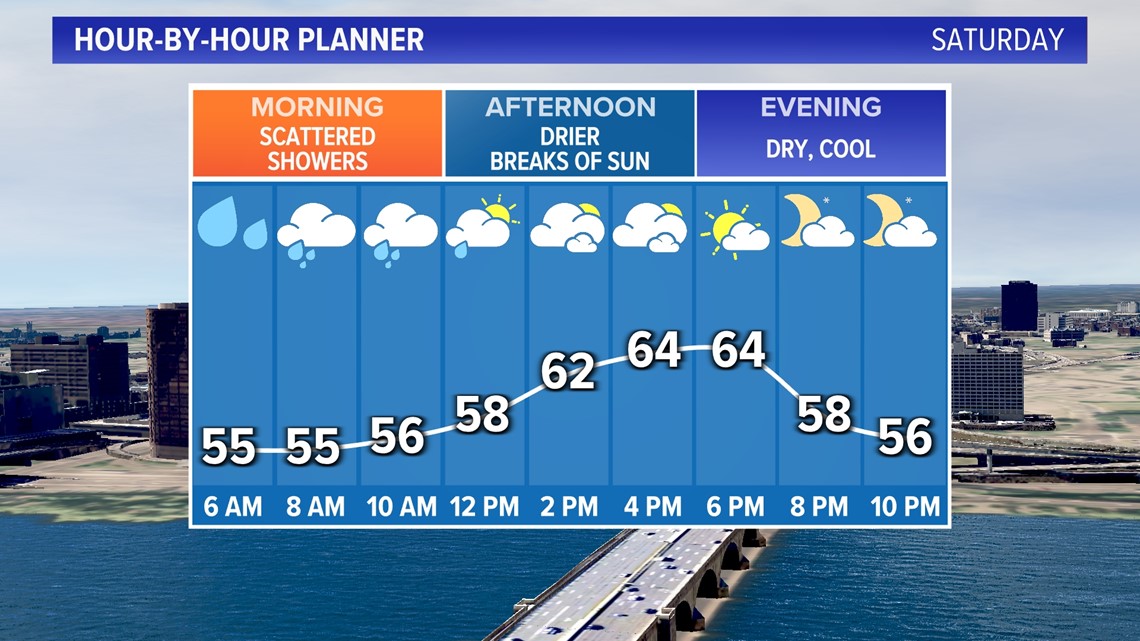 Sunday looks really nice with sunshine and high temperatures in the mid 70s.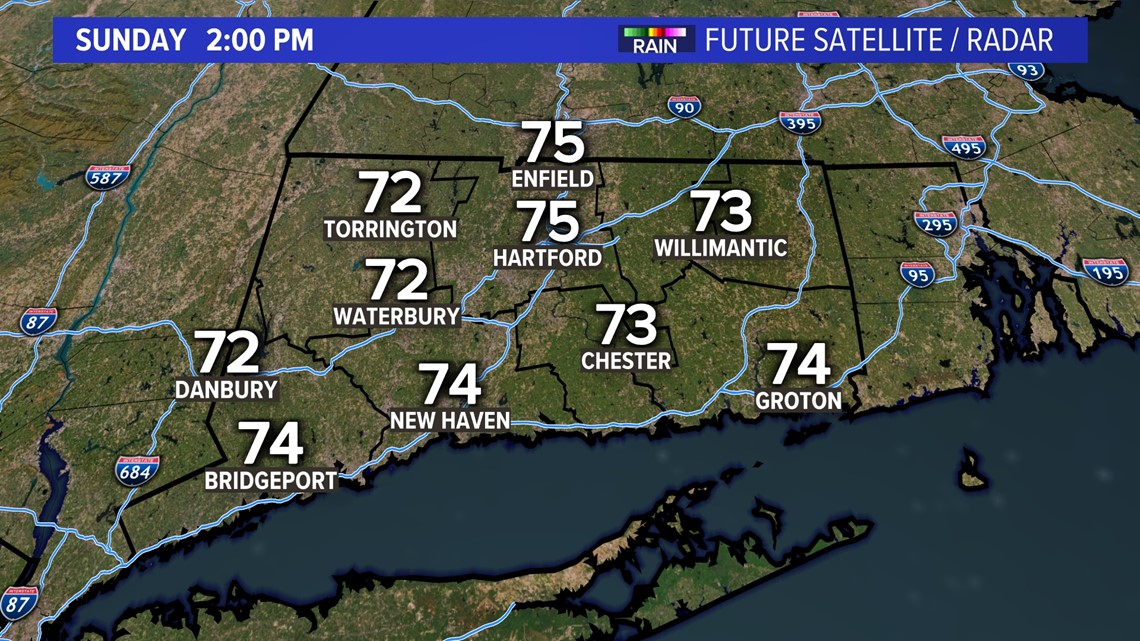 It could be even warmer by Tuesday and Wednesday of next week, with inland areas hitting the low 80s.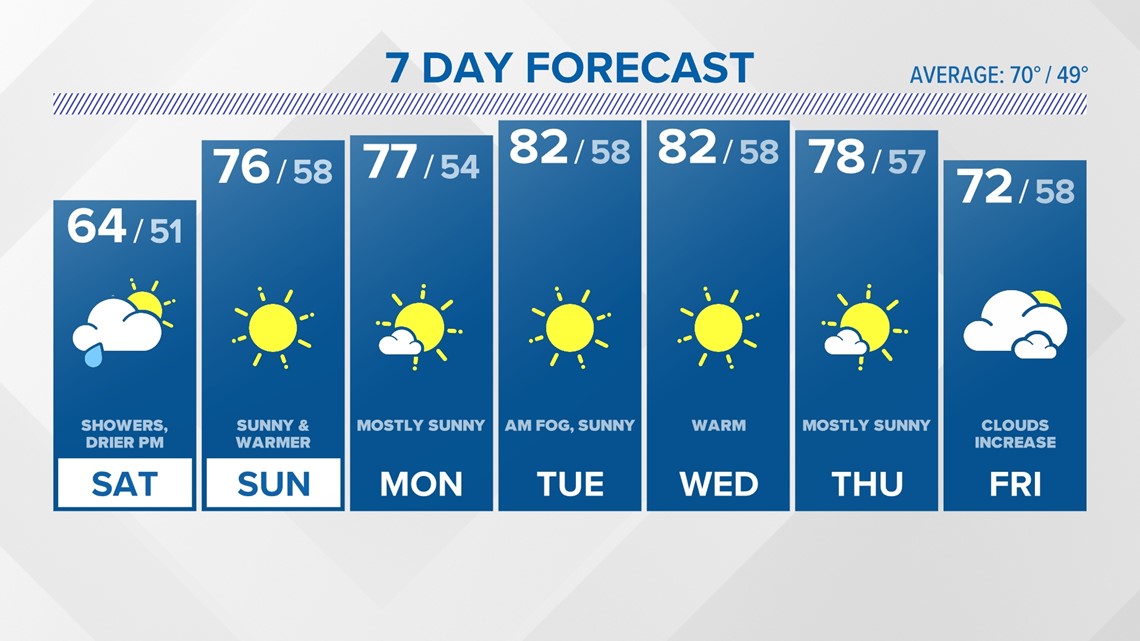 TODAY: Cloudy and damp this morning, with periods of light rain/drizzle and fog. Possibly turning drier in the afternoon with some sun developing, especially inland. Remaining cool. High: 55-65.
TONIGHT: Clearing, cool. Low: Upper 40's-mid 50's.
SUNDAY: Nice stretch of weather begins. Sunny. High: Mid 70s.
MONDAY: Mostly sunny and seasonably warm. High: Mid to upper 70s.
TUESDAY: Fog possible early. Mostly sunny, warmer. High: Upper 70s to low 80s.
WEDNESDAY: Fog possible early. Mostly sunny. Warm. High: Upper 70s to low 80s.
THURSDAY: Mostly sunny. High: Mid to upper 70s.
FRIDAY: Clouds increase. Slight chance for a shower. High: Low 70s.
Follow the FOX61 Weather Watch team on Facebook: