CONNECTICUT, USA — Storms Sunday evening caused some tree damage in Litchfield County, while bringing lightning and heavy rain to much of central Connecticut.
The storms have moved out and less humid air is starting to move in.
Monday we'll have a mix of sun and high clouds. It will be cooler and less humid but quite pleasant.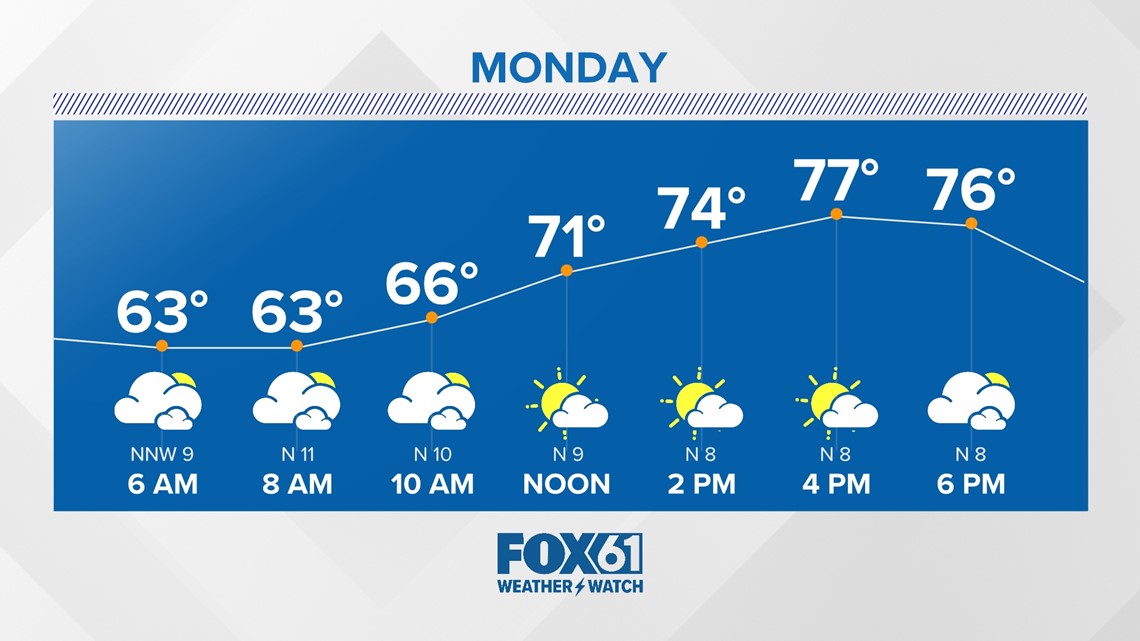 With a landbreeze, all of the state including the shoreline will have high temperatures in the 70s.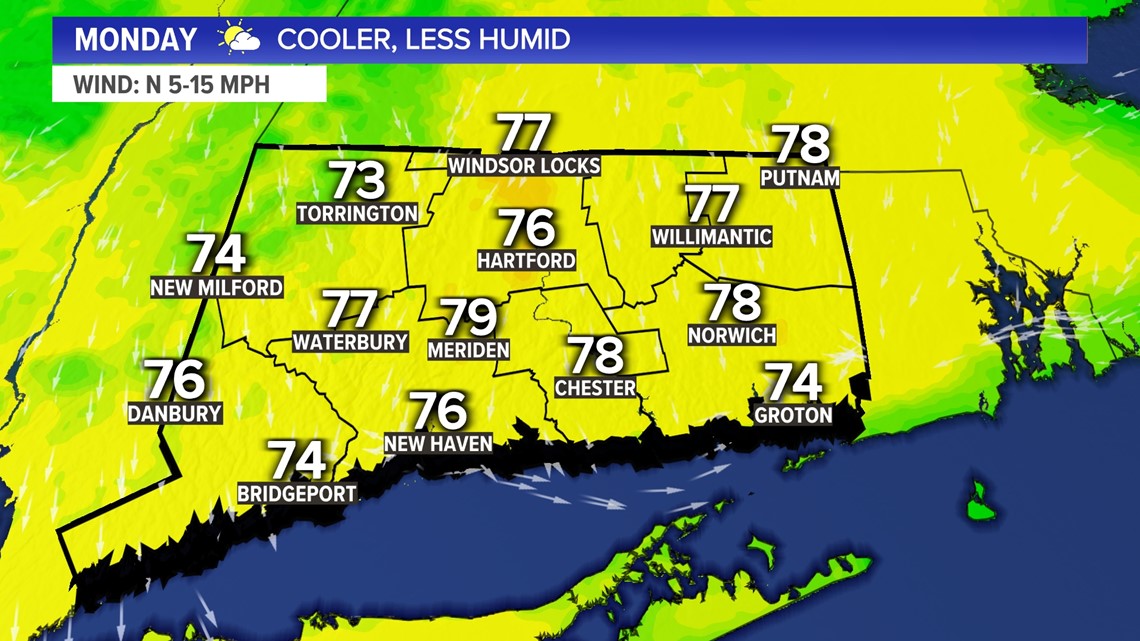 Clouds will thicken a bit Monday night, and there could be a sprinkle or shower at the shoreline.
Tuesday will start out rather cloudy, but we should find increasing sunshine for the afternoon. It will be coolest at the shoreline due to more clouds and a light breeze off the sound. The warmest areas will be near the Massachusetts border.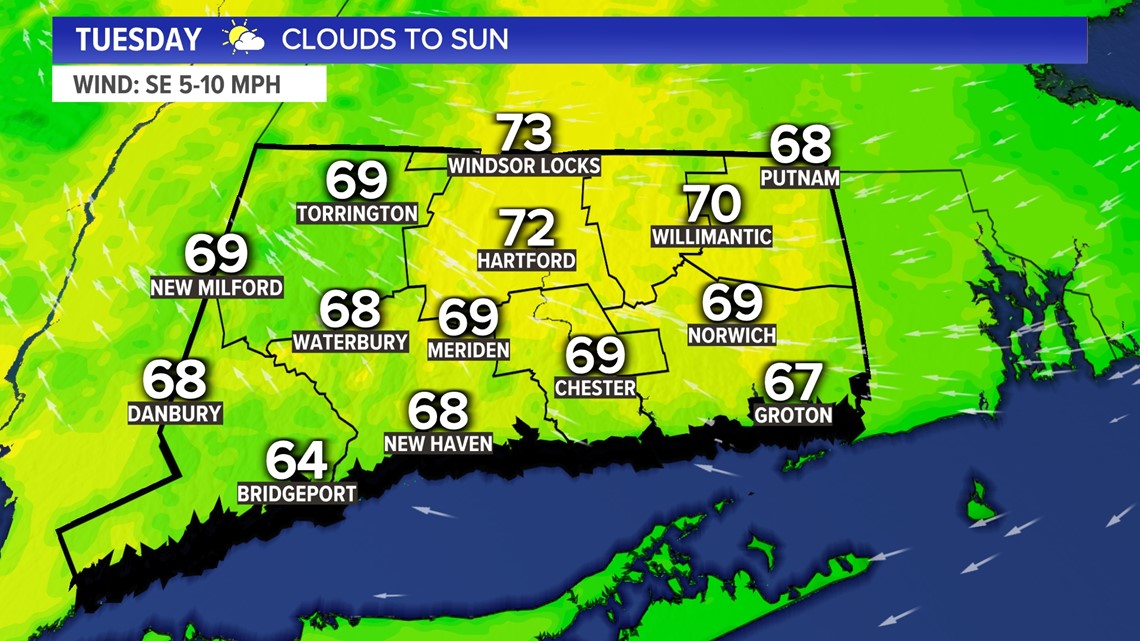 Wednesday should be a decent day with similar temperatures.
A warm front approaches Thursday, bringing more clouds and the chance for a few showers.
The trailing cold front could bring scattered thunderstorms Friday. After that, we should clear for the weekend. At first look, the start of the holiday weekend looks nice. Fingers crossed that doesn't change!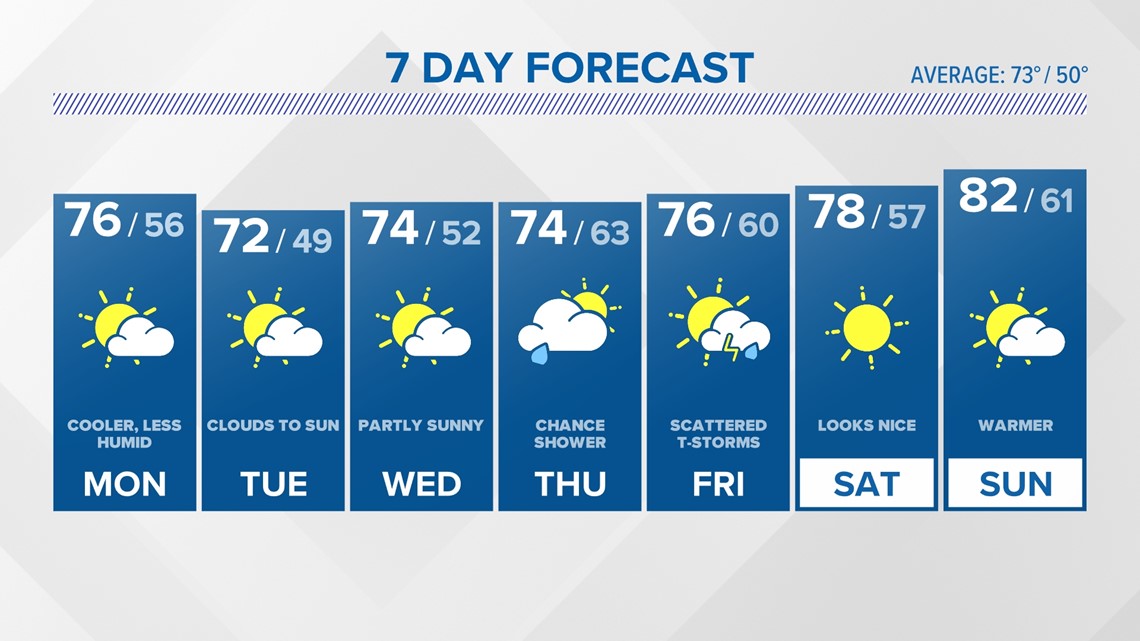 TONIGHT: Any showers or storms end, turning less humid. Mostly cloudy. Low: Upper 50s to low 60s.
MONDAY: A mix of sun and high clouds. High: Mid 70s.
TUESDAY: Morning clouds giving way to sun in the afternoon. High: Upper 60s shore, low 70s inland.
WEDNESDAY: Partly sunny. High: Upper 60s shore, low to mid 70s inland.
THURSDAY: Mostly cloudy, chance for a shower. High: Near 70 shore, low to mid 70s inland.
FRIDAY: Mostly cloudy with scattered showers and thunderstorms. High: Low 70s shore, mid 70s inland.
SATURDAY: Sunny and nice. High: Mid to upper 70s.
SUNDAY: Partly sunny and warmer. High: Upper 70s to low 80s.
Follow the FOX61 Weather Watch team on Facebook: