CONNECTICUT, USA — Today will be another relatively cooler day (compared to recent warmth). Some towns could see a few flurries during the day, but nothing meaningful.

Friday will be briefly milder with highs in the low 40s. Then here comes the cold!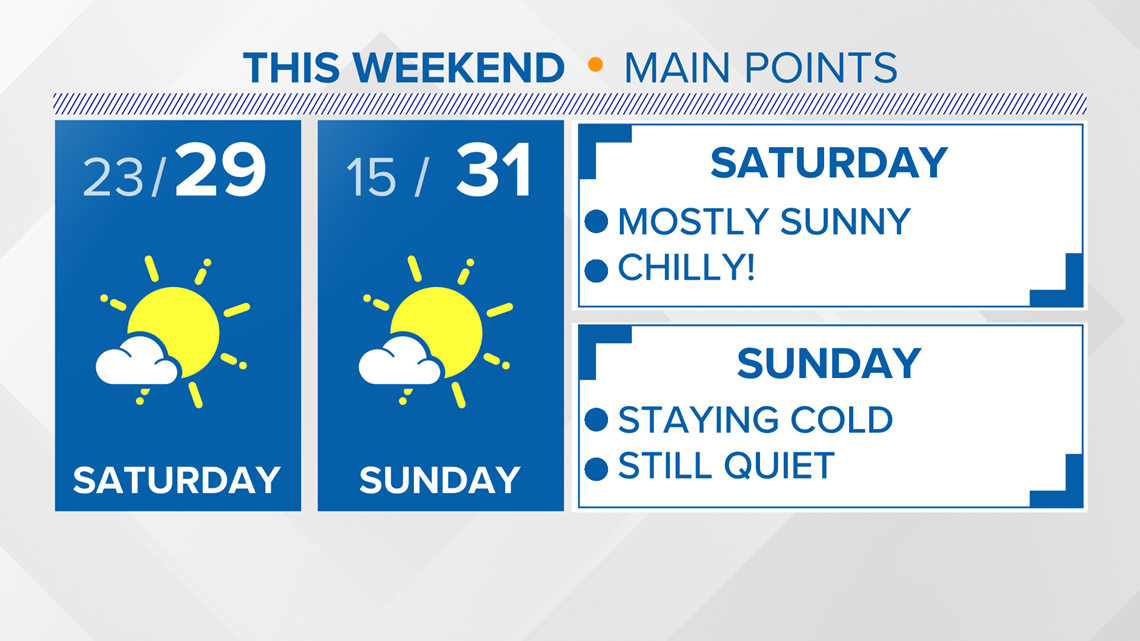 This weekend into next week will feature a pattern change with a stretch of below average temperatures for the first time this season! We're not expecting anything extreme but it may come as a shock to the system compared to recent warmer weather.
There is a window Monday night into Tuesday of next week where some snow is possible. While this doesn't look like a blockbuster event, plowable snow is possible *if* the storm manages to get close enough. At this point, it doesn't look all that impressive for Connecticut, so this one may be yet another storm on our list of missed opportunities this winter.

January so far has been more than 6° above average, and even with some cold air this weekend, we'll likely finish up the month in the "red" with mean temperatures above average.
Long range: while next week is colder, it doesn't look like the cold air will have staying power. Above average temperatures may return shortly after that. We'll keep you posted!
TODAY: Chilly start to the day. Mostly cloudy, a flurry possible in northern CT. Highs: Mid-upper 30s.
TONIGHT: Partly cloudy. Lows: 20s
FRIDAY: Mostly sunny. High: Low 40s.
SATURDAY: Colder sunshine. High: 20s.
SUNDAY: Sunny. High: Near 30.
MONDAY: Increasing clouds. High: mid 30s.
TUESDAY: Chance snow with a storm nearby. High: Near 30.
Follow the FOX61 Weather team on Facebook!