CONNECTICUT, USA — Tropical Storm Isaias is now Hurricane Isaias. It was an announcement from the National Hurricane Center that came hours earlier than many expected.
The storm was expected to be upgraded to a Hurricane by Friday night. Shortly before midnight Thursday night the NHC revealed that winds inside Isaias had intensified to 80 miles per hour.
A Hurricane Warning was issued for central and southeastern bahamas at Midnight. The notice from the NHC said: "A Hurricane Warning means that hurricane conditions are expected somewhere within the warning area. A warning is typically issued 36 hours before the anticipated first occurrence of tropical-storm-force winds, conditions that make outside preparations difficult or dangerous. Preparations to protect life and property should be rushed to completion."
The storm continues to look like an east coast threat. The latest track from the National Hurricane Center brings the storm near or just offshore of Florida this weekend then almost paralleling the east coast from Florida to Maine.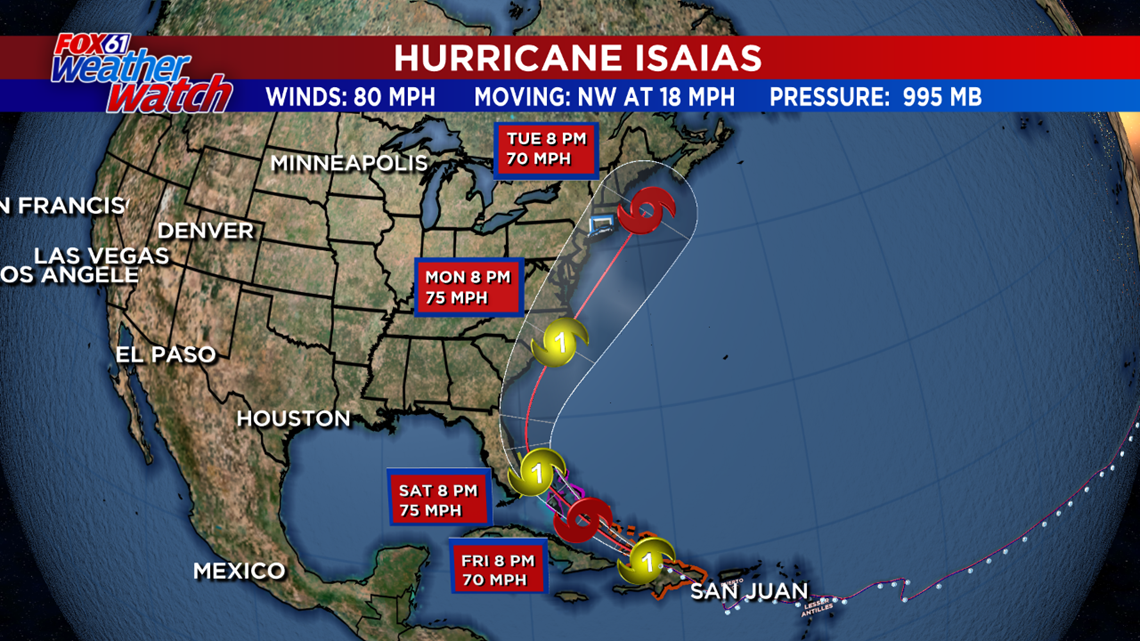 There are several scenarios that include New England getting a soaking rain. Even if the storm doesn't directly hit Connecticut, some of that tropical moisture could get pulled north out ahead of the storm. The rain may be welcome for many in the northeast due to recent drought conditions.
FOX61 meteorologists said any direct or indirect impacts from Isaias would come Tuesday or Wednesday of next week.
The midnight update from the National Hurricane is as follows:
At 1200 AM EDT (0400 UTC), the center of Hurricane Isaias was located near latitude 20.4 North, longitude 72.2 West. Isaias is moving toward the northwest near 18 mph (30 km/h), and a generally northwestward motion with some decrease in forward speed is expected for the next couple of days followed by turn toward the north-northwest. On the forecast track, the center of Isaias will move near or over the Southeastern Bahamas overnight. Isaias is forecast to be near the Central Bahamas Friday night and move near or over the Northwestern Bahamas and near South Florida on Saturday.
Maximum sustained winds have increased to near 80 mph (130 km/h) with higher gusts. Little change in strength is forecast during the next 48 hours. Hurricane-force winds extend outward up to 30 miles (45 km) from the center and tropical-storm-force winds extend outward up to 240 miles (390 km).
The estimated minimum central pressure based on Air Force Reserve Hurricane Hunter data is 995 mb (29.39 inches).