HARTFORD, Conn. — Connecticut is getting ready for a likely mix of precipitation Thursday night into Friday, as a sizable nor'easter develops and moves up the east coast.
This storm will be all about elevation. A prolonged period of heavy wet snow will make a mess in the northwest hills of Connecticut.
The rest of the state may start and end with some snow, but will see mostly rain from this event.
Here is everything you need to know regarding timing, snow total predictions, impact on your commute, and more.


Timing

It starts between 6 p.m. to 9 p.m. Thursday night, continues into Friday, and will end early Saturday morning.
Depending on where you live in the state will depend on what you may see.
Snow will start in the higher elevations, while the rest of the area will see rain.
That snow - particularly in the northwest hills - will linger into Friday, while the rest of the state will continue to see rain and gusty winds.
By Friday night, rain could change briefly to snow before the storm ends. Drivers can expect some slick spots in the pre-dawn hours.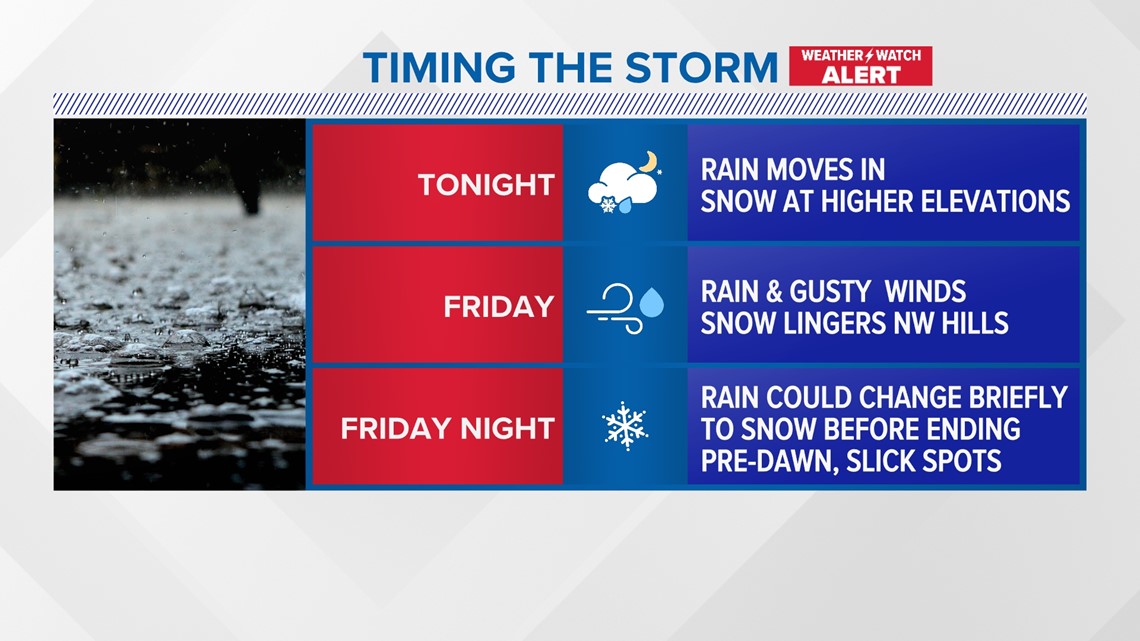 Accumulations
Most of the state will not get any accumulation.
However, this could be a high-impact storm for the northwest hills where over 1/2 foot of snow is possible, especially above 1,000 feet.
Heading down in elevation, snow totals drop off dramatically, even over a small geographical area. While it's cold enough to snow in the upper levels of the atmosphere, an east/northeast wind off the ocean will be pumping in milder air at the surface.
Keep in mind, some of this accumulation could happen on the back edge of the storm Friday night as precipitation may change over to snow before ending.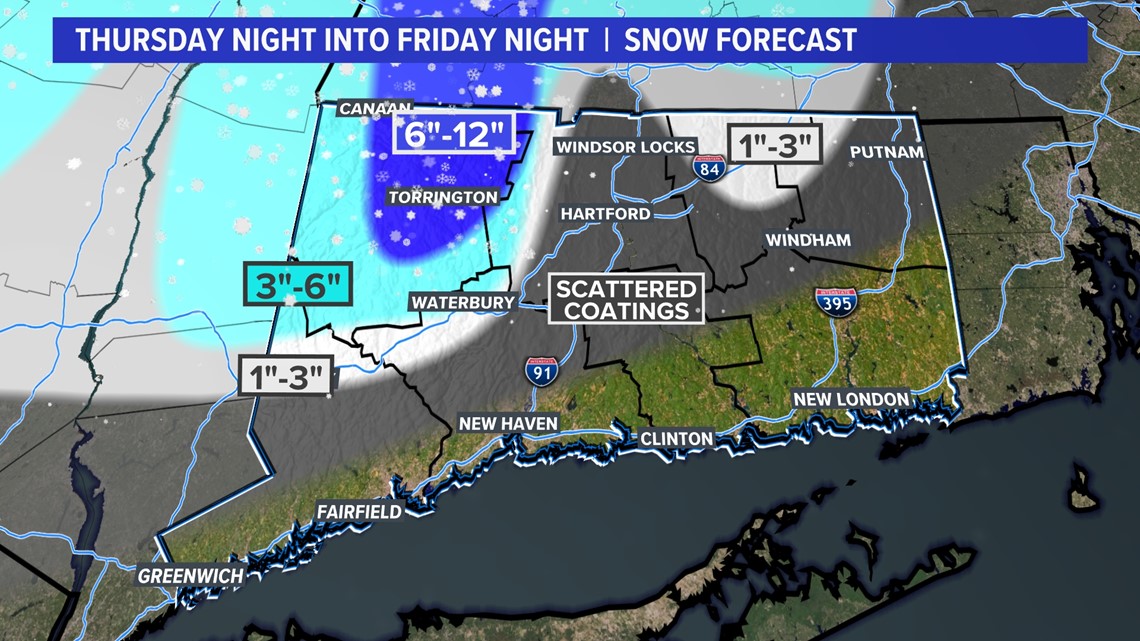 Impacts
In the northwest hills, scattered outages are possible in areas that are able to get 6" or more. This will be a heavy and wet snow that will cling to things like trees and powerlines.

The morning commute is either white or wet, depending on where you live. (See precipitation breakdown below). For many, it's just a wet and windy Friday.
Gusty winds are likely in this storm too, though it shouldn't be enough to result in outages. About 35-45 mph gusts are possible, with the highest gusts at the shoreline. A Wind Advisory is in effect for the immediate shoreline.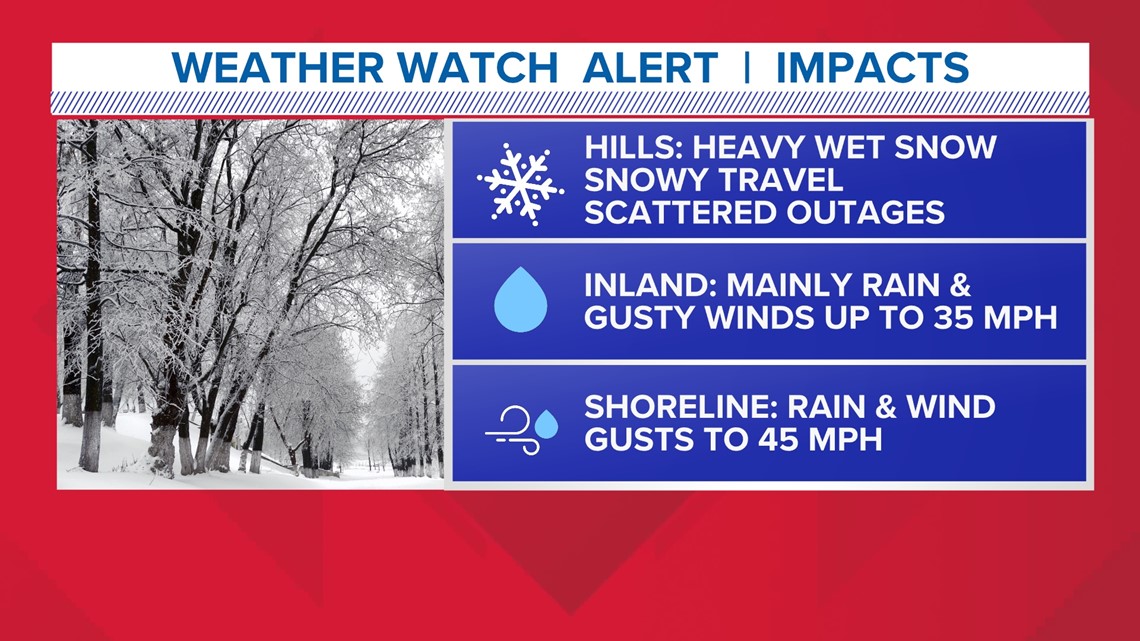 Future radar
Precipitation will likely begin moving in around dinner time Thursday, starting as snow for inland western Connecticut, northwest Connecticut and the northeast hills (briefly).
Otherwise, valley and shoreline areas will begin as rain. It may take a while to overspread the state though as the storm will be battling some dry air.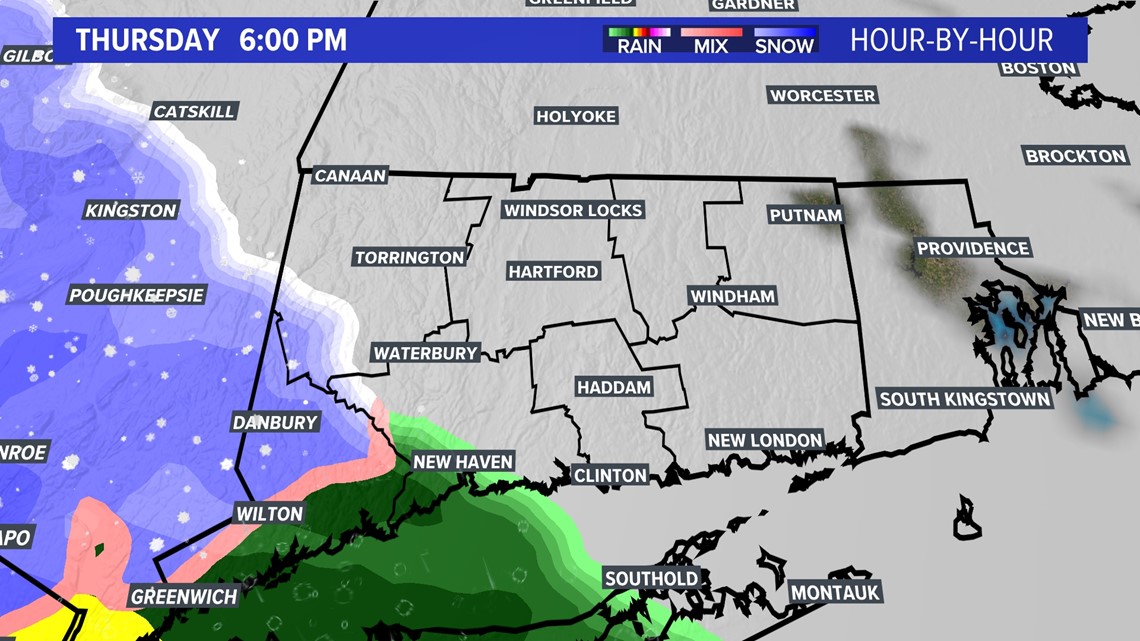 Temperatures will remain near or just above freezing for most of the event, thanks to a northeasterly wind.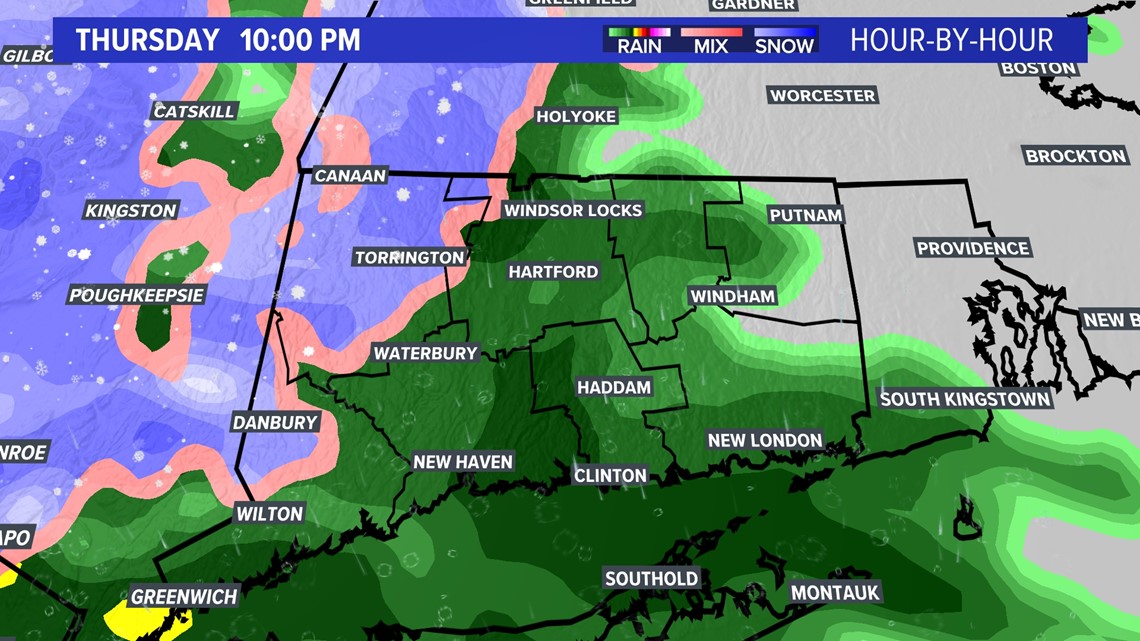 By Friday morning, most of the state is getting a wind-driven rain, with wind gusts up to 30-40 mph. The highest gusts will be at the shoreline.
But the northwest hills will continue to experience heavy wet snow, clinging to everything. This could weigh down trees and power lines in the highest elevations, about 1000 feet.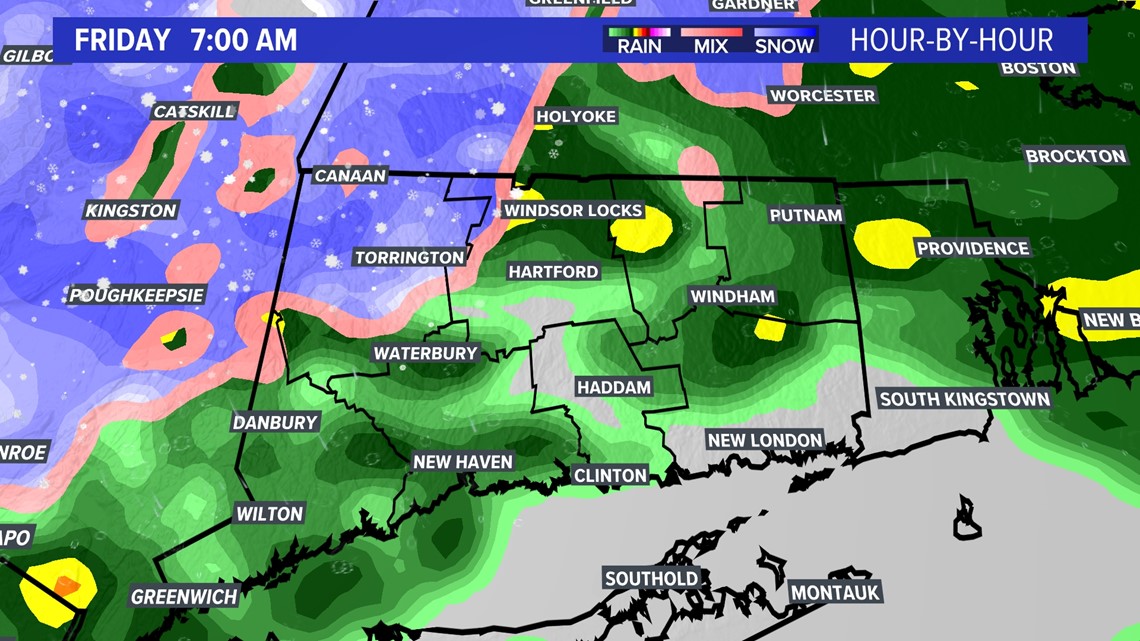 On Friday afternoon and into the early evening, a wind-driven rain continues everywhere, but the higher elevations of Litchfield County may not change over.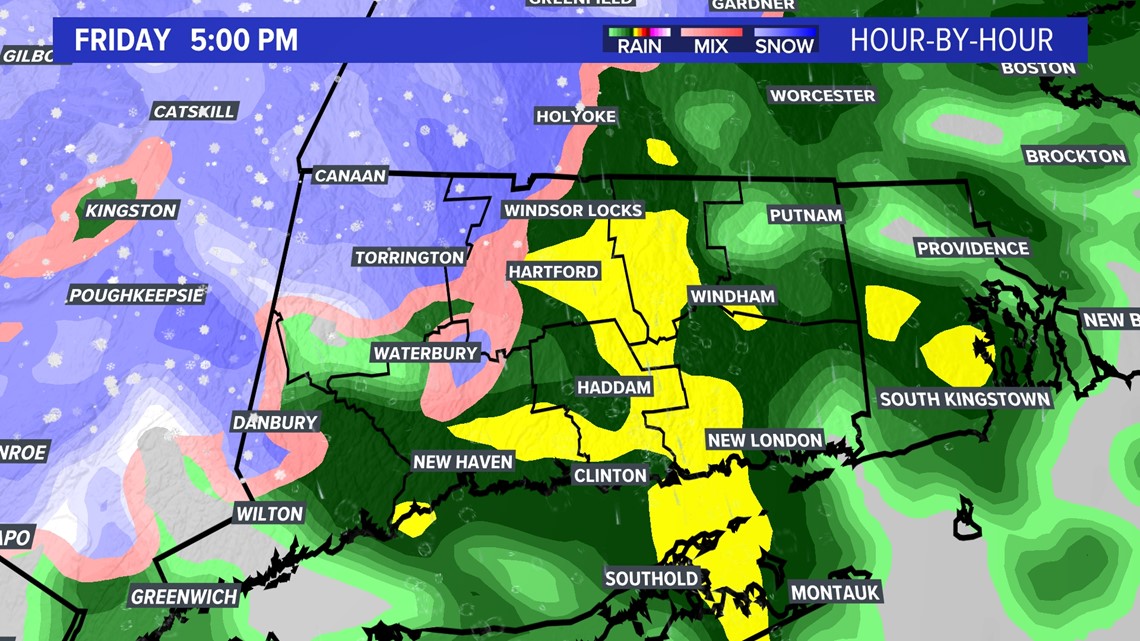 Then on the backside of the storm Friday night, "as a wild card," the state could finish as snow before ending. This could put down some minor accumulation for areas that saw mostly rain through the event.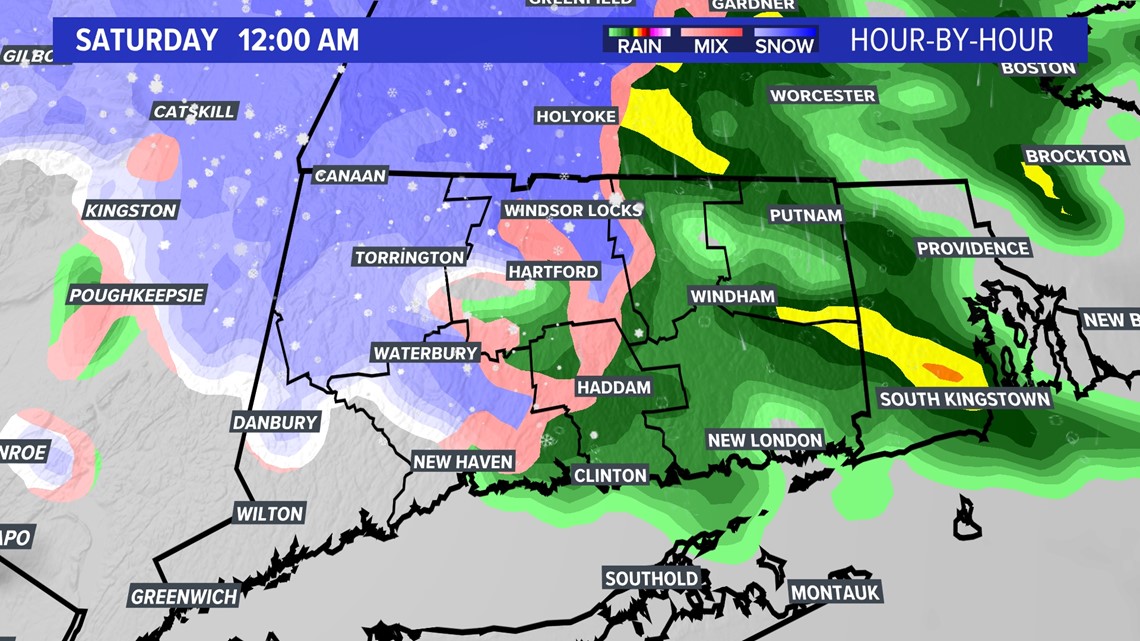 These snow showers should be winding down by Saturday morning. But slippery conditions will remain and there could be quite a bit of cleanup in the northwest hills.
Otherwise, the weekend looks quiet!
ALERTS
A Winter Storm Watch is in effect for Litchfield with 6" or more of snow possible.
There is also a wind advisory in effect for much of the state with some winds expected to gust at 40 mph tomorrow.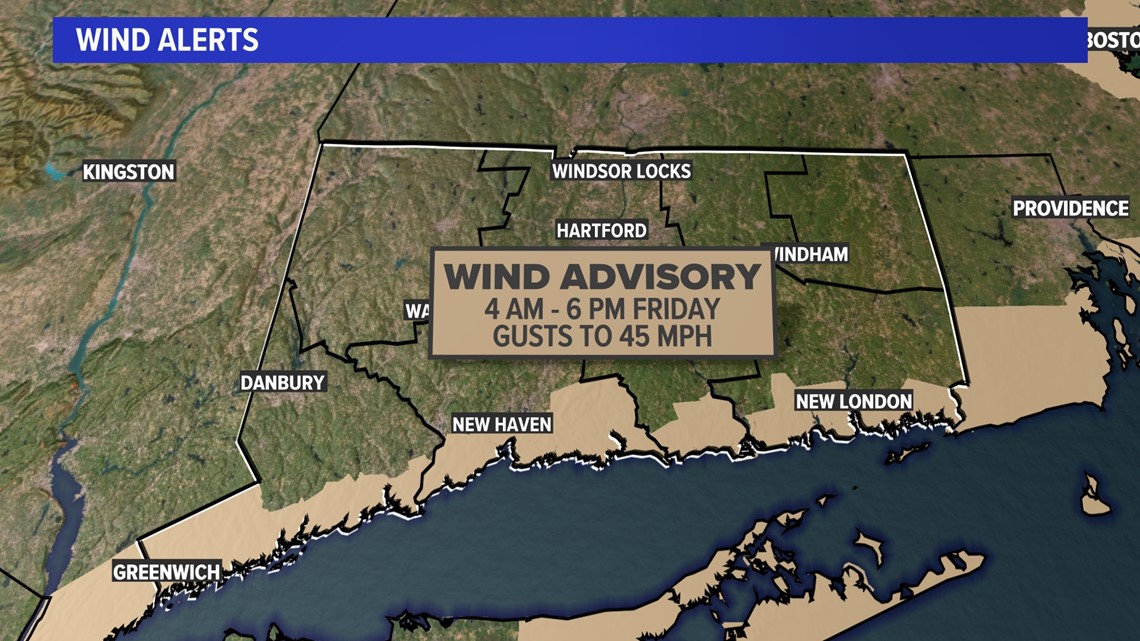 Have a story idea or something on your mind you want to share? We want to hear from you! Email us at newstips@fox61.com
HERE ARE MORE WAYS TO GET FOX61 NEWS
Download the FOX61 News APP
iTunes: Click here to download
Google Play: Click here to download
Stream Live on ROKU: Add the channel from the ROKU store or by searching FOX61.
Steam Live on FIRE TV: Search 'FOX61' and click 'Get' to download.
Follow the FOX61 Weather Watch team on Facebook: