HARTFORD, Conn. — Connecticut was hit with a cold snap Friday night into Saturday, with an arctic blast bringing over record-breaking sub-zero temperatures along with gusts sending windchills that read in the negative teens.
Records Shattered
Windsor Locks clocked in at -9° Fahrenheit, breaking -8° recorded in 1965.
The record low in Bridgeport was 5° in 1995, but this weekend's chill brought the record down to a whopping -4°.
Saturday morning remained frigid as temperatures creep out of the negatives and in the 20s.
Sunday and into the first full week of February will be unseasonably warm in the 40s-50s.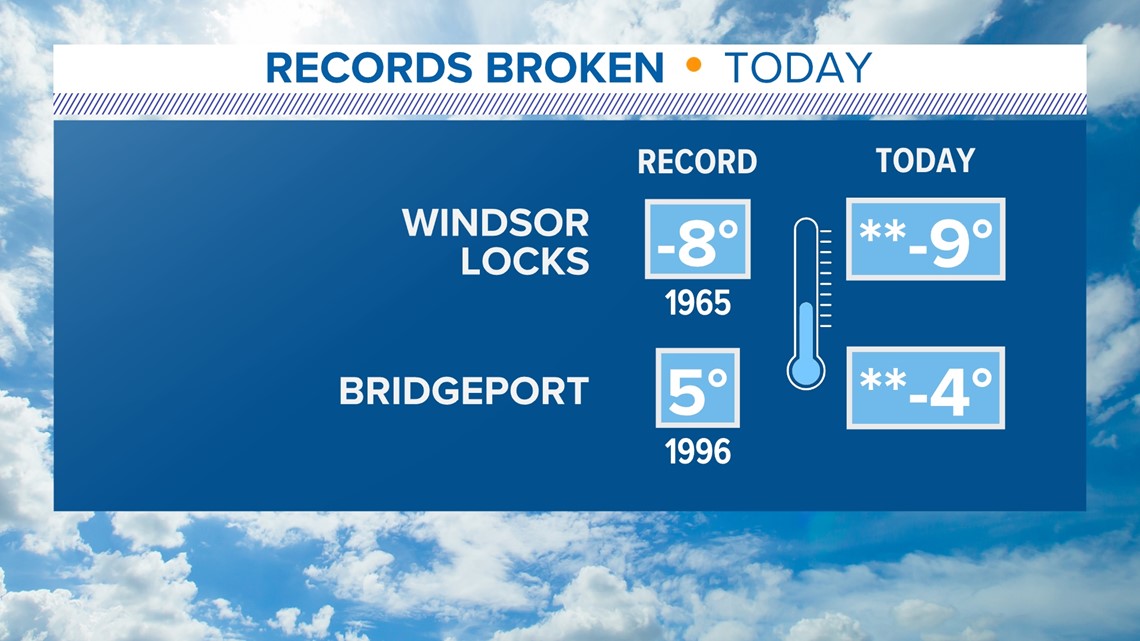 Chilling Damage
Structure fires popped up around the state Friday night and Saturday morning, as the dry, cold air makes for a high risk for fire to start and spread. The Forest Fire Danger Report reads "high" risk for Saturday, according to the Department of Energy and Environmental Protection.
One fire took the lives of multiple animals trapped in a barn fire in Prospect Friday night. In Oxford, a family was displaced after a fire took out their house, and firefighters dealt with frozen fire hydrants and extremely cold temperatures.
Firefighters were also called to structure fires in East Windsor, Tolland and Montville on Saturday morning, with the bitter cold posing a challenge.
With severe weather comes power outages. As of 1:30 p.m. Saturday, around 1,500 Eversource customers are without power.
Around 80 UI customers are without power as of Saturday morning, with the majority of outages in Bridgeport, Hamden and Stratford.
In Windsor Locks, where temperature records were broken, FOX61 confirmed crews are experiencing airline fueling delays at Bradley International Airport on Saturday, citing equipment issues due to the cold weather. Check flight times here.
Staying Safe
Not only would one find it uncomfortable to be outside in these conditions, but it is also considered dangerous. Being exposed to these temperatures, even when well-bundled up, increases the chance of getting frostbite or developing hypothermia.
Symptoms can range from numbness, a stinging sensation, blue or red skin, or muscle stiffness.
"The illness can kind of span the spectrum all the way having to be hospitalized and re-warmed medically," Dr. Chris Carey with Hartford Hospital Emergency Medicine told FOX61 on Thursday.
Frozen water pipes can pose a threat of water damage inside a home. Make sure exposed pipes are wrapped in insulation, especially in unheated rooms like the garage or basement. Letting the faucet run at a drip can reduce the risk of pipes freezing too. More tips here.
Leah Myers is a digital content producer at FOX61 News. She can be reached at lmyers@fox61.com
Have a story idea or something on your mind you want to share? We want to hear from you! Email us at newstips@fox61.com
HERE ARE MORE WAYS TO GET FOX61 NEWS
Download the FOX61 News APP
iTunes: Click here to download
Google Play: Click here to download
Stream Live on ROKU: Add the channel from the ROKU store or by searching FOX61.
Steam Live on FIRE TV: Search 'FOX61' and click 'Get' to download.