BRANFORD, Conn. — The National Weather Service has confirmed that three EF-0 tornadoes touched down in Connecticut Saturday afternoon. There was also one EF-1 tornado confirmed in Stonington.
The NWS surveyed the damage Sunday after severe storms pass through Connecticut on Saturday, bringing strong winds, heavy rain, and even hail in some parts.
The tornadoes are rated by their strength using the Enhanced Fujita Scale (EF). The NWS rates on a scale from EF-0 to EF-5, with EF-5 being the strongest. All four tornadoes that touched down Saturday have been characterized as "weak". The NWS evaluates damage areas to determine how fast the gusts are moving.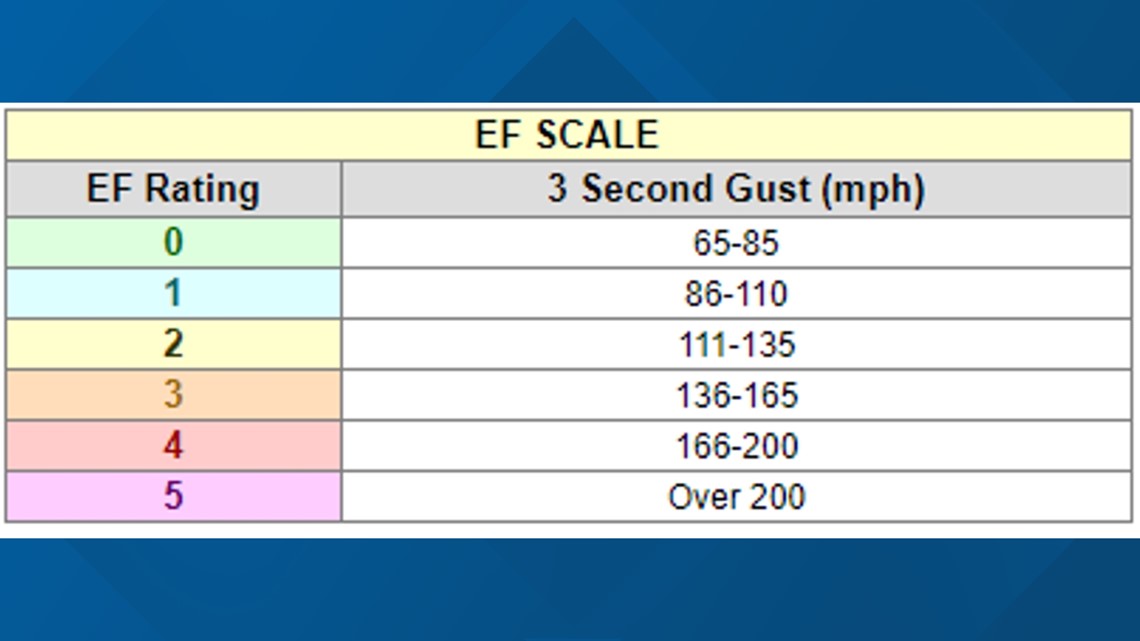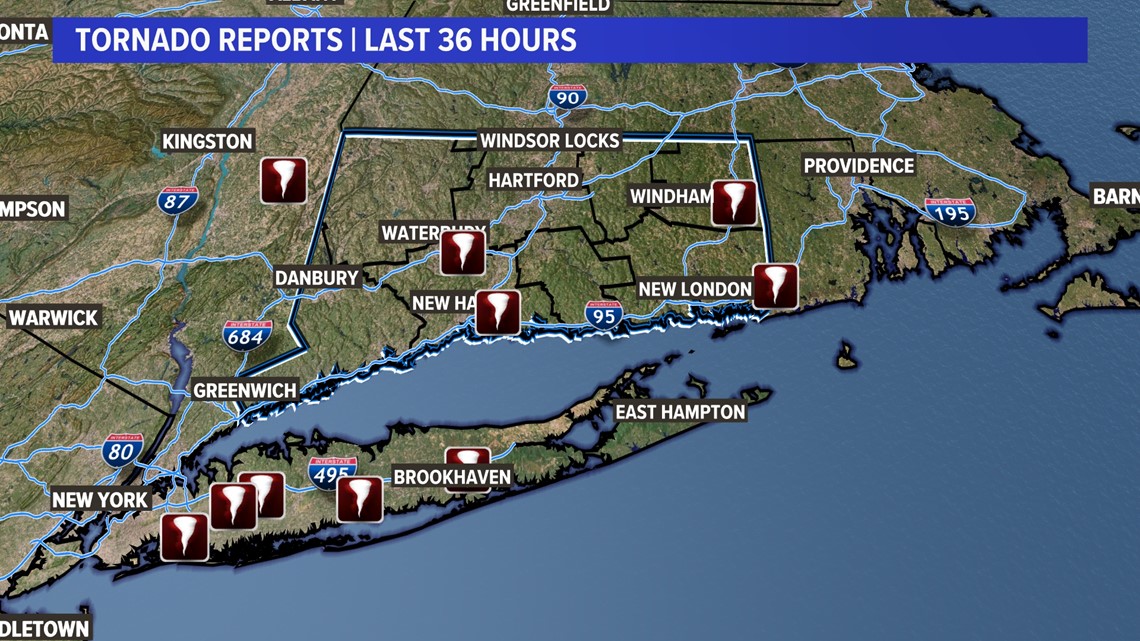 Branford
The EF-0 tornado stayed within Branford and was active from 3:44 p.m. to 3:46 p.m.
It began near Pine Orchard and Oak Hollow roads and lifted just before reaching the Connecticut Turnpike.
It traveled 1.94 miles, and traveled with a maximum speed of 85 MPH. There were no injuries or deaths that resulted from the tornado.
The tornado uprooted several trees and even left damage at the Francis Walsh Intermediate School field, where several light tower generators were toppled by the winds.
The NWS said the most intense damage happened on Whiting Hill Road, where pine trees at the top of the road snapped in two.
Cheshire
An EF-0 tornado touched down in Cheshire and traveled for 3.5 miles, beginning along Mountain Road and ending near Fairwood Drive.
It was active from 3:30 p.m. to 3:34 p.m., with a maximum wind speed of 75 MPH.
It uprooted trees, which led to an SUV and an RV getting crushed. there was also tree damage left behind at the Legion of Christ College of Humanities on Oak Road.
Plainfield
An EF-0 tornado touched down in Plainfield and extended into Foster, R.I.
It caused sporadic damage along a 6-mile track. It took down some trees, sheared treetreetopsd moved farm equipment.
EF-1 tornado in Stonington
Officials determined that the EF-1 tornado started in Stonington and ended in Westerly, R.I., with a 1.35-mile path. It started at around 4:54 p.m. on Robinson Street in Stonington and lifted at around 5 p.m. while on Hillview Drive in Westerly.
They found a metal shed that was lifted and flipped before a tree branch crushed it.
Several trees were found uprooted or snapped in half. Street signs were also snapped at their base, the NWS said.
Leah Myers is a digital content producer at FOX61 News. She can be reached at lmyers@fox61.com
Have a story idea or something on your mind you want to share? We want to hear from you! Email us at newstips@fox61.com
HERE ARE MORE WAYS TO GET FOX61 NEWS
Download the FOX61 News APP
iTunes: Click here to download
Google Play: Click here to download
Stream Live on ROKU: Add the channel from the ROKU store or by searching FOX61.
Steam Live on FIRE TV: Search 'FOX61' and click 'Get' to download.